Things to Do in Rancho Cucamonga
---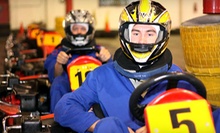 10- to 12-minute races in gas-powered Sodi go-karts that heat up an IKF-designed track
---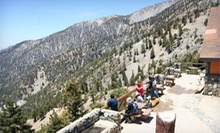 Ski lift ferries passengers to summit for access to hiking trails & scenic views, as well as hearty lunch at restaurant overlooking mountain
---
Recommended Things to Do by Groupon Customers
---
The Christiansen family's roots in the carnival industry run deep, stretching back to Ralph B. Christiansen's 1920s amusement business, which his hard-working sons kept running through World War II. Today, Ralph's grandson, Buzz, hosts more than 80 Christiansen Amusements events per year and rents out carnival rides for parties and gatherings. Events pop up throughout Southern California and feature an assortment of family-friendly excursions ranging from mild kids' rides to more intense rides such as the Skydiver or Kamikaze. Carnival games challenge guests' hand-eye coordination, rewarding feats of strength or accuracy with stuffed animals to give to dates or mount on the hood of one's car.
130 E San Bernardino Ave.
Rialto
California
With bunkers, wooden structures, and trenches, Code Red Airsoft Park's outdoor arena sets the stage for recreational airsoft games as well as for military and law-enforcement training. Staff members rigorously enforce all safety rules as combatants—each clad in protective gear—sing soundtracks to action movies from behind the sprawling play field's various forms of cover. During breaks in action, Code Red's crew runs a pro shop and invites players to rest on its porch equipped with industrial-size coolers.
Aside from open-play sessions, Code Red Airsoft Park's staff hosts special events and tactical airsoft training for marksmen who would like to improve their game. Organizers also put together themed games, such as simulated zombie outbreaks, and teach courses on accuracy, safety, and handling.
1600 W Agua Mansa Rd.
Colton
California
760-241-9097
Eat|See|Hear offers an unparalleled outdoor movie experience by screening new and classic films in HD on an inflatable, wrinkle-free projection screen standing 3.5 stories tall and 52 feet wide. Using a 30,000-watt sound system, each venue is custom-calibrated to ensure a decibel-appropriate listening experience for audiences lounging on blankets or in lawn chairs. Local food trucks remain onsite during events to dish out cuisine, and pre-film performances by up-and-coming bands get audiences pumped up and help loosen any cobwebs built up inside the ears.
6707 Little League Drive
San Bernardino
California
---