Things to Do in Rancho Cucamonga
---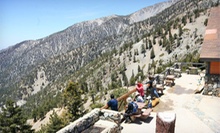 Ski lift ferries passengers to summit for access to hiking trails & scenic views, as well as hearty lunch at restaurant overlooking mountain
---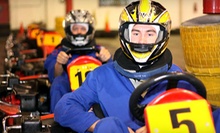 10- to 12-minute races in gas-powered Sodi go-karts that heat up an IKF-designed track
---
Recommended Things to Do by Groupon Customers
---
With bunkers, wooden structures, and trenches, Code Red Airsoft Park's outdoor arena sets the stage for recreational airsoft games as well as for military and law-enforcement training. Staff members rigorously enforce all safety rules as combatants—each clad in protective gear—sing soundtracks to action movies from behind the sprawling play field's various forms of cover. During breaks in action, Code Red's crew runs a pro shop and invites players to rest on its porch equipped with industrial-size coolers.
Aside from open-play sessions, Code Red Airsoft Park's staff hosts special events and tactical airsoft training for marksmen who would like to improve their game. Organizers also put together themed games, such as simulated zombie outbreaks, and teach courses on accuracy, safety, and handling.
1600 W Agua Mansa Rd.
Colton
California
760-241-9097
For tennis players, the elements are not only capable of spoiling an outdoor match or practice session entirely, they can also be taxing to the body in the long-term, especially for those trying to put in the court time required to attain greatness. That reality was behind the creation of Hampton Indoor Tennis Center, which—unlike most sunbaked, wind-lashed, and rain-beaten tennis complexs—offers players a respite from the weather with four indoor courts. Underneath low-glare lights, players trade ground strokes and volleys atop blue-and-green courts that provide a medium-speed bounce and are identical in composition to the hard-court surface of the Indian Wells courts where the BNP Paribas Open is played. Tennis balls pop crisply against racket strings as trainers teach youngsters on a miniature court with dimensions suited to the de-pressurized balls that foster proper stroke development in undersized racquet-wielders.
USPTA-certified tennis instructor Otis Vu draws upon a decorated career, during which he says he played singles and doubles at Oklahoma Wesleyan University and once beat Michael Chang in a doubles set. He uses this background to forge formidable players, emphasizing proper footwork, conditioning, and not accidentally shouting one's social security number while serving. He and his staff preside over a wide range of adult lessons, including clinics in which players learn alongside others of the same skill level and one-hour cardio tennis sessions, which feature a series of high-energy drills. The Center's junior tennis program helps youngsters meet on-court goals of all kinds, from those simply looking to play recreationally to those hoping to grow into an elite competitor.
6250 Sycamore Canyon Blvd., Suite 200
Riverside
California
951-656-2900
Eat|See|Hear offers an unparalleled outdoor movie experience by screening new and classic films in HD on an inflatable, wrinkle-free projection screen standing 3.5 stories tall and 52 feet wide. Using a 30,000-watt sound system, each venue is custom-calibrated to ensure a decibel-appropriate listening experience for audiences lounging on blankets or in lawn chairs. Local food trucks remain onsite during events to dish out cuisine, and pre-film performances by up-and-coming bands get audiences pumped up and help loosen any cobwebs built up inside the ears.
6707 Little League Drive
San Bernardino
California
---