Rancho Palos Verdes Gyms and Fitness
---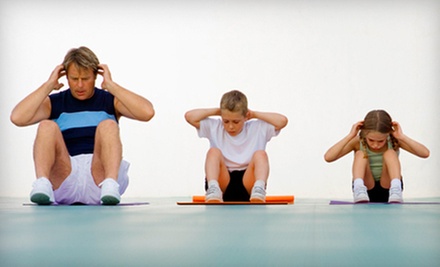 ---
Gym, Exercise, Weightloss Deals
---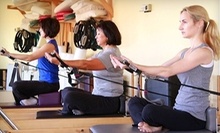 Use Today 10:00am - 7:00pm
---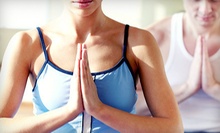 Use Tuesday 9:00am - 12:00pm
---
Recommended Gym, Exercise, Weightloss by Groupon Customers
---
Dancers, athletes, and the not-so-nimble can get the personalized Pilates instruction that they're not getting from their butcher, member of Congress, or cargo cult. Today's side deal gets new customers one private Pilates session at Pilatesblue for $38 (a $75 value). This private studio in Culver City features the Best Pilates in Los Angeles according to Citysearch and will provide the mat and any equipment you need. Call a week in advance to schedule your appointment.
4161 Mc Connell Blvd
Los Angeles
California
US
At Club P-fit, the bottom line is ripped, the color palette is bright, the locker rooms are pristine, the atmosphere is friendly, and every cardio machine is majestically crowned with a television. Sling weights and scream out squats like a classic chunkhead, or whittle yourself down with a cutting-the-top-of-the-line-edge TechnoGym stationary bike. Partner up with a one of P-fit's skilled, attentive personal trainers to push your limits or better discern your fitness goals.
1500 Lincoln Blvd.
Venice
California
GolfTEC has thirteen convenient locations in the Los Angeles area, all staffed by experienced golfing professionals and computers who've sworn allegiance to the Three Laws of golfing robotics. Motion sensors and high-speed cameras monitor your swing and break down your form on a high-definition video display. GolfTEC's PGA specialists point out your flaws, strengths, and coach you on how to permanently improve your game, from tee to green. Sensors chirp with approval when you've executed a perfect stroke or cracked an especially witty golfing joke.
2041 Rosecrans Ave.
El Segundo
California
After years spent volunteering for nonprofit fundraisers, Fit On founders Franca Stadvec and Angela Bennett understood the power of people coming together for a shared purpose. When that purpose became supporting each other in their journey toward better fitness, Fit On Studios came into being. The studio hosts intimate group classes to maintain a supportive atmosphere.
During indoor cycling sessions, guests climb onto adjustable Schwinn bikes to burn fat and clear their minds by focusing solely on their workout. The center also focuses on joint-friendly exercise, such as barre classes that use low-impact, focused movements to tone lean muscles and improve balance, and TRX suspension training that builds strength by leveraging the body's own weight.
505 N Sepulveda Blvd., Ste. 2
Manhattan Beach
California
Gabriel Hall, owner of Yoga World Studio, discovered yoga at the age of 19 while pursuing his degree in philosophy. Dr. Allen Arnette—already the clinical director of the Acupuncture and Oriental Medicine Department—began studying yoga as a way of researching the role mental well-being plays in healing physical ailments. Katherine Ostrout studied dance science at Cal State Long Beach and turned to Pilates after a ballet injury laid her low. These three weave their diverse backgrounds into the rich tapestry of talent made up by Yoga World's team of yogis.
Having studied extensively in particular schools of yoga, instructors bring their individual training into the studio, focusing on disciplines that range from the physically challenging to mentally reflective, and include Iyengar, Ashtanga, Viniyoga, and Anusara. In addition to their regular yoga lessons, the Yoga World team also leads mat-Pilates classes, workshops, and private instruction. They use the art of yoga for healing in one-on-one sessions of Thai yoga therapy, which blends shiatsu massage with acupressure, or they coordinate beachside retreats full of yoga, surfing, and yoga-surfing.
250 W Ocean Blvd.
Long Beach
California
Since its 1965 founding in Venice Beach, California, Gold's Gym has dotted the globe with more than 600 locations where professional athletes and exercise newbies gather under the umbrella of personal strength. Nearly 3.5 million Gold's members chart and aim for their fitness peaks, perspiring beneath the gaze of certified personal trainers or pedaling beside peers at cycling sessions. In a diverse lineup of group classes, patrons strengthen cores with Pilates, finger-paint pictures of ninjas in martial arts, and amp up heart rates along to the pulsating soundtracks of Les Mills routines. Many Gold's Gym locations stockpile futuristic amenities, such as cardio machines with individual iPod docks and televisions that help keep patrons motivated.
6000 Sepulveda Blvd., Suite 1200
Culver City
California
---