Things to Do in Rancho Palos Verdes
---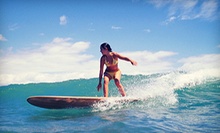 Instructor who has taught for Santa Monica College and corporate classes for Nike and Fox Sports leads private lessons that include gear
Use Tuesday 10:00am - 4:00pm
---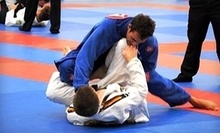 Students practice Brazilian jiu-jitsu's chokes, holds & throws while learning discipline & self-respect in friendly studio
Use Today 9:00am - 12:00pm
---
Recommended Things to Do by Groupon Customers
---
Witness the U.S. World Cup team banana kick and back tackle their way through an exciting new season as they face off against teams including the New England Revolution (March 20), Seattle Sounders (July 4), and their archrivals Chivas USA (October 16). Depending on the Galaxy's ability to take names and kick grass this year, fans might see the team's "big three," comprised of the blazing Landon Donovan, superstar David Beckham, and score-savvy Juan Pablo Angel, executing a human pyramid in perfect unison. With the first option, soccer zealots can check out any one of the 17 home games of the season, and those choosing the second option can cheer, clap, and streak across the stands wearing sequined shin guards in a show of support for six separate matches.
18400 Avalon Blvd.
Carson
California
Today's side deal offers an opportunity to experience soothing melodies without camping out in an elevator or doctor's waiting room. For $20, you get one orchestra-center ticket to one of two performances from the New West Symphony: East Meets West on Sunday, April 18, at 4 p.m. or Soiree Romantique on Sunday, May 16, at 4 p.m. (a $78 value for either show). Both performances take place in Barnum Hall at Santa Monica High School. Your Groupon is only valid for the performance date purchased from the links above.
600 Olympic Blvd.
Santa Monica
California
Each year, more than 60 galleries and artists from Los Angeles and the intangible web of the art world beyond flock to Art Los Angeles Contemporary like butterflies in migration. During their stay, they display their colors in Santa Monica's Barker Hangar, which hosts 40,000 square feet of exhibition space with 40-foot ceilings ideal for extra-tall installations or human pyramids made of Shaquille O'Neal sculptures. In addition to paintings and functional furniture from emerging and established artists, Art Los Angeles Contemporary also hosts a programming series of talks, curator-led panel discussions, and film screenings. This year, the exposition will spotlight Ceci n'est pas… Art Between France and Los Angeles, a cultural-exchange program culminating in more than 30 French-American collaborations.
3021 Airport Ave.
Santa Monica
California
While cruising with their starry-eyed passengers through Hollywood, West Hollywood, Beverly Hills, and the Sunset Strip, the humorous guides for TMZ Hollywood Tour – Secrets and Celebrity Hot Spots impart juicy, never-before-heard gossip and periodically leap off the open-air bus to film passenger-spotted celebrities. Tour-goers can step aboard TMZ's comfortable, custom-designed, star-searching stagecoach and get ready to train peepers on the haunts and hangouts of famous personalities during the two-hour excursion.
Guides from the TMZ TV program punctuate celebrity-seeking safaris with exclusive videos that inspire laughs and gasps from the ride's television screens, sharing hot Hollywood secrets and behind-the-scenes stories yet to be revealed on the show or the TMZ website. Along the way, tour takers can also sing songs, play games to win prizes and get firsthand glimpses of the shops, restaurants, and clubs where partying stars meet to mingle.
322 Santa Monica Pier
Santa Monica
California
US
800-959-3131
The Dinner Detective's renowned troupe of talented actors engages audiences with an evening of laughs, intrigue, and suspense as mock murder accompanies a four-course meal where everyone in attendance is a suspect. A dressed-down cast of professional Hollywood- and Chicago-trained sleuths circulates through the crowd, sniffing out phony alibis and asking the hard questions to solve the mystery of each whodunit. Before the night is over, the fictional criminal is cuffed and the most accurately detecting diner takes home a prize package. The Dinner Detective leases out its gumshoes to clean up crime during private events such as fundraisers, family reunions, or embezzlement hearings. The thespians have sharpened their entertaining chops by performing for such Fortune 500 companies as Universal Studios and Walt Disney Imagineering.
6333 Bristol Parkway
Culver City
California
With hands gripped to the wheels of karts capable of cresting 45 miles per hour, up to 12 racers hum around the hairpin turns and straightaways of K1 Speed's indoor track during adrenaline-spiking sprints toward the podium. This brand of excitement can be found at all 15 locations, where racers eschew the fumes and inflammatory skywriting of gas kart exhaust for European, eco-friendly electric karts designed to instantly accelerate out of curves, which are bordered by safety barriers that absorb impacts. To keep everyone in the chase, dialed-down junior karts (available at select locations) safely carry tiny drivers between the height of 48" and 58".
19038 S Vermont Ave.
Gardena
California
---