Things to Do in Randallstown
---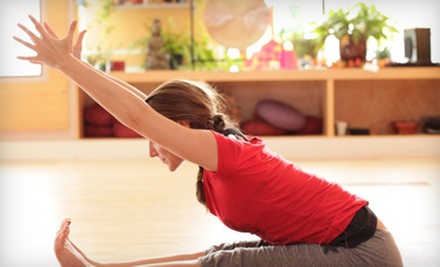 ---
Recommended Things to Do by Groupon Customers
---
Monumental Helicopters' fleet of choppers offers clientele breath-nabbing views of eastern Maryland and the sea beyond. The compact R44 Clipper comes equipped with floats for water landings into arch nemeses' swimming pools. The aircrafts' routes fly around Baltimore, taking in the city's sites. Though not included in this Groupon, tours also zigzag between Baltimore, Washington, and Annapolis and even embark on custom tours that soar anywhere within 25 miles of Haysfield Airport.
4994 Sheppard Ln.
Ellicott City
Maryland
202-570-4354
When doctors recommended surgery to treat Jennifer Heinstadt's painful scoliosis—a condition in which the spine forms a lateral "S" or "C" curve—she began researching alternative healing methods to avoid going under the knife. Her search led her to Elise B. Miller, a yoga guru who focused specifically on treating scoliosis. Miller taught her how to get in touch with her body through the ancient practice of yoga, helping her to arrest the spinal curve, correct postural misalignment, and diminish the pain altogether. Heinstadt was so affected by these techniques that she wanted to share her positive experiences with patrons suffering from similar afflictions, eventually following in Miller's footsteps and studying yoga for scoliosis.
Today, she and her staff lead pupils of all ages, skill levels, and body types through a wide range of therapeutic yoga styles, including shanti flow, yin yoga, and Vinyasa. Amid a tranquil ambiance, each class centers around gentle movements, and many include meditation practice to help free students' minds from the 21st century stresses of working long hours and raising families of bionic androids.
317 Main St.
Reisterstown
Maryland
410-900-3381
The Modell Performing Arts Center at the Lyric has a deep history that stretches back to the 1890s, when frequent polkas filled the air on summer evenings and the walls were decked out in beer-garden fashion. Throughout the following century, acts ranging from demonstrations of electric cooking to performances by Ella Fitzgerald and Robin Williams have inspired awe and given cause for recent restoration.
140 W Mt. Royal Ave.
Baltimore
Maryland
410-900-1150
Since 1984, the crew of trained instructors at Reddemeade Equestrian Center have taken time out of their own competitive schedules to teach students horseback riding. Each instructor boasts certification from the Reddemeade Instructor Training School, which allows them to conduct horseback lessons in the English style of riding in accordance with the standards of the British Horse Society. Students receive their instruction atop trained and patient school horses inside a large indoor ring or one of several outdoor rings that grace the center's 44 acres of rolling Maryland farmland.
1701 Ednor Rd.
Silver Spring
Maryland
US
301-421-9064
Not many events can combine puzzles, obstacle races, and charitable giving-all while filling the downtown area with people in gorilla suits. Gorilla Challenge accomplishes all of these things in a single afternoon. With annual events held across the country, it is quickly becoming the premier event for raising fun and social responsibility. Several of the event's clues are designed to bring awareness to topics such as literacy, poverty, environmental concerns, animal welfare, and elder care. Amid these consciousness-raising events, the company's gorilla-suit-clad staffers make surprise appearances to award participants prizes and collect bribes in the form of fresh bananas or sign-language-speaking kittens.
34 Market Pl.
Baltimore
Maryland
657-229-0812
---