Restaurants in Raymore
---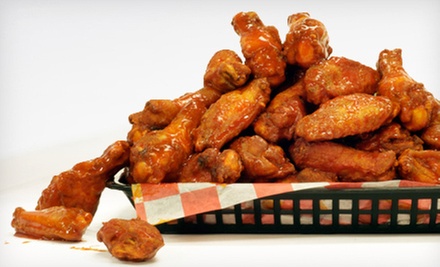 ---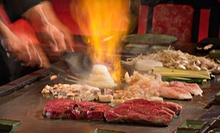 Use Today 5:00pm - 9:00pm
---
Recommended Restaurants by Groupon Customers
---
"A computer can't understand a handshake," says Jack Schwindler, explaining why he retired after 32 years as a food broker. He missed the face-to-face aspect of the business, which diminished as technology swiftly advanced. So when he and his wife found a defunct marina on Lake Lotawana, where Jack spent his childhood, he found his calling. In 1993, Jack and his wife opened Marina Grog & Galley, and now, Jack says, "I'm shaking hands again."
Marina Grog and Galley is run by a tight-knit crew of longtime employees, including servers who have worked there since 1996. Their menu boasts dry-aged steaks from a local purveyor and fresh fish flown in from Hawaii three times a week. The smell of steaks searing over mesquite charcoal drifts out to the front driveway, creating an aroma that attracts passersby and envious traveling steak peddlers. Other specialties include baby-back ribs crafted from a recipe Jack penned when he was 21 years old, and a range of fried, boiled, and stuffed shrimp.
Every night, Jack visits with guests at the tables arranged around the dining room, which look out at the lake or a 1,500-gallon saltwater tank that houses a 48-foot living reef. Leather seats in cobalt blue comfort backs, and stone fireplaces warm the stone walls and light wood around the restaurant. Outdoor tables along the water seat up to 150 people, and on-deck fireplaces keep diners comfortable. "Something happens every night in the restaurant business," says Jack, and he doesn't want to miss a minute of it.
22 A St.
Lake Lotawana
Missouri
Burgers reign supreme at Fred P. Ott's, gracing the extensive menu donning both classic and specialty cloaks of accouterments. The hickory burger comes topped with barbecue sauce and smoked bacon, and the Texas variety charms tongue buds with thick accents of chili, cheddar, and onion bud (both $7.99 for 1/3-pound, $9.60 for 1/2-pound). "Ott" dogs, prepared with Black Angus beef, offer an upscale take on the ballpark classic. Try the original Ott with lettuce, tomato, and pepper relish ($6.29), or the Spanish Flyer with chili, nacho cheese, and scallions ($7.29). If you'd like to keep your meal as light as a globetrotting eccentric's hot air balloon, opt for a garden salad with eggs, onions, tomatoes, cucumbers, cheddar, scallions, and bacon ($6.59). Sandwiches and barbecue bites round out the menu.
6700 College Blvd.
Overland Park
Missouri
At Blanc Burgers + Bottles, burger doesn't just mean a basic grilled patty. In addition to American beef, there's also hormone-free chicken, carnitas-style pork, and curried lentils among nearly 20 protein options. Chefs stuff or pile each with eclectic extras such as wasabi aioli, foie gras butter, and housemade pickles. Hand-cut fries, beer-battered cheese curds and onion rings, and chicken wings marinated in housemade sauce make for marginally less elaborate sides. Though the options might seem overwhelming, servers with deep culinary knowledge acquired by sleeping on a copy of the menu every night are on hand to sort through them all.
Though the burgers take a wide-ranging, global approach to their flavor palettes, Blanc's décor is decidedly space-age American. Stylized orange starbursts and flocks of bubbles decorate white and glass walls around sleek furniture. Behind a long white counter recalling a luncheonette just opened in 1959, barkeepers pour wine, refreshing seasonal cocktails, and nearly 100 varieties of domestic, imported, and American craft brews, including steam beers, lagers, hop-rich IPAs, and specialty lambics. Even youngsters can hop on the craft-beverage bandwagon with more than 30 boutique sodas in flavors such as apple, blueberry, and pineapple, available with or without cocktail onions.
10583 Mission Rd.
Leawood
Kansas
913-381-4500
The expansive menu at Paradise India is filled with delectable delights from the Northern and Southern Indian Mughlai–style tradition, and all the dishes are freshly cooked and prepared from scratch daily with homemade spices. Round up a group of gastronomic globetrotters and share a traditional order of two vegetable samosas ($3.50), an order of vonda, three deep-fried vegetable balls ($3.50), and one of Paradise's nine naan flatbreads, such as garlic naan ($2.95). Popular dishes include the butter chicken, a Punjab delicacy of marinated white-meat chicken in a butter-tomato sauce ($12.95), the lamb korma (fresh-spiced lamb cooked in a cream curry, $12.95), lamb seekh kebab (egg-marinated minced lamb, $12.95), and chicken malai kebab (juicy chicken marinated in cheese and herbs, $12.95). For a vegetarian twist on tried-and-true curry, the paneer tikka masala, baked cheese in a tomato-cream curry ($10.99), crams elephant-sized flavors into an ordinary-sized dinner. Heat-seeking mouth-missiles can order the Goa coast's specialty: lamb or chicken vindaloo slow-cooked with potatoes in a fiery sauce ($12.95, shrimp vindaloo $13.95). Paradise India prepares much of its regular menu to suit many tastes, including vegan, gluten free, spice free, and dairy free. Stay warm with the chai ($2.95, free refills) or cool your palate with the euphoric flavors of mango kulfi ice cream ($2.95).
7119 W 135th St.
Overland Park
Kansas
Celebrating its 74th anniversary on April 15, 2012, Jess And Jim's Steakhouse has stood the test of time. The Van Noy clan owns and operates the throwback eatery and leads a staff whose dedication dates back, in some cases, more than 40 years. They serve hand-cut Sterling Silver beef sourced from the Great Plains and showcase fresh varieties in a chilled meat case.
This family-friendly establishment owes at least some of its popularity to prominent men's magazines. John Mariani of Esquire magazine named their Playboy Strip one of the 20 best steaks in America in 2008. The cut—which weighs in at a whopping 25 ounces and arrives with soup, salad, and choice of potato—was named after the publication whose 1972 story by writer Calvin Trillin placed the restaurant in sight of the public eye nationally. The menu also includes lobster tail, house surf 'n' turf specialties, pork chops, and chicken-fried steak. Guests can sip libations such as Boulevard Brewing Company's chocolate ale at the bar, which itself features a suspended model-train track and live singers harmonizing with the tiny train whistles every Friday night.
517 E 135th St.
Kansas City
Missouri
816-941-9499
At Room 39, the dinner menu doesn't start with appetizers. Instead, the top of the carte features a short profile of a local farmer, followed by a list of all the small family farms that provided ingredients for the night's dishes. This choice signals the commitment of chefs and co-owners Ted Habiger and Andy Sloan to making local, sustainable food a part of fine dining. At both of the restaurant's locations, they construct elegant New American dishes, such as blueberry-goat-cheese pancakes at breakfast and housemade pappardelle with bolognese at lunch. They're also no slouches with seafood—their spicy sautéed shrimp was named one of the best restaurant dishes of 2007 by Food & Wine magazine. Behind the bar, craft beers flow from local breweries such as Boulevard, Free State, and Tallgrass, as well as classic cocktails from local negroni wells.
10561 Mission Rd.
Leawood
Kansas
---