Raymore, MO Spa and Massage
---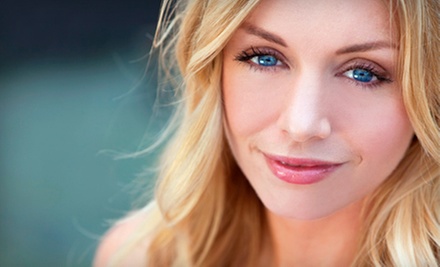 ---
Recommended Spa & Massage by Groupon Customers
---
It can sometimes feel odd to live in a world where pizzas and singing telegrams can be delivered to your door, but massages cannot. Today's Groupon changes that with $100 of spa services from A Perfect Ten (Or Twenty) for $40. You can either use your Groupon at the mobile spa and salon's Overland Park location, or have the spa come to your home, office, hotel, hospital, or replica Mayan temple (within 25 miles of the studio).
6727 W 119th St.
Overland Park
Kansas
US
The Great Sea of Regeneration can only ebb and flow so quickly when it comes to healing and breathing fresh life into your shore of skin. Today's Groupon operates faster than a metaphorical body of water to soften and beautify your skin with a microdermabrasion, IPL chemical peel, or hair-removal treatment from Rajeunir Medical Spa for $29 (an up to $150 value). Don't waste your time attempting to grow new skin using a microwave and fruit leathers when you can lovingly tend your existing outer layer.
11401 Nall Ave., Suite 218
Leawood
Kansas
The licensed massage therapist at Ahimsa Healing pulls out every tool in the musculoskeletal toolbox, calling on everything from the popular gliding strokes of Swedish massage to the energy-based healing techniques of Japanese reiki to defeat chronic pain. Visits begin with an intake form, on which clients or enchanted pencils scribble down notes regarding chronic conditions or injuries so that therapists can design a custom pain-relieving treatment. Nimble hands then manipulate muscles, calling upon deep-tissue kneads to offset injuries and craniosacral therapy to reduce headaches caused by accidentally holding your helmet and wearing your jackhammer.
11111 Nall Ave., Suite 108
Leawood
Kansas
913-709-6219
Inspired by Ayurveda's holistic health principles and fueled by Aveda plant essences, Tridosha draws inner beauty to the surface with custom hair and skin services. In the salon, stylists sculpt locks into shapes that frame faces and downplay extra ears. Botanical oils permeate Aveda colors, which condition the mane as they conjure rich, natural hues and healthy-looking shine. Skin treatments draft everything from warm seaweed to rosemary-mint essences to purify pores, smooth away rough spots, and awaken the senses with a gentler touch than that used by a skunk tied to an alarm clock. Aromatherapy scents waft over massage clients as they absorb Swedish and deep-tissue strokes, which can be enhanced with an aromatic scalp-massage add-on.
313 SE Douglas St.
Lees Summit
Missouri
816-246-9909
Dr. Kirk Johnson says no to drugs. Inside his holistic practice, he only uses natural therapies to remove pain and discomfort. Through chiropractic, nutrition, and acupuncture, he treats all manner of disease and even helps overcome infertility. Meanwhile, massage therapy manipulates the body's soft tissue structures to improve circulation and range of motion while releasing toxins. The office also houses a hyperbaric oxygen chamber, which creates higher atmospheric pressures to help increase the brain's oxygen supplies and heal athletic injuries, such as tearing a muscle while trying to hit a home run using only your forearms.
12701 Metcalf Ave., Suite 201
Overland Park
Kansas
913-825-2550
Aspen Salon and Spa's locations on College Boulevard and Metcalf Avenue host more than 35 independently operating spa and beauty professionals working in their own private suites. Skilled hairstylists, aestheticians, massage therapists, and other pampering practitioners offer an array of services from custom spa facials to hot-stone therapy, designed to soothe and beautify much like shampoo instructions read to the tune of "Rock-a-bye Baby."
14884 Metcalf Ave.
Overland Park
Kansas
816-863-0930
---