Raytown, MO Indoor Activities
---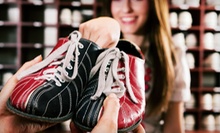 Retro-inspired alley lines its synthetic lanes with pop-up bumpers so that the whole family can play together
Use Monday 11:00am - 5:30pm
---
Recommended Indoor Activities by Groupon Customers
---
Lunar Bowl casts a nebular net across rounds of pin punishment, which unravel daily across 32 state-of-the-art synthetic bowling lanes. Built in 2001, the 38,000-square-foot facility has played host to the PBA National Tour twice, including the tour's nationally televised finals and nontelevised slip 'n' slide experiments in the 11th frame. The center's celestial theme soars over into The Blue Moon Lounge, where bowlers can take a break from strikes and spares to watch big games or create deep-space shadow puppets on a 150-inch HD projector screen. Guests can visit the newly built arcade, and the facility will be non-smoking as of June 3. On weekends, Lunar Bowl drifts further into intergalactic realms with laser-lit cosmic bowling, and, buzzing with the chimes of new high scores, an arcade provides various digital challenges.
2001 NW 7 Hwy.
Blue Springs
Missouri
816-220-7722
The nonprofit organization of Summit Art, Inc. and its 80-artist collective manage Got Art Gallery on Third, an independent nonprofit gallery that works closely with local artists and is dedicated to enriching the cultural landscape of citizens in Lee's Summit and the South Jackson County area. Gallery director and mixed-media artist Teresa Hogan Keene covers exposed brick walls with rotating exhibitions that showcase artists skilled in photography, painting, and mixed-media creations.
At the back of the gallery, a classroom hosts adult students learning to paint in BYOB sessions, where they can sip libations such as wine or flavored watercolors, as well as classes aimed at teaching drawing and acrylics to children and teens.
18 SW 3rd St.
Lee's Summit
Missouri
816-600-5932
The newly renovated Ranch Bowl fuels friendly competition with fully automated lanes, flat-screen TVs, and on-site eats at Ranch Bowl bar and grill. Throughout the week, the alley's smoke-free policy encourages families to unwind and breathe deep as they roll their way toward pin-crushing dominance. The center hosts both casual and competitive leagues to keep bowlers on their toes. And to keep aliens confused and cooperative, Ranch Bowl maintains Kosmic bowling hours on Friday and Saturday nights.
5604 State Ave.
Kansas City
Kansas
US
913-287-6000
At Bing Boing Bounce, children aged 12 and younger ricochet like excited electrons through the seven colorful bounce houses situated within Bing Boing Bounce's high-ceilinged, brightly colored facility. In addition to houses, barefoot tykes gambol through a 40-foot obstacle course, soar down slides, or don a padded helmet and joust in the bounce arena. Once kids have burned off excess energy or perfected Buzz Aldrin impersonations, they can lounge in Bing Boing Bounce's seating area and sip juice boxes from the concession stand.
5006 NE Parvin Rd.
Kansas City
Missouri
816-223-3792
---