Things to Do in Raytown
---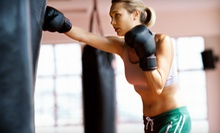 Mixed martial artist and pro personal trainer helps whip students into shape with kickboxing, boxing, and weight conditioning
---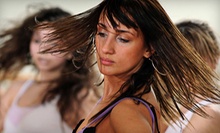 Zumba instructor draws on her own experience with the exercise as she leads students in dance-fitness classes
---
Recommended Things to Do by Groupon Customers
---
Ibex Climbing Gym's 8,000-square-foot indoor facility is home to dozens of routes for all climbing skill levels. From clinging to overhangs or slowly trudging up slabs, climbers can hone their gripping skills with lead or top-rope climbing sessions. On a second-floor loft, bouldering challenges await rope-free climbers, with crash pads on the ground to soften falls and hundreds of multicolored holds offering varying routes. Ibex team members lead classes for all skill levels, from beginner to advanced, and also offer youth summer camps and recreational and competitive climbing teams. A wide variety of gear is available to equip students for climbing inside or outside of the gym. Prior to any rope climbing in the gym, beginners must undergo a belay class that teaches the fundamentals of belay safety, proper terminology, and the preclimb lasso dancing required for good luck.
801 NW S Outer Rd.
Blue Springs
Missouri
816-228-9988
Founders Mika and Jeremy Fue have packed Kidzone's indoor facility with a 20-foot single slide, an 18-foot double slide, and an obstacle course that stretches more than 30 feet long through which youngsters can maneuver under their parents' supervision. Three trampolines and roomy bounce houses accommodate bounding tykes and double as landing zones for confused flying squirrels; an interactive area supplies toddlers aged 2 and younger with age-appropriate games. Parents can drop off their kids every Friday night for three supervised hours of pizza, games, and inflatable play, or host their child's birthday celebration with an open or private party package.:
1255 Southwest State route. 7 Highway
Blue Springs
Missouri
816-228-5439
In 2005, the racehorse known as St. Croix was crowned Ohio's Horse of the Year, completing the season with one third-place, one second-place, and five first-place finishes. None of this would be possible without the tireless efforts of Saddle Creek Stables' trainers, who saved St. Croix from his early vacation plans to horse heaven. After the equine instructors retrained and bonded with him, St. Croix returned the favor with an awe-inspiring racing career. Now enjoying his retirement, St. Croix carries guests on leisurely trail rides across 160 acres of forest trails, outcroppings, cliffs, and flowing streams.
Saddle Creek Stables is a premier racehorse facility operated by trainers dedicated to making their thoroughbreds happy and healthy. The team leads trail rides for all ages and organizes parties with hayrides and bonfires for children. Their forested ranch also provides an excellent venue for hikers, campers, anglers, and deprived houseplants looking to reconnect with their natural habitat.
5915 S Norfleet Rd.
Kansas City
Missouri
---