Things to Do in Reading
---
---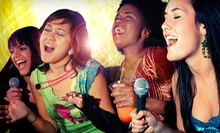 Chinatown - Leather District
Once inside, belt from a book of more than 10,000 karaoke tracks onstage, or control the lights, videos, and audience in a private room.
Use Saturday 12:00am - 2:00am
---
Recommended Things to Do by Groupon Customers
---
Click above to buy tickets for the Boston Derby Dames August 15 games. Click here to buy tickets for the Boston Derby Dames July 18 games.
99 Fordham Rd.
Wilmington
Massachusetts
US
At Paradise Mini Golf, friends and families guide colorful golf balls through an 18-hole oasis of zigzagging putting greens and tropical obstacles. The course's river exposes orbs to the treachery of a flowing stream on multiple holes, and a 35-foot-tall tree house gives local birds a chance to cheer on putt-putters or stock up on nourishing golf balls for winter's hibernation. After a round, golfers can stop by the koi pond and feed the fish at the feeding station or visit the ice-cream stand. Visitors looking to expand their golf game beyond the mini domain can drop by the Paradise Driving Range to hone lengthier swings.
25 Lonergan Rd.
Middleton
Massachusetts
978-750-4653
Founded in 2007, A Far Cry is a self-conducted chamber orchestra made up of 17 young professional pluckers and bow-wielders, known as the Criers, who have played alongside cellist Yo-Yo Ma and rock band This Will Destroy You within the last month. The New York Times proclaims that the orchestra "brims with personality" that yields "performances of such passionate involvement," and the Boston Globe writes that "members of the conductor-less string orchestra love nothing more than to throw themselves into a musical phrase with vital conviction." The collective pushes the boundaries of orchestra repertoire, eschewing the tradition of smashing their instruments on a gong after each performance while favoring collaboration and rotating leadership. This particular program features Shostakovich's dark Eighth Quartet, John Adams's Shaker Loops, and the premiere of double concerto K2, with fiddler Kip Jones and bassist Karl Doty. Racking up more than 200 of those performances so far, the ensemble has also released three albums and is the chamber orchestra in residence at the Isabella Stewart Gardner Museum, which often entails serving as live statues to fill in for artwork that's being restored.
30 Gainsborough St.
Boston
Massachusetts
617-585-1260
The Brattle Theatre's screens have been glowing with an eclectic slate of films since 1953, but its cultural legacy stretches back to 1890 when it first opened as a live theater. Its productions seemed destined to eventually intertwine with the burgeoning Hollywood industry, and today, the venue keeps its artistic roots alive by showing a full roster of classic, foreign, and independent movies. The cinema-savvy staff frequently bundles pictures into special repertory series—past programs have centered around a vast array of topics, ranging from tributes to Greta Garbo and Ingmar Bergman to a series of documentaries on Clark Gable's mustache. To bolster the cinematic experience, moviegoers snack on locally-made concessions including traditional box office candy as well as baked goods and beer.
40 Brattle St.
Cambridge
Massachusetts
US
617-876-6837
Pump It Up's indoor inflatable arenas launch socked striplings into the air with a plethora of kid-friendly bounce pads. Staffers supervise fun-filled visits, during which adult counterparts leap around with their kids through gargantuan bounce houses, skip down air-filled slides, and slither like snakes covered in bacon grease through an inflated obstacle course.
The colorful venue also hosts custom birthday parties and private team parties, each themed to please the partygoers in question. These soirees immerse children in a schedule of interactive activities befitting a pirate or a superhero while melting off youthful energy faster than ice cubes thrown into a running DVD player. The birthday boy or girl even gets to blow out the candles on their cake seated in their blow-up throne. Occasionally, the staffers switch off the lights, arming the roomful of players with glow sticks and bracelets as they navigate the air-cushioned obstaclescape. Relying on the staffers' vigilant, watchful eyes, guardians can rest assured that their charges will stay safe, and each piece of the inflatable playground is held to the floor and ceiling by a complex series of anchors installed according to strict safety standards.
Pump It Up, 5 B Webster Street
Peabody
Massachusetts
978-532-5867
Jamie Kennedy is a veteran of comedy, known for a razor sharp wit that is best showcased in front of a live audience. If you're not familiar with his stand-up, you probably know him from his appearances in numerous movies, like the Scream franchise, or his hilarious prank show, The Jamie Kennedy Experiment. He's depicted above looking tough in front of a fence and with some gloves on, and I think he might have been the killer in Scream, so you might want to be careful when your in close proximity to his aforementioned razor wit. Here's a clip of his standup.
246 Tremont St
Boston
Massachusetts
US
---