Things to Do in Reading
---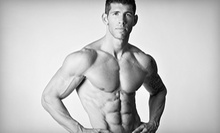 Choose between intense Incinerate workouts & sessions to be used for open gym visits or group fitness classes such as boxing, yoga & Pilates
---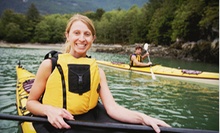 Outfitter supplies kayaks and standup paddleboards for excursions on the calm, inviting waters
---
Recommended Things to Do by Groupon Customers
---
The cello-shaped Verizon Hall serenades eyes with mahogany accents under the 150-foot barrel-vaulted glass ceiling of the Kimmel Center for the Performing Arts. With seats for 2,500 audience members, the hall immerses both spectators and musicians in the clarity generated by its premium acoustics, which absorb vibrations from the subway tunnel below with 225 rubber isolation pads and allow for precise tuning with retractable curtains and sound-reflecting panels. Seasoned jazz artist Branford Marsalis confirmed Verizon Hall's sound acumen when he told NPR it is "the best concert hall on the East Coast."
260 S Broad St., Suite 1600
Philadelphia
Pennsylvania
After practicing a new way to combine balls with baskets during the pro lacrosse clinic, both newbies and enthusiasts of the sport can kick back and enjoy the sights and sounds of the LXM Fan Experience. When the blades of grass settle, Wale will get them jumping again with tracks like his Billboard-charting singles "Pretty Girls," "Chillin," and more. By then, the crowd should be plenty amped for the main event—the LXM PRO Lacrosse Game. On the field, dozens of the sport's best players, including Kyle Harrison and Joe Walters, will split into two teams and go goal-for-goal and stick-for-stick as they play for sheer love of the game—inspiring the crowd's aspiring youth athletes with rocket-powered passes, last-second catches, and thrilling goals. There's no cap for today's Groupon, so feel free to bus in with a team or carpool in with a family.
130 King of Prussia Rd.
Radnor
Pennsylvania
When Brian McInerney reflects on the humble beginnings of Wheel Fun Rentals, he points to his childhood passion for bikes. "As far back as I can remember, I had a real love affair with bicycles," he recalls. During a trip to Italy in 1987, Brian's affinity for cycling blossomed into a full-fledged obsession when he spotted locals' transporter of choice, the surrey. Inspired, he began importing the Italian four-wheelers to a rental business in the U.S. that eventually expanded into Wheel Fun Rentals, now a nationwide web of shops that also loans out bikes, electric cars and mopeds, and man-powered watercraft. Atop bicycles and surreys built for solo riders or entire families, patrons embark on self-guided tours of major U.S. cities. Led by maps and lists of nearby sites of historical or cultural significance, riders zoom down bike paths and safe, lightly trafficked streets. Adventuresome athletes can also compete in activities such as surrey scavenger hunts and blindfold obstacle courses navigated via shouted instructions from a seeing teammate or exceptionally long rounds of trial and error.
1 Boathouse Row
Philadelphia
Pennsylvania
215-232-7778
As the Class A affiliate of the Kansas City Royals—and as four-time Carolina League champions—the Blue Rocks represent one of the most successful traditions in all of Minor League Baseball. Continuing to build upon a franchise history that stretches back to the 1940s, Wilmington has served as a launching pad for more than 100 big leaguers since 1993. As the squad of rising stars kicks up dust with diving stops and gritty slides, the 7-foot mascot Rocky Bluewinkle roams through the seats passing out fist bumps and lecturing youngsters on the pros and cons of having antlers.
801 Shipyard Dr.
Wilmington
Delaware
302-888-2015
There are many times when hilarity hides and withdraws, but with today's side deal, it ensues. For $15, you get a ticket to the preview showing of The Foreigner on Tuesday, January 26, or Wednesday, January 27, at the Bristol Riverside Theatre (a $29 value for a regularly priced ticket; student tickets are $10 with a valid ID). Called "a hilarious farce, full of loopy jokes" by the New York Times, The Foreigner has also received glowing critical acclaim from the Village Voice, among others.
120 Radcliffe St.
Bristol
Pennsylvania
US
Several decades of disparate architectural styles stand at the corner of 69th and Ludlow: an old-fashioned radio tower atop the Doric columns of a faux-classical cupola atop a streamlined marquee that broadcasts the year the Tower Theatre opened as a music venue: 1972. That's when it began helping introduce the world to such acts as David Bowie, Genesis, and Bruce Springsteen. Inside, red lights glow over an auditorium done up in the 1920s style of the movie palace that originally filled the venue, with marble pillars, Italianate archways, and an enormous light fixture that resembles an old film reel from the days before movies were beamed from computers into audiences' brains.
19 S 69th St.
Upper Darby
Pennsylvania
---