Restaurants in Red Bank
---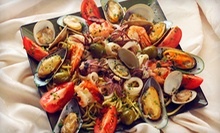 Homemade bread accompanies lobster ravioli, filet mignon, fresh pasta, and New York–style pizza
Use Tuesday 4:00pm - 10:00pm
---
Recommended Restaurants by Groupon Customers
---
Restaurateur Tim McLoone has left his mark all over the culinary maps of New Jersey and Maryland with his numerous gourmet grills, which distinguish themselves from one another with unique menus and ambiances that hew to the same level of upscale elegance. Most of Tim's restaurants set a lovely spread for Sunday brunch with made-to-order omelets, waffles, and a carving station with plump, tender hams. The network of eateries regularly lures hungry passersby during the evening with the aroma of grilled steaks and seafood, and a winning lotto ticket attached to a fishing line. Select locations are also visited by nightly entertainment. The decor at each dining hall is inspired by its surroundings: naval themes prevail at the coastal locations in National Harbor, Sea Bright, and Long Branch, while McLoone's racing-themed restaurants are located within the off-track facilities in Fords and Bayonne.
1200 Ocean Ave.
Asbury Park
New Jersey
L'Acqua Ristorante's co-owners and chefs, Francesco Ippoliti and Mario Esposito, craft a menu of authentic Italian cuisine in a charming Victorian atmosphere. The culinary team expertly prepares tilapia contadina, as well as meat dishes such as veal piccata–veal scaloppini with Mediterranean capers in a lemon and white-wine sauce–that diners can pair with BYOB sips.
Inside L'Acqua Ristorante, artwork decorates colorful teal walls that match teal tablecloths and Teal, the eatery's resident ghost dog. Candles illuminate light-brown chairs clustered together for intimate dinners or set up to accommodate private parties of up to 100 guests.
52 W Main St.
Freehold
New Jersey
732-577-1761
Specializing in crispy servings of fried chicken, Chicken Holiday dispatches tubs that hold up to 50 pieces of white and dark meat, as well as batter-dipped fish, ribs, and buffalo wings. Sides such as real mashed potatoes and mini loaves of corn bread round out comfort-food feasts, which can be enjoyed in the restaurant, carried out, or delivered to a home or orbiting space station. Family and holiday specials corral chicken, ribs, shrimp, and sides into combos, and a catering menu ensures no partier gets peckish.
4569 Amboy Road
Staten Island
New York
718-356-9191
Exquisite Lizard keeps motors running until midnight all week with creative burgers, meat-filled sandwiches, and pasta swimming in creamy sauces. Flatware-less fare, ranging from french-bread pizza to boneless buffalo wings, refuels patrons in between rounds of pool and darts, or two-handed diners can heave the Mega burger, with its chapeau of sautéed mushrooms and onions, toward awaiting taste buds. A frothy slate of draft beers, including Blue Moon and Samuel Adams, extinguish mouth fires while patrons root for their favorite baseball player or congressional witness from a quartet of television screens.
589 Lincoln Avenue
Staten Island
New York
718-667-9815
Pearl of Lisbon surrounds its guests with glowing lanterns, built-in wine racks, and oil paintings of castles reminiscent of its namesake city while filling plates with traditional Portuguese dishes from a two-part menu. Once seated indoors or outside beneath the grapevine-shaded patio, guests can dine on grilled prawns in a spicy mozambique sauce ($20.95) or flambéed portuguese sausage ($10.95). Daily specials keep things fresh, making use of whatever fresh seafood the chefs could barter that day from entrepreneurial mermen.
609 Broadway
Long Branch
New Jersey
732-263-1050
The sunset-orange hue of turmeric. The complex nutty scent of cumin. The slow-burning warmth of ground chili on one's tongue. Spices touch all of the senses, and the precious seasonings play an important role in the kitchen at Shezan. Inside, clay ovens cradle chicken kebabs with ginger, paneer cubes marinated with herbs, and meat infused with the flavors of papaya. Waiters carry lamb, shrimp, and vegetarian dishes to the dining room, where forks clatter against plates with the cheery jangling of the robot arrival lounge at an airport. On weekends, a brunch buffet arrays 60 distinct desserts, biryani dishes, and tandoori options in the eatery, which the Home News Tribune called a "home away from home" for Pakistani diners.
1673 Oaktree Rd.
Edison
New Jersey
US
732-548-1803
---