Beauty & Spas in Red Bank
---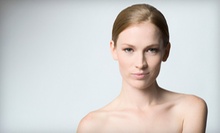 The fractional resurfacing treatment's laser beams jumpstart collagen production, helping to shrink pores, smooth wrinkles, and plump skin
---
Recommended Beauty & Spas by Groupon Customers
---
Before she launched Bodyworks Massage, Jennifer Snelgrove racked up 900 classroom hours at Georgia Career Institute—that's 400 hours above the state requirement. During these hours, she fine-tuned her skills and honed her intuition, becoming a master of massage therapy. Snelgrove works alongside Melanie Ward, a fellow overachiever who possesses more than 900 hours of anatomy and hands-on education. They practice modalities that range from long, soothing Swedish strokes to targeted deep-tissue manipulations. Regardless of technique, their bodywork sessions induce a deep sense of tranquility and cause muscles to slacken like carolers after New Year's.
201 W Main St., Suite 205
Murfreesboro
Tennessee
615-306-6555
Studio La Vie at Riverview's skilled aestheticians pamper clients with rejuvenating salon and spa treatments, applying aromatic mixes to faces, legs, feet, and coiffures. Scented oil slides onto tired legs and feet, engaging the senses with soothing fragrances as skilled hands ease tension from limbs like toothpaste from a box of toothpaste. Stylists' careful fingers guide scissors adroitly over heads, crafting sleek haircuts augmented with highlights and hair color.:m]]
1101 Hixson Pike, Suite D
Chattanooga
Tennessee
423-634-5255
Stylist Rachel Roes McCoy began her haircare career at 16, when she started shaping new coiffures for her family and friends. Since then, she has become a certified facial-waxing specialist and trained with stylists Martin Parsons and Nick Arrojo from TLC's What Not to Wear. Nowadays, McCoy showcases her expertise with shears at Studio La Vie, where she severs split ends, snips away tangled fishing lines, and performs coloring and waxing services.
1101 Hixson Pike, Suite D
Chattanooga
Tennessee
423-619-2867
Carlene Francis helms her boutique, Nails by Carlene, with a friendly demeanor bolstered by a self-proclaimed "Caribbean sway." The passionate digit artist gussies up finger- and toenails with colorful gel fills in a range of patterns and designs, from zebra stripes to Rorschach tests. Hands and feet also receive pampering treatments, as Francis lavishes skin with fruit-based scrubs, hot oils, and sea-salt soaks.
7047 Lee Hwy., Suite 301
Chattanooga
Tennessee
954-696-6641
---