Shopping in Redland
---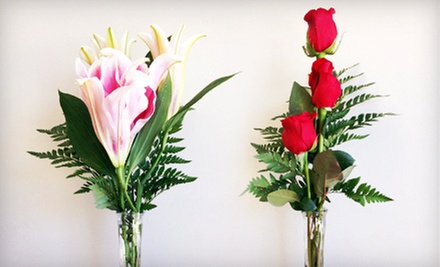 ---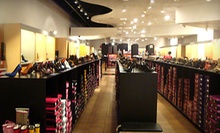 Feet slip into shoes, boots & sandals from Blowfish, Keds & Dr. Scholl's in sizes for men, women & kids
Use Sunday 10:00am - 6:00pm
---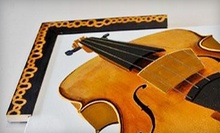 Use Today 10:00am - 5:00pm
---
Recommended Shopping by Groupon Customers
---
Unlike your special lady's cucumber-melon rain-sprinkle lotion, the Combat-Ready Balm soothes razor burn and the effects of eczema and psoriasis, removes the itchiness from bug bites and scratches, and relieves sunburned, dry, or irritated skin. The balm has even seen combat while serving the dermal needs of American troops in Iraq and Afghanistan. Skincando products, with their no-frills packaging and intense bold labels, not only mean business, they mean war.
1 Columbia Ave.
Takoma Park
Maryland
202-215-8991
A well-placed splash of sparkle from Ice can transform even the dowdiest duds into formal wear while drawing the human eye to any place you want it to go. Draw attention to your slender wrists and away from your third eye with a 925 bangle studded with clear cubic zirconias ($52) or a large stone bracelet ($50). Likewise, you can show off the toned earlobes you worked so hard to achieve at boot camp with some platinum-bonded hoop earrings shining with Austrian crystal ($48). And nothing says "Hey, look, décolletage!" like a five-flower, cubic-zirconia necklace ($52). You can also get a two-tone black onyx pendant ($36) or square and round stackable rings ($32) without breaking your bling budget. The website offers only a sampling of what you'll find in-store, so be ready to browse, just like when you spent two hours at the pet store because you couldn't figure out which puppy took your wallet.
7101 Democracy Boulevard
Bethesda
Maryland
301-365-3330
From green gifts to handcrafted treasures, Nest houses original and environmentally friendly wares. Selected inventory includes sustainably sourced fabrics by Earth Creations, recycled glassware by Fire and Light, and charming pottery from Mudworks. Read the gripping origin stories of some of Nest's vendors here. With this Groupon, naturally scent the home with a large soywax candle ($20), pull on an organic cotton T-shirt ($26–$30), or sip from a tumbler crafted from recycled wine bottles ($10.99). Nest supports fair-trade, organic cotton, recycled, handmade, and environmentally friendly goods.
5809 Clarksville Square Drive
Clarksville
Maryland
Zelaya Shoes of Bethesda is a footwear palace housed beneath a cheery pink awning. Prices at Zelaya range widely; pick up a pair of Sweet Caroline Yellow flats from Chinese Laundry for $39 or a luxurious pair of Daquelo taupe suede booties from Chie Mihara for $349. Keep your torso firmly attached to your hips with a black suede zipper-detail belt from J.J. Winters for $165.
4940 St. Elmo Ave.
Bethesda
Maryland
Since 2005, friendly book monarchs John and Kathy Byer have built a browser's kingdom of more than 15,000 books, recently adding legions of DVDs, CDs, and vinyl to their burgeoning empire. Each hardcover and paperback comes neatly arranged by type, from romance to children's books to science fiction, and they range from 50%–80% off the suggested retail price. Nostalgic VJs and cash-strapped Frisbee dogs will happily sniff through the DVD selection ($4 per disc), the sisterly compact discs ($4.95), and their great-uncle vinyl ($3.99). New trades occur weekly, rendering Second Edition a valuable hub for anyone looking to pan for gently used gold, dog-eared Newbery Medals, or gently-eared dog gold.
6490 Dobbin Rd.
Columbia
Maryland
The Denim Bar serves up frothy mugs of stylish designer denim to the mid-Atlantic's chic shoppers, with an array of men's and women's jeans and more. Gents can comfortably cover regrettable calf tattoos with a pair of Naked & Famous slim guy jeans in black selvedge ($125), while ladies can gussy up gams with Acne Hex in Prod skinny jeans ($149). Other designer brands on tap at Denim Bar include AG, Nudie Jeans Co., Citizens of Humanity, 4 Stroke, and Sugar Cane & Co. For customers desiring non-denim duds, Denim Bar also offers apparel that hasn't been mined from the earth's natural jeans deposits. Bedeck your torso in the spirit of modal jazz with a Friend or Foe John Coltrane T-shirt ($48), or coax catcalls from cumulus clouds with the Three Dots Desert Night bandeau dress ($115). An assortment of accessories rounds out the Denim Bar inventory, with socks, sunglasses, and jewelry tempting fashionistas and stylesters alike.
4939 Cordell Ave.
Bethesda
Maryland
---