Things to Do in Redland
---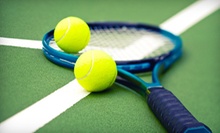 Rackets and other tennis gear from brands such as Wilson and Slazenger from well-stocked tennis and golf shop founded in 1975
Use Today 10:00am - 7:00pm
---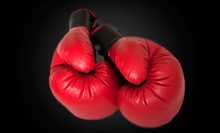 Hour-long workout incorporates drills designed for professional fighters, cardio & strength conditioning to challenge major muscle groups
Use Today 3:00pm - 6:00pm
---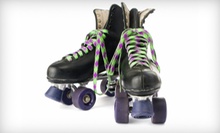 Retro roller skates twirl duos around a smooth indoor rink
Use Thursday 11:00am - 10:00pm
---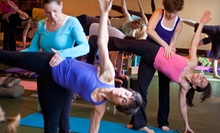 Hatha, Pure Bliss, Vinyasa flow, and hot Vinyasa classes invite students of all levels to peaceful sessions led by seasoned instructors.
Use Thursday 6:00pm - 9:00pm
---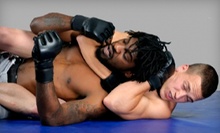 Day pass grants access to krav maga, muay thai, boxing, and wrestling classes led by seasoned instructors
Use Saturday 10:00am - 4:00pm
---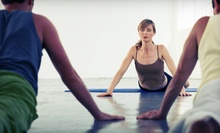 Yoga practice tailored to beginners focuses on basic poses, breath control, and proper alignment
Use Saturday 8:00am - 11:00am
---
---
Recommended Things to Do by Groupon Customers
---
The story follows military man Don Jose, who falls helmet over boots for a gypsy girl named Carmen. As he spirals into an obsessive jealous spell, his world begins to crumble faster than Sid's first cookie. Don Jose's consuming passion for Carmen leads to disgraceful acts that can only be described operatically. The production is sung in French, with English supertitles and English dialogue.
6125 Montrose Rd
Rockville
Maryland
A nonprofit castle-themed adventure land created by The Good Knight Child Empowerment Network, The Good Knight Enchanted Kingdom & Family Museum is an interactive fairy-tale realm designed to teach children about safety. Founded by a coalition of retired federal officers, The Good Knight Child Empowerment Network's mission is to empower kids and their parents through education, using the fairy-tale format to bring awareness to such hard-to-talk-about topics as child abduction. Through special events, shows, summer camps, and onsite adventures, costumed fairies and brave knights lead their young charges on themed challenges and quests to encourage them to fulfill socially responsible roles and build their self-esteem. The shows also teach children how to employ the ABCs of protection and how to recognize the 10 basic physiological deceptions that criminal predators often use to manipulate their victims, giving kids the skills to defend themselves and their peers.
11001 Rhode Island Ave.
Beltsville
Maryland
301-595-8989
For more than 20 years, the FAA-certified flight instructors at Washington International Flight Academy have safely guided pupils skyward and imbued them with the skills necessary for numerous licenses and certifications. Under an instructor's watchful eye, guests control a Cessna 172 on a 30-minute airborne trek during discovery flights, which can later be applied toward courses for a private or commercial pilot's license with optional multiengine rating. A commercial pilot's license qualifies more seasoned flyers for instructor certification, where they learn how to teach essentials, including how to tell the difference between a landing airplane and a diving roc.
Along with in-depth courses, Washington International Flight Academy accommodates patrons with rentals of its massive fleet, charts and piloting supplies from its fully stocked shop, and lodging for out-of-state students.
7940 Airpark Rd., Hangar M
Gaithersburg
Maryland
Founded in 1951, Adventure Theatre MTC has been the longest-running children's theater in the Washington area and has earned a mantel-overloading amount of awards throughout the decades. Alongside professional and student productions, the theatrical powerhouse hosts camps and workshops to expand the performance arts, instill the love of the stage in children, and help teens to act like they care about the SATs.
7300 MacArthur Blvd.
Glen Echo
Maryland
Kids bounce off the walls of inflatable castles, cascade down air-filled slides, and squirm through plush obstacle courses at Pump It Up's indoor playground. Designed with safety in mind, this staff-supervised funhouse excites children's imaginations while they burn off extra energy at Pop-In Playtime.
Also designed as a party venue, the interactive party experiences involve interactive themes such as Pirate Quest and Superhero Training Camp, which challenges kids to decode secret messages as they listen to an adventuresome soundtrack. To fuel parties, parents can purchase pop, pizza, and cake, alongside balloons and goodie bags. Strengthening both imagination and body, Pump It Up also offers Jump-N-Art summer camps, where kids replicate Picasso's creative process of painting, then getting dizzy in an inflatable mansion.
9172 Gaither Rd.
Gaithersburg
Virginia
US
301-977-1400
Clubgolf Performance Center members receive unlimited access to the indoor facility's myriad game-improving services. Observe, critique, and apply subtitles to your swing with video analysis and exchange golfer trading cards with experienced, PGA-certified club-wielders on the 1,200-square-foot putting green. During a professional diagnostic, Clubgolf's instructors will analyze and evaluate each knee bend and balance shift of your game, then prescribe a training regimen to help ensure better dimpled-ball smacking. Members can also attend complimentary golf classes, choosing from more than 15 courses offered each week, and golf-specific fitness programs, such as tee-lifting and knickerbocker-modeling practice.
9811 Washingtonian Blvd.
Gaithersburg
Maryland
---