Beauty & Spas in Redmond
---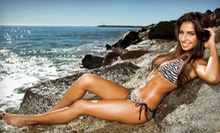 Downtown - Riverfront - 190th
Stand-up booth cloaks skin in level 5 glow without UV rays, bronzing instead with MagneTan technology & antioxidant-rich formula
Use Tuesday 7:00pm - 9:00pm
---
Recommended Beauty & Spas by Groupon Customers
---
Chiropractic experts at The Vital Energy Center use the Myovision SEMG to detect vertebral subluxations by measuring the amount of electrical activity that muscles release when they're tense. Then they use their hands to give really good massages. Choose from three different hour-long, muscle-melting massages from Vital Energy's expert therapists (graduates of the Soma Institute of Neuromuscular Integration and the Wellspring School for Healing Arts). Vital Energy is the only place in Seattle where you can get an AMMA massage: an atypical, Eastern medicinal rub that includes nutritional advice, herbal therapies, and other health suggestions like "pecans may or may not give you eternal life" or "you should work out in my garage when I'm not home."
2033 10th Ave. E
Seattle
Washington
US
Contrary to popular belief and science, healthy human nails aren't supposed to grow; they should remain static, glossy, and the color of your choice. But most of us contracted a disease from playground equipment that makes our nails grow at alarming rates, lose their luster, cease to be our favorite color, and become unattractively translucent.
1216 NE 145th St.
Shoreline
Washington
US
Pamper yourself at the ultra-comfy, mega-relaxing, über-friendly-staffed Salon Dewi, home of The Waxing Diva. This Groupon gets you $120 worth of body-wraps, body-polishes, and massages for just $60 at this premier Seattle Magazine-featured salon.
1525 14th Ave.
Seattle
Washington
US
Experience a regionally and nationally celebrated salon locally with today's Groupon: $50 for $100 worth of spa and salon services at Bowie Salon and Spa. Allure readers cited Bowie Salon and Spa as their favorite, Citysearch raves about the highlights, Seattle Magazine can't say enough great things about the blowouts, and Sea Monster Quarterly says, "There are no sea monsters there." 1853: In response to The St. Louis Temperance Battery's forceful arguments for prohibition, gin enthusiast/Mayor John How burns down the paper's office.1955: Houston TV Station WBLP reports that the Soviet Union signs the Warsaw Pact. Unwilling to process the world-altering event, every Houston inhabitant turns into vapor.1993: The Cleveland Dispatch calls Mrs. Doubtfire the "feel-good family film of the summer," while outraged audiences felt the film was "truly a classic fit for the whole family." The feud ends when the body of Mrs. Doubtfire is paraded through town square.
1507 Belmont Ave.
Seattle
Washington
US
Ambrosia MedSpa is a physical rejuvenation center where bodies seek restorative sanctuary far from the aging hands of gravity and time. A professional staff of therapists and aestheticians administers a variety of laser skincare treatments for youthful skin texture and pigmentation. Free beleaguered body parts from biology's aggressive follicles with three laser hair-removal treatments targeting the upper lip, chin, brow, ears, neck (front or back), underarms, bikini line, or areolas. Syneron Lasers provide state-of-the-art hair removal for all skin types through the gentle combination of radio frequency and optical energy, encouraging rogue hairs to end their leases early and join traveling folk-dance troupes. FotoFacial RF treatments improve complexions by smoothing over broken capillaries, fine lines, and other blemishes to transform the appearance of faces, necks, chests, and hands. Or reverse the aging process non-invasively with three ReFirme skin-tightening treatments. Jowls, necks, and eyebrows will achieve firmer skin and regain enough elasticity to continue breaking the falls of amateur acrobats.
9722 NE 119th Way
Kirkland
Washington
Whether you need a new 'do for your next album cover, or you want to make a good impression at a job interview for the album photographer position, Emerson Salon can give you a cut, color, or style that's easy to care for and looks great even when you style it yourself. Located in the Capitol Hill area, Emerson Salon has a fun and casual atmosphere, with rich wooden interiors and large storefront windows. Watch the hustle and bustle of the city from the comfort of your chair as the masters of style give you the perfect look. Services range from a standard style cut ($40) and hue-enhancing highlights ($55), to deep conditioning ($25) and updos (contact salon for pricing). Each of Emerson's stylists is a master hair shaman who knows how to snip, dye, and charm the most distraught bristles, frizzies, and Medusa head-snakes. They sense your innermost hair yearnings, then direct their careful scissors in tune with your thoughts and dreams, letting their creative forces flow wildly onto your scalp for a haircut that revolutionizes the way you look in the mirror—inside and out. Afterward, in the streets, you might find that your magnificent mane busts the binds of its bowler hat and leaps into sunshine, dappling the dark alleyways of careless coiffures.
909 E Pike St.
Seattle
Washington
US
---