Redondo Beach, CA Outdoor Activities
---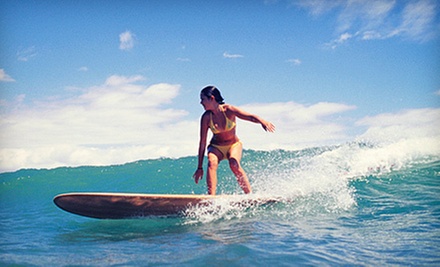 ---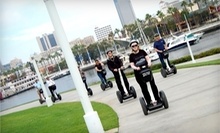 Use Monday 10:00am - 5:00pm
---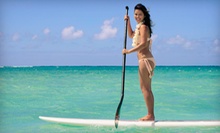 Patrons don provided wetsuits as instructors teach turns and how to coast waves and suggest five best SUP locations; all equipment included
Use Tuesday 10:00am - 4:00pm
---
Recommended Outdoor Activities by Groupon Customers
---
Miles into the Pacific Ocean, Harbor Breeze Cruises' captain tells a story. He speaks of Pacific gray whales making the journey from the Bering Sea in Alaska to Scammon's Lagoon in Baja California, Mexico, right when—as if on cue—a whale breaks the water's surface. Its blowhole fires a plume of water into the air as sightseers, spread across two decks, feast upon views of the majestic creature and their camera shutters snap furiously to capture the moment.
Up to 80-feet-long, Harbor Breeze's double-decker vessels allow groups to visit the habitats of a diverse group of marine wildlife; tours often spy whale species from blue to orca, dolphins as they leap into the air, and harbor seals as they sign traffic signals to passing boats. Aside from tours, Harbor Breeze Cruises also charters boats for weddings and memorials.
100 Aquarium Way
Long Beach
California
Jacques Cousteau had barely slipped the first scuba tank off his back when Pacific Wilderness opened its doors in 1953. Since then, the shop's staffers have used their collective expertise to outfit divers with high-quality equipment from brands including Oceanic, Scubapro, Seaquest, and Zeagle.
They also teach PADI scuba-certification courses that range from basic open-water training to advanced rescue diving. Lessons start at the on-land facility's heated pool but progress to weekend-long dives in the waters of San Pedro or the surrounding Catalina Island. The shop's scuba-philes also arrange journeys to exotic locales such as the Sipadan Water Village Resort in Malaysia and the secret depths of Camp David's presidential bathtub.
1719 S Pacific Ave.
San Pedro
California
310-833-2422
In 1956, a mining company sold some unproductive facilities to the County of Los Angeles, thinking it had taken everything worth taking from the land. The county wanted to reclaim the site as a natural habitat, but civic demands at the time dictated that it become a sanitary landfill. Then, in 1961, a group of private citizens headed by Frances Young convinced the Board of Supervisors to reclaim the site as a botanic garden. By April of that year, the one-time mine and former landfill bloomed with more than 40,000 donated trees, shrubs, and other plants, officially completing its rebirth as the South Coast Botanic Garden.
Today, the garden's 87 acres of land support more than 200,000 plants representing more than 2,500 different species, including 100 extremely rare mature plant specimens and globe-spanning plants from Australia and Africa. The robust growth sprawls across several theme gardens, including a dry-soil cactus garden, a traditional Japanese garden sculpted around centuries-old stone lanterns, and a Mediterranean garden inspired by the sultanates of antiquity. The diverse plant life provides shelter for an equally diverse population of birds and bugs, with 200 avian species spotted each year, matching the 200 yearly squeals from grown men who encounter a particularly large beetle.
26300 Crenshaw Boulevard
Palos Verdes Peninsula
California
310-544-1948
---