Pet Services in Redwood City
---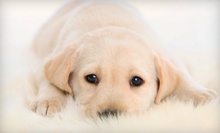 Owners bathe their pooches in private HydroSurge power-wash rooms designed for long-haired or extramessy dogs; all supplies are provided
Use Today 8:30am - 3:00pm
---
Recommended Pet Services by Groupon Customers
---
With 15,000 square feet of indoor and outdoor play space, your mutt will be able to run in circles and bark at the invisible aliens free of guilt or any sense of propriety (daycare starts at $35 a day). Dogs are segregated by size, age, and temperament in play areas, so two-pound Chaingun won't be able to pick on the bigger dogs like he always does. When night falls, fidos enjoy blissful dreams of fat, slow rabbits in either a plush private space or a group sleeping room for those who prefer the stinky camaraderie of the pack (accommodations starting at $50 a night for junior suite). There's even a lap pool so your scruffy buddy can finally nail the backstroke ($30 a session). Cross the rubicon into pet obsession by springing for with an aromatherapy bath (starting at $35 for pooches less than 30 pounds) or a pawdicure ($20). Though the hotel is manned 24/7 by chronic belly-rub-giver-outers, you can always check in on your four-legged life partner via webcam.
180 N Wolfe Rd
Sunnyvale
California
Young Yorkies inevitably become runaway runway models after wrapping their canine curves in boutique charm from Touleh. Prep a pug for fashion combat with a green camo jacket ($18), or give Lassie something to brag about besides her subterranean rescue skills with a happy-birthday-to-me dress ($54). Likewise, make every day a celebration with a City Girl pet carrier ($105). Edible accessories such as dog treats ($6–$12) and organic catnip leaf (starting at $3) are also available. Take your Groupon out for a walk around the boutique and give your pet a thrill comparable to chasing cars, tails, and ever-elusive fire hydrants.
333 Santana Row, Suite 1040
San Jose
California
While Spot Pet Care's canine clientele may not appreciate the shop's attractive displays of goodies, they'll enjoy their contents as well as the affections from Spot's head groomer, Catherine. Styling sessions begin in the facility's stainless-steel, eco-friendly bathtubs with ergonomic contours that help keep dogs comfortable and organic shampoo mixed with just enough water. A window allows full views of the separate grooming room, letting owners watch as groomers make wild manes more manageable. Pups who are especially good or especially spoiled can sniff out a reward in Spot Pet Care's fully stocked canine general store filled with hormone-free treats, fetching collars, interactive toys, and books containing the home addresses of every mailman in town. Lovers of all four-legged friends, Spot Pet Care groomers reserve every second Sunday for cat grooming appointments.
9 E Blithedale Ave.
Mill Valley
California
415-389-1064
With 13 years of experience in horse boarding, breeding, and training, Airdance Farm shares its time-earned expertise with learning riders of all ages and ability levels. While enjoying the outdoor sun and soothing breezes, students learn the subtleties of equitation at such onsite facilities as an all-weather outdoor arena, a round pen, and a large unfenced jumping area. When practicing trots or gallops while throwing water balloons at unsuspecting downtown businessmen, riders can lead their loyal steeds along a small cross-country track or gallop track.
1105 W Jack London Blvd.
Livermore
California
925-550-8410
Alani's Paw Spa's canine stylists help dogs of all sizes look and feel their best with basic baths and pampering spa services. The grooming center offers a variety of shampoos for clients to choose from, including soothing oatmeal, calming lavender, and that new-car smell. Hypoallergenic formulas are available for dogs with sensitive skin, and plum whitening shampoos maintain light-colored canines' dreamy coats. Semipermanent hair-dying treatments in 13 vivid colors can accentuate a natural hue or help rebellious pups express their wild side. For the ultimate spa experience, a lavish spa package includes a blueberry facial, paw-pad conditioner, gentle massage, and choice of bow or bandana.
3020 Floyd Ave., Suite 321
Modesto
California
209-551-3777
Rick DuBois left a career in the cutthroat corporate world in favor of his current and more humane profession as the owner and resident "pack leader" at You Luckie Dog! The lifelong pooch aficionado brings more than 20 years of dog expertise—including a stint as a chow-chow breeder and trainer—to his canine daycare, boarding, and grooming spa. "Pretty much whatever a traditional kennel does, we do the opposite," says Rick, who personally groups his tenants into amiable playgroups according to size, temperament, and fastest time swimming the 300-meter dog paddle. The canine resort rejuvenates man's best stressed friend with physical exercise and socialization, with stays ranging from day-long excursions to overnight boarding. The popular daycare service allows early morning drop-off and pickup as late as 8 p.m., and Rick makes a point of never smacking his customers with dollar-per-minute fees for late pickups. "I know what it's like to have meetings run long while people drone on. I want people to know I'm not trying to nickel-and-dime them."
309 Sango Crt.
Milpitas
California
408-262-3647
---