Restaurants in Redwood City
---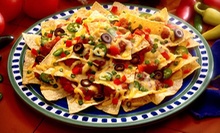 Meat cooked in a lard-free kitchen gives lean flavor to fajitas, enchiladas, tamales, and other Mexican food in a cozy, colorful diner
Use Monday 11:00am - 3:00pm
---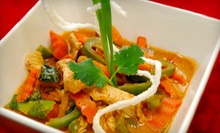 Mussel pancakes, egg noodles with barbecued pork, pumpkin curry, teriyaki tofu, and other Thai fusion dishes
Use Today 5:00pm - 9:00pm
---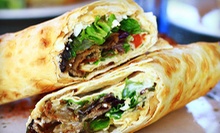 Chefs re-create staples of Istabul street food, including slow-cooked lamb & beef gyros, kebabs & falafel wraps served with hummus
Use Today 3:00pm - 6:00pm
---
---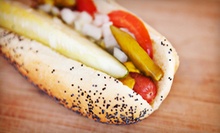 Chicken, turkey, and beef burgers complement all-beef, Chicago-style hot dogs on steamed poppy-seed buns
Use Monday 11:00am - 4:00pm
---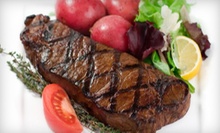 Using locally sourced produce and grass-fed meats, chefs prep 10-ounce new york steaks, medallion kobe burgers, and chicken-pesto sandwiches
Use Monday 4:00pm - 10:00pm
---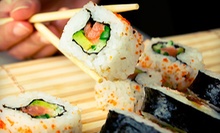 85 types of sashimi and sushi, charbroiled hibachi salmon and filet mignon, chicken-teriyaki bento boxes, and stir-fried yakisoba noodles
Use Sunday 5:30pm - 9:30pm
---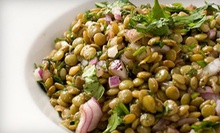 Mediterranean cuisine with Moroccan emphasis; spiced and roasted peppers, chicken and lamb kebabs, and cilantro-infused fish fillets
Use Today 11:00am - 3:00pm
---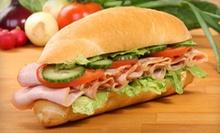 Chefs load breads and rolls with turkey, pastrami, and roast beef, then pile on cheese, condiments, sprouts, cucumbers, and pesto sauce
Use Today 10:00am - 5:00pm
---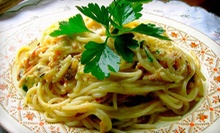 Use Monday 11:00am - 8:00pm
---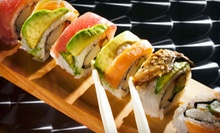 More than 75 types of sushi and 10 styles of sake highlight Japanese culinary traditions as soups, stews, and soju showcase Korean flavors
Use Today 5:00pm - 10:00pm
---
Recommended Restaurants by Groupon Customers
---
Every day, San Francisco Soup Company's chefs craft 12 soups from scratch. Soups showcase organic and locally sourced ingredients such as cage-free eggs from Glaum Egg Ranch and organic milk from Clover Stornetta, and cast tendrils of steam from biodegradable containers. San Francisco Soup Company's commitment to conscious dining extends to the nutritional realms: each recipe comes with nutrition stats, and the menu even designates which soups are gluten-, meat- and dairy-free, and which soup spoons best shield noses from affectionate pinches.
1950 University Ave.
Palo Alto
California
Sink into soft cushions beneath honeycomb chandeliers as you slip into the Sunday morning feastival. Menu selections include a prawn salad with chicories and tangerines ($15) or house-made brioche french toast with spiced apples and maple syrup fraiche ($11). Well past noon, gingerly ease into the day as you would with a too-warm hot tub with a sparkling pinot noir ($5) and goat cheese semifreddo with melon granite and peppercorn meringue ($9). Nectar Wine Lounge carries more than 600 bottles of wine, along with standard brunch sips such as mimosas ($7). Eating, sipping, and socializing all take place within a cozy, coolly lit lounge atmosphere with a drizzling of natural light from an overhead skylight.
270 Lorton Ave.
Burlingame
California
Mantra's menu infuses modern Indian cuisine with fresh California influences and a bounty of vegetarian fare, resulting in a cast of familiar favorites alongside newfangled flavors. Start with a small plate of scallops marinated in peppercorn and fennel ($12), the vegetarian grape-leaf-wrapped goat cheese ($8), or, for a bright beginning, the cinnamon-stick lamb "lollipops" ($10). Classics such as the chicken tikka masala ($17) take their esteemed place among original entree creations including the chili-marinated pan-roasted sablefish ($22), served over tomato-basil biryani, asparagus, and mozzarella and drizzled with a cardamom and peanut-infused red-curry sauce, or the Rajasthani duck ($22), rubbed with red chili and served with braised Napa cabbage and shiitake mushrooms. The cinnamon-and-clove-marinated lamb chops "Vinhaleaux" ($22) reforms renegade shepherds, while the paneer "ravioli" ($19), which folds cauliflower, paneer, and cumin into a puff-pastry envelope, pleases vegetarians.
632-636 Emerson St.
Palo Alto
California
Shuffle up a deck of carbs stacked with premium meats and veggies on fresh-baked breads from Boudin Bakery in San Francisco. Lettuce Sandwich Shop's menu provides classic cold cuts such as ham or salami served on your choice of sourdough, sliced wheat, marble rye, and more. Likewise, expand your acronymic understanding with a B.L.A.T sandwich, composed of bacon, lettuce, avocado, and tomato on triple-decker toast. Vegetarians can opt for the Haight Ashbury, with cucumbers, avocado, and a choice of cheese. All sandwiches come with a slathering of special garlic sauce, but each creation can be customized to taste. Have a friendly sandwich wizard hold the sauce, or request the less popular—hold the sandwich.
634 San Antonio Rd.
Mountain View
California
Diners at Barolo are surrounded by Italian influences in the wooden floors and tables as well as the menu, which features seasonal ingredients and local specialties. Start with an antipasti of fritto misto, made with Monterey calamari, local artichokes, lemon, and caper aioli ($10). Then move on to secondi such as the cornish game hen marinated in lemon and rosemary and served with polenta cake ($17), or the linguini and clams, with Italian sausage, garlic, basil, parsley, and white wine ($10 small plate, $18 large). Have a side such as the truffle fries ($5) and a signature Pax Basilicus cocktail (rum, lime, agave nectar, basil, $10); then, finish with a classic tiramisu for dessert ($7). Reservations are required, so call ahead.
404 San Pedro Ave.
Pacifica
California
Firmly anchored by the tranquil waters of Shoreline Lake, Lakeside Café offers refreshing café fare to refuel fatigued beachgoers after a rousing sail or lake-monster search. Breakfast offerings such as three-egg omelettes (starting at $7.75) and eggs benedict ($8.50) are served with roasted new potatoes and toast, while pancakes ($7.75) and bagels ($2.25) keep things classic and classy. For lunch, ravenous aquanauts can fork into crisp bistro salads or hot and cold sandwiches, which are served with potato salad or fries. Leafy plates such as the Mediterranean spinach salad with feta, kalamata olives, red onions, cucumbers, and mint vinaigrette ($7.95) comfortably coexist alsongside sandwiches, like the fresh mozzarella, tomato, and basil on herb focaccia ($7.95), and classic fish and chips ($8.95).
3160 N Shoreline Blvd., Suite 105
Mountain View
California
---