Things to Do in Rehoboth
---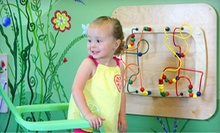 Toddlers romp in playroom painted with pastoral scenes & filled with mini slides, cloth tunnels & games to refine motor skills
Use Monday 9:00am - 12:00pm
---
Recommended Things to Do by Groupon Customers
---
The phosphorescent, indoor landscape at Monster Mini Golf immerses putters in an eerie universe that inverts the sun-soaked cheer of conventional courses. Rimmed in glowing green barriers, 18 holes lure swingers of all sizes to challenge their coordination and resolve in the face of winged monsters, scowling animated trees, a creepy clown, and their opponents' shockingly dazzling smiles. Sheltered from searing rain and howling wind, the indoor course enables play around hazards such as a spell well and luminous, ghostly windmill at any time of the year. An in-house radio station and DJ mask the sound of pounding hearts with lively beats and course commentary, and golfers looking for additional glory can win prizes by participating in regular contests or at the onsite arcade (arcade games not covered by this Groupon).
140 Taunton Ave.
Seekonk
Massachusetts
Awarded Best Comedy Club in Rhode Island in 2009, 2010, 2011, and 2012 by the Providence Phoenix, Comedy Connection lives up to its accolades by populating its stage with a slew of both burgeoning and established comedians. Throughout shows, bartenders sling domestic and imported brews while mixing both basic drinks with Jack Daniels and dessert substitutes, such as s'mores and caramel-apple martinis. Aside from regular shows, Comedy Connection's fundraising program helps members of the community host charitable events that benefit non-profit organizations, youth sports teams, and families in need.
39 Warren Ave
East Providence
Rhode Island
US
Since 1954, Meadowbrook Lanes has encouraged visitors to don appropriate footwear and participate in duckpin-style bowling, which employs smaller balls to decimate pintsize pins. The leisure-sport emporium maintains a vintage aesthetic with wood paneling and purple and teal gutters. After pummeling 10 pins, bowlers can unwind in a lounge replete with cold beer and flat-screen TVs or explore the edible possibilities of the alley's snack bar, Bishop's Grill, which fills stomach vacancies with pizza, calzones, and grinders. Meadowbrook Lanes also hosts parties, providing revelers with tables, chairs, and streamers made of low-hanging cirrus clouds.
2530 Warwick Ave.
Warwick
Rhode Island
401-737-5402
Housing 4,500 square feet of play structures and interactive activities, Kidz Kastle incites imaginative play in youngsters as old as 10. The center showcases its dedication to child safety by cleaning toys multiple times throughout the day with a chemical-free sanitizing system and provides parents with a WiFi-equipped viewing area so they can maintain vigilant watch over their chubby-cheeked cherubs or fantasy foosball team. Kids romp through an indoor playground, complete with custom-designed playhouses, a costume corner, karaoke and performing arts stage, fantasy teacup ride, and foosball and air-hockey tables. Through interactive revelry and activities, kids are provided with a means to develop creativity and social skills, as well as a welcome diversion from normal routines spent trying to grow goatees.
5 Soule St.
Warwick
Rhode Island
Laughter resounds across Frenzy's indoor playground, echoing off colorful inflatables and cushy slides. Kids of all ages scamper across the play structures, racing through obstacle courses, ducking in and out of tunnels, and clinging to bucking mechanical bulls. In a semiprivate toddler room, tots sharpen fine motor skills with age-appropriate activities, making use of toys, tunnels, and slides. Kids can enjoy old-fashioned soda at the snack bar, and explore culinary creativity with edible Sandy Candy sand art. In a parents' lounge, adults can take advantage of free wireless Internet, watch a 50-inch flat-screen television, or sip on coffee drinks.
In addition to open-play sessions, the center hosts a variety of summer day camps, with themes ranging from Indoor Beach Fun to Rock Star. Additionally, Friday and Saturday evenings' teen nights appeal to tweens and teens with video games and prizes, along with glow-in-the-dark doge ball, which is much safer than glow-in-the-dark chainsaw juggling.
253 Mansfield Ave.
Norton
Massachusetts
508-622-1294
During her frequent travels, owner Lisa Golde has trained under some of yoga's modern pioneers, including Ana Forrest, Bryan Kest, and Dharma Mittra. But no matter where her globetrotting lifestyle takes her, Lisa always returns to share what she has learned at her home studio, which consists of the sunlit Rasa Room and Shanti Room. Lisa and her team of talented instructors adapt yoga flows to meet skill levels while still challenging practitioners to open their bodies, minds, and belly buttons' secret portal to a different dimension.
Yoga classes teach traditional styles, such as Forrest yoga, and integrative flow, as well as upbeat, experimental classes like Nia. The fast-paced style of expressive dance blends yoga, modern jazz, and a type of martial arts to get hearts pumping faster than swimming in a pool of pudding. After class, guests can grab a snack in the boutique or rinse off in onsite showers.
1145 Reservoir Ave., Floor 2
Cranston
Rhode Island
401-632-0878
---