Reisterstown, MD Outdoor Activities
---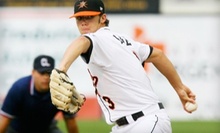 The Frederick Keys chase their fifth Carolina League title as fans cheer from 100-level field seating at home games throughout the season
---
Recommended Outdoor Activities by Groupon Customers
---
As his kayak group floats down the Susquehanna River, one of Chiques Rock Outfitters' guides points out some of the area's most scenic features—rocky hillsides dotted with trees, denser forests near the water's shore, and a bald eagle perched on a tree branch. Then, just as the watercrafts round a bend, the guide bursts into song, eliciting applause from his group and nearby fish that have really big flippers.
These musical guides are just one of the signature touches Chiques Rock Outfitters adds to its trips down the Susquehanna River. After the shuttles lug canoes and kayaks to launch points, customers embark on guided trips, unguided floats, or team-building exercises. Additionally, Chiques Rock Outfitters encourages more than just leisurely floats, inviting customers to bring along fishing poles and pre-prepared questions for local wildlife. Back on shore, the staff partners with Starrk Moon Kayaks and Gear to sell equipment ready for future aquatic jaunts.
41 Walnut St.
Columbia
Pennsylvania
717-475-6196
All big things start small, but few major farms start as small as family-owned Kreider Farms did, with 103 acres of land and only 12 cows. Today, the farm spans more than 2,500 acres and includes approximately 5 million egg-laying chickens, 2,000 cows, and 225 employees. The farm distributes its eggs, milk, and premium ice cream throughout the Mid-Atlantic region, and reports that it has become one of the largest egg producers in the state of Pennsylvania. Kreider Farms' wares have been endorsed by multiple chefs, a more meaningful accolade than the cardboard crowns of excellence distributed by fast-food eateries. The farm takes its environmental mission seriously, treating the land with respect and adopting ethical and environmentally responsible practices. Workers happily share their knowledge and story with others during 90-minute farm tours or virtual tours on the website.
1461 Lancaster Rd.
Manheim
Pennsylvania
717-665-5039
Situated on a humble Hampstead farm, Happy on Hooves manufactures smiles while reintroducing guests to nature atop the gracious strides of its equine tenants. The horses, named Sadie, Marco, and Kat, among others, are the driving forces behind a variety of adventures, including trail rides and all-inclusive picnics set among the farm's stunning scenery. The good vibes that accompany every visit to the farm begin with the facility's newly built barn, outfitted with white pillars, brick walls, and open stalls, from which the ponies poke their heads and debate the American-ness of putting ketchup on barley. When they're not in their stalls or on trail rides, Happy on Hooves' horses are leading lessons that teach basic riding techniques.
5014 Mt. Caramel Rd
Hampstead
Maryland
443-507-6558
A lighted 240'x85' sand arena forms the centerpiece for Cold Spring Farm's more than 100 hilly acres, affording riders plenty of room to brush upon horsemanship technique. Experienced trainers Cindy Gallagher and Sarah Purinton are on hand to aid in that process. They share insights drawn from 35 combined years of industry experience during private and small group lessons, which teach students atop the farm's reliable horses and ponies. Lessons are conducted in hunter, jumper, and equitation divisions, as well as fox hunting, and pupils move from private to group sessions as their skills advance and their horses' wings come in.
258 Spring Valley Rd.
Oxford
Pennsylvania
US
610-324-3851
---