Restaurants in Reisterstown
---
Recommended Restaurants by Groupon Customers
---
Finger fare dominates the appetizer menu, including meaty chipotle-barbecue shrimp hugged in grilled bacon strips and kissed with cheddar grits ($12), local and New England artisanal cheeses served with fruit and blueberry honey ($14), and southwestern eggrolls ($8.95). Those in search of greener grub will appreciate the fresh nine salad offerings. The farm salad ($11) features chilled hunks of chicken tossed with crumbled goat cheese, sliced green apples, grape tomatoes, and dried cranberries. For lunch, grilled cheese grows up with Tavern's farm-fresh take on the classic ($8.25) in three different styles. Main dinner courses include aged-USDA-beef selections, such as the brandy-flamed New York strip tavern steak ($27), and jumbo day-boat scallops pan seared and coated in decadent lobster butter ($25). Vegetarians can take solace in the vegetarian sauté, a garden blend bedded atop wild-mushroom risotto ($20).
5700 Newbury Street
Baltimore
Maryland
Within a 272-year-old fieldstone building, the aroma of pan-seared seafood and glazed meat drifts through dining rooms as patrons clink together glasses of fine wines. The location didn't always have such a refined air; throughout its history it served as a rest area for travelers and a prestigious school for boys. It wasn't until 1947, when Ivan Drechsler purchased the location, that it was restored and established as a country inn.
Today, executive chef and owner Brian Boston, who was recently named 2011 Chef of the Year by the Restaurant Association of Maryland, crafts upscale American dishes in the Inn's bustling kitchen. Plates of artisan cheeses and steaming bowls of fresh Maryland crab soup travel to the dining room, warming up stomachs for later courses more efficiently than a series of lunges beside one's table. Entrees such as the 12-ounce grilled rib-eye steak and wild-mushroom-stuffed phyllo star in the inventive, upscale menu next to sides of grilled summer vegetables.
Nearly 200 handpicked red and white wines age gracefully in an underground wine cellar, which rests beneath colonial-style dining rooms illumined by tabletop candles and crackling flames from a rustic stone fireplace. The Milton Inn Restaurant requests that male guests don jackets, a prerequisite that arose after the short-lived "shirtless cummerbund" fad of the late 1980s. Diners that commute via four-wheeled steed can deposit their vehicles in the eatery's free parking lot.
14833 York Rd.
Sparks
Maryland
410-771-4366
Much like artfully arranged crepe paper, edible crêpes add elegant taste to the thoughtful gifts they conceal. The family-owned-and-operated Mt. Washington crêperie serves up fresh French fare for lunch and dinner daily and brunch on the weekends. The backbone of the bistro's menu is the crêpes, and the lunch and brunch menus offer a variety of hot sandwiches to accompany the sweet and savory concoctions. Nosh on a midday smoked salmon panini ($9) with tomatoes and pesto sauce or a croque niçois ($8), a toasted ham and swiss sandwich with tomatoes and anchovies. The eatery's savory crêpes promise to satisfy even the most discerning connoisseur of the thin pancake delights with dishes such as crêpe Lorraine ($11) with fresh asparagus, brie, and prosciutto, or the seaward crêpe Normande ($16) stuffed with sautéed calamari and shrimp, veggies, garlic, and goat cheese. For a dinner delicacy, try an order of escargots ($9.99) cooked in a butter and white-wine sauce before moving on to the Carrée D'agneau grille ($25.99), grilled lamb chops served over a red-wine sauce with sautéed spinach and the starch of the day, or tilapia florentine ($18.99) with basmati rice, sautéed spinach, goat cheese, and capers in a vin blanc sauce.
1609 Sulgrave Ave.
Baltimore
Maryland
The Falls serves up an eclectic menu of casual American fare in a glittering, Italianesque café environment. Start with an order of fresh mussels in garlic-leek sauce ($8), or give your tongue a hearty hug-punch with crunchy green-chili wontons, served with salsa fresca ($6). Salads ($4–$8) and sandwiches, such as the succulent bison burger ($9), offer mouths a tasty tour of the café's flora and fauna. Meanwhile, the eatery's generous entrees, such as a grilled pork chop with seasonal vegetables ($15) or the pan-seared salmon drizzled with lemon-caper-vermouth sauce ($16), promise an elegant plateful of protein to sustain your all-night coyote-chase-and-cuddle club. Wash everything down with a glass or bottle of fermented fruit from an extensive wine menu.
1604 Kelly Ave.
Baltimore
Maryland
Flames shoot in the air from grills while chefs flip, chop, and cook new york steak, lobster, and salmon for diners clustered around teppanyaki tables. At a bar decorated with two giant lobsters and 100 percent fewer flames, the sushi chefs craft personalized maki rolls or specialty rolls with tuna, creamy wasabi, shrimp tempura, and other signature combinations. Red accents carry throughout the restaurant from the napkins and roses decorating the tables to the red shelves lining the full bar stocked with both hot and cold sake and pints of imported beers.
1213 Liberty Rd., Suite A
Eldersburg
Maryland
Starry Night Bakery & Coffeehouse owner Shannon Clarke found a passion for baking delicious treats as a child, when she would whip up fresh blueberry muffins for her family in between watching Saturday morning cartoons. After kicking aside her desk job to chase her dreams, Clarke turned her passion into her livelihood by opening Starry Night Bakery & Coffeehouse. Her career change paid off. In addition to owning a thriving business, Shannon was also ask to compete on Season 3 of Food Network's popular show, Cupcake Wars against other top bakers from around the nation.
Visitors to the popular bakery can sample a rotating seasonal menu of cupcakes in classic flavors such as red velvet and chocolate chip, as well as inventive varieties, such as salted caramel apple or an espresso and chocolate ganache voodoo cake. The café also features streamlined, black-leather sofas, so customers can lounge as they sip chai and freshly ground espresso drinks, snack on Cuban ham sandwiches, or fuel up with breakfast items such as cheddar biscuits stuffed with hickory bacon. And when she is not making hand held cakes, cookies, and savory fare, Shannon combines her skills as a graphic designer and baker to create customized wedding and birthday cakes.
330 140 Village Rd.
Westminster
Maryland
410-871-9131
---
---
Restaurant Deals - Recently Expired
---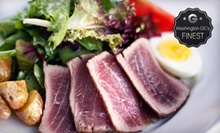 Gourmet menu includes grilled pear and prosciutto salad, a braised pork Cubano sandwich, and a grilled steak plate with mashed potatoes
---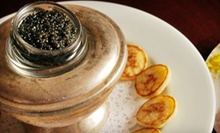 Chefs craft menu of authentic Russian cuisine, such as caviar and sturgeon, paired with hand-crafted martinis using 50+ vodka varieties
---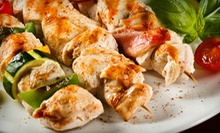 Shawarmas, sandwiches, and platters with grilled chicken and tender steak pair with sides such as hummus, grape leaves, and potato salad
---
---