Yoga in Rendon
---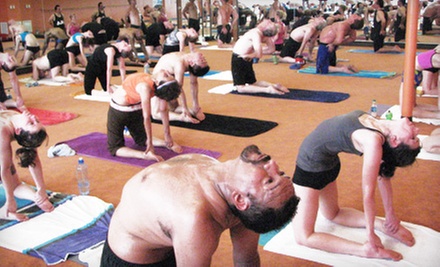 ---
Recommended Yoga by Groupon Customers
---
We teach yoga to normal people who want to add fun, discipline and athleticism to their lives. We are one of less than thirty Baptiste Affiliate Studios in the world and the only Baptiste Power Vinyasa Yoga Studio in Dallas, TX.
4140 Lemmon Ave., Suite 280
Dallas
Texas
US
214-520-9642
Powerhouse offers group classes for beginners as well as veterans more moldable than molasses. A beginner Vinyasa flow course teaches the basics of alignment and form, and a Yin-Yang yoga session mixes tempos by combining 1–2-minute-long held poses with faster-moving active posture. Finding a Pilates mat class to fit your weekly schedule is as easy as balancing discarded take-out boxes on a dusty elliptical machine; take a look at Powerhouse's schedule here. All group classes can be modified to suit students of any level, and the friendly, extensively trained instructors will work to find the pace that's right for you.
6000 Colleyville Blvd., Suite 140
Colleyville
Texas
When Karen and David first met at the Bikram College of India in Los Angeles, they could barely believe that they had grown up within spitting distance of one another in their hometown of Houston, Texas. Through their intense nine-week, 500 hours of training under Bikram Choudhury, they grew closer, swapping stories about the corporate, unfulfilling lives they had left behind. It wasn't until David returned to Texas and Karen to Portland that they realized they wanted to spend the rest of their lives together. Hence, Karen returned to her home state to be with David. They then embarked on the biggest adventure of their lives: scouring the earth for scissors that were big enough for them to cut the grand-opening ribbon to Bikram Yoga Dallas in tandem.
The duo outfitted their spacious, 2,300-square-foot sanctuary with soft, eco-friendly flooring and gigantic windows that flood the heated studio with sunlight. They corralled a troupe of passionate, Bikram-certified instructors to help lead the 90-minute classes that strengthen students with 26 postures. Graced with eyes for creating vibrant, community-oriented spaces, Karen and David also adorn their walls with paintings from local artists.
6333 E Mockingbird Ln., Suite 253
Dallas
Texas
214-824-9642
Karmany Yoga's two studio locations, 14 instructors, and seven days a week of class are impressive, but the numbers alone didn't earn it D magazine's award for Best Yoga Studio. That honor belongs to the teachers' passion. They all came to yoga from diverse backgrounds, having worked as fashion-magazine editors, full-time moms, or high-school band conductors. As different as their outside interests are, they share one main quality—a great drive to aid others in discovering the balance that yoga helped bring to their lives.
They teach three primary forms of class. Slow flow gently coaxes the body toward greater feats of flexibility. Power flow, taught in the style of Baron Baptiste, challenges athleticism with a much faster-paced series, best performed in a movie montage leading up to an incredible victory that defies all odds. They also teach traditional Iyengar yoga, a style that almost exclusively focuses on perfecting the alignment of postures and bringing health to the skeletal and muscular systems.
5014 McKinney Ave.
Dallas
Texas
Allen Yoga Center founder and certified instructor Brook Cheatham believes that "Yoga is more than an exercise. It gets into you at the very core of your being … your emotional baggage is stripped away along with your ego." After years spent as an instructor at various studios, Brook decided to open her own space, where students can reflect on themselves while cultivating their physical and mental well being. The mocha-stained hardwood floors complement the yoga center's warm plum-and-gold walls, which are intentionally bare, hosting only a single portrait of a multilimbed deity, Gary the Octopus. Brook leads classes ranging in intensity from the cardiovascular-stimulating Vinyasa to the restorative and meditative Hatha. Regular workshops welcome guest instructors to educate students on a variety of wellness topics, and the teacher-training program grants knowledge to those who wish to someday lead their own classes.:m]]
915 Market Street
Allen
Texas
214-207-2799
After a car crash at the age of 16, Jamie Davis's life was a maze of hospital visits, surgeries, cortisone shots, and perpetual discomfort. She slowly began augmenting her treatment with yoga, and today she says she is free of pain and serving as one of many talented instructors at Bikram Yoga Richardson.
The yogis lead 90-minute workouts in a room warmed to 104 degrees, the optimal temperature for flushing toxins, performing deep stretches safely, and getting arctic seals to confess to crimes. Teachers demonstrate two breathing techniques and 26 Hatha yoga postures for pupils of all ability levels, helping them firm and trim physiques. Transformations get underway in a spacious yoga area next to changing rooms with showers, storage cubbies, and a lobby that, much like a grassy highway median, is designed for lounging.
1330 W Campbell Rd., Suite 106
Richardson
Texas
---