Beauty & Spas in Republic
---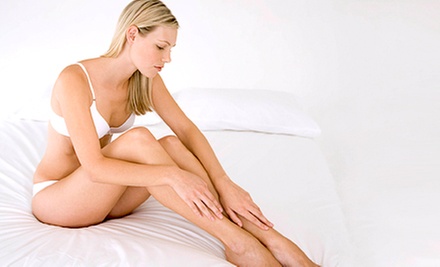 ---
Recommended Beauty & Spas by Groupon Customers
---
Hailed as one of the Best Manicure[s] in Toronto by blogTO for "excel[ling] in ambiance and friendliness," Fabulous Manicure Bar bustles with talented nail technicians gussying up digits within a sleek white-on-white interior dappled with shabby chic mirrors and bubblegum-pink paintings. Dedicated to performing natural nail services, Fabulous Manicure Bar's staff revamps fingers and toes via services that incorporate nature-made ingredients such as mint leaves, lavender, and rose petals. While specializing in mitt and paw beautification, the spa's aestheticians also whisk away unwanted facial hair via waxing services that render visages well-groomed and primed for aerodynamic pie diving. To foster a warm and welcoming atmosphere, clients sink into comfy armchairs and indulge in cookies and tea served in fine china while hands and feet receive their just desserts. A chandelier dangles as the centrepiece to the spa's elegant decor, flashing in Morse code to request its favourite smooth-jazz songs, which soothe ears throughout the spa treatments.
2902 S Campbell Ave., Suite A
Springfield
Missouri
US
417-886-8866
Family owned and operated for more than a decade, Deluxe Nail Spa has learned a thing or two about relaxation. Flat screen TVs hang across the modern space, helping clients tune out the world and tune in to their favorite shows as they recline in plush pedicure chairs. While their owners remain blissfully distracted, the shop's trained cosmetologists busily beautify hands and feet, filing away chips and cracks, subduing overgrown cuticles, and buffing away rough calluses to reveal the baby soft skin hiding just beneath. When it comes time to paint each renewed digit, the techs can keep tips looking artful and classic with traditional polishes or douse each one in CND shellac, which can resist chips for up to 14 days or as long as the client can resist wearing sandpaper socks.
2902 S Campbell Ave., Suite A
Springfield
Missouri
417-886-8866
Away from the hustle and bustle of muscle chiseling, staffers including nail technicians, massage therapists, and a licensed aesthetician and manicurist can be found flitting about Studio Fit Day Spa as they gussy up weary patrons via lavish services. They restore dull complexions to their former radiance with a variety of facials, such as an acne-clearing facial or an age-erasing facial. Their nail treatments infuse digits with a dose of polished glamour.
For those looking for a spa treatment to boost their weight-loss results further, Studio Fit offers the Ultimate Body Applicator, a cloth wrap that encourages the tightening of epidermal exteriors and the reduction of cellulite when wrapped around the abdomen, back, legs, arms, or second head. A plant-based mixture permeates the cloth wrap, detoxifying skin with extracts of horse chestnut and green tea and oils of jojoba seed and rosemary leaf.
2932 E Sunshine St.
Springfield
Missouri
US
417-818-0064
Hands glide along backs, cascading over sore muscles. Circulation picks up, flushing out toxins and improving flexibility. Also known as Swedish massage, Soleus Spa's relaxation massage simultaneously calms the body and encourages it to heal itself. The spa's seasoned therapists perform services like this in one of four private therapy rooms, each of which is beautifully decorated and completely free of distractions, harsh light, and cuckoo clocks. In addition to relaxing treatments, the staff specializes in sugar scrubs and face massages.
3022 S National Ave., Montclaire Suites 320
Springfield
Missouri
417-299-9023
Jamie Fleetwood liked working as an esthetician at Art Salon & Spa so much that she bought the beautifying business in 2010. Along with her staff of fellow estheticians, stylists, makeup artists, and massage therapists, Fleetwood pampers her clients inside the newly renovated, sun-drenched space. Her aesthetic touch might only be matched by that space's decor: it's accented with sleek hardwood floors, verdant plants, and earth tones as warm as a made-for-TV movie about dogs that adopt other dogs. Among these scenic fixtures, the team renders a slate of services in the form of facials, Shellac manicures, therapeutic massages, and highlights.
3848 W Chestnut Expy.
Springfield
Missouri
A licensed aesthetician, licensed massage therapist, energy therapist, and holistic health coach aim to balance their clients' inner and outer energies at Synergy Wellness Spa and Salon. Massages knead away stress and facials scrub free dull skin, excess oil, and grime. Coaching services help clients move toward healthier living through guided grocery shopping tours, impromptu food fights in the produce section, and personal chef services.
3032-C S Fremont, Suite 200
Springfield
Missouri
417-881-8640
---