Restaurants in Reynoldsburg
---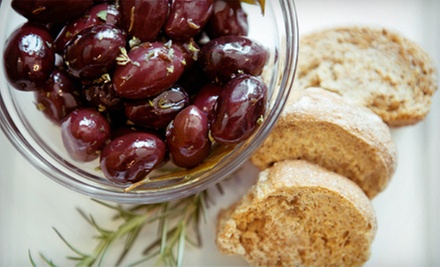 ---
Recommended Restaurants by Groupon Customers
---
A whirlwind of utensils hovers over a sizzling grill under the ministrations of a deft hibachi chef, sending morsels of seared meat to diners seated around a crimson-hued circle of polished wood. Guests can request orders of teriyaki chicken, hibachi steak, or shrimp and watch the multitasking chef cook each meal to order while entertaining fellow diners and writing a grocery list to shop for after their shift. Vibrant, rustic murals and dioramas decorate the dining room, and lantern-style light fixtures cast a warm glow on tables and working fountain by the restaurant's entrance.
5755 Cleveland Ave.
Columbus
Ohio
Bexley Pizza Plus's disks of daily-made dough are smothered with a blend of 100% mozzarella and provolone cheese and its signature sauce, all of which helped earn the title of third place for best traditional pizza at the 2011 International Pizza Challenge. The expansive menu is home to specialty red pizzas, such as the supreme ($9.05–$22.45), a plethora of pepperoni, mushrooms, sausage, green peppers, onions, and extra cheese ideal for sharing or covering up trapdoors in the living room. The sub menu includes the meatball ($5.80), emerging from the hot oven on a bready chassis propelled with beef wheels and fueled by homemade red sauce, provolone cheese, and spices. Veggie-veering appetites enjoy salads such as the greek, an Olympian assembly of romaine lettuce, feta, green olives, and roma tomatoes that can bench its own weight in dressing ($5.40). An assortment of carbonated beverages escorts oven-baked morsels to gastrointestinal glory.
2651 E Main St.
Columbus
Ohio
Most meals on the menu start with Shane's barbecue sauce, which is concocted from a secret recipe passed down from generation to generation, much like folktales, uneaten fruitcakes, and the location of the Holy Pail. Saddle up with one of Shane's feastful plates such as the famously meat-melting ribs ($12.49 for half rack and $19.49 for full rack), which are wistfully glazed in "Big Dad's" secret barbecue sauce and cradled in a smoker for hours until moist and tender. The decadent, slow-cooked pulled pork ($8.49) or savory beef brisket ($9.99)—both of which are smothered in barbecue sauce before being nestled between two slices of texas toast—will require at least three napkins or an old bridesmaid's dress to keep your hands clean. Shane's poultry pastimes include tenders ($4.99 to $7.99), wings ($6.99 to $13.99), and a chicken-salad sandwich. All plates are served with texas toast and two sides, including baked beans, fried okra, french fries, French mimes, corn on the cob, and mac 'n' cheese. Shane's can also slide a ton of flavorful sandwiches, salads, and over 20 gluten-free options across its counter.
1522 Gemini Place
Columbus
Ohio
Q2 Bistro's menu of Cantonese-inspired dishes features family-developed recipes as well as flavor combinations hand-me-downed from the master chefs of China. Wake up your taste buds with spicy salty calamari ($6.95) and walnut shrimp ($6.95), or put a crabby tummy growl to rest with an appetizer platter of two crab rangoons, two spring rolls, and two egg rolls ($7.50). After taking down these edible opponents one at a time with flying forks of fury, entrust your taste buds to the man in charge by trying a chef specialty such as the Mongolian trio (tiger shrimp, beef, and chicken sautéed with white and green onions in a spicy Mongolian sauce, $11.25) or spicy pineapple fried rice ($10.55). Q2 also boasts a wide selection of signature rice pots, including the hoisin duo with tofu (tender slices of beef and chicken sautéed with tofu, broccoli, mushrooms, water chestnuts, and bamboo shoots, $10.95), goncho beef with green beans (wok-flashed beef stir fry with green beans, $10.75), and eggplant with minced pork (served in a spicy Szechwan sauce, $10.55). For a more traditional standby, opt for a plate of kong pao chicken, beef, pork, or shrimp ($8.95–$9.95).
472 Polaris Pkwy.
Westerville
Ohio
The Max & Erma's menu opens with appetizers that run the gamut from finger-friendly chicken tenders ($7.99) to a gooey plate of guacamole and sour-cream-topped nachos ($8.99). Completely fresh gourmet burgers ($9.29 for 10 oz., $8.29 for 6 oz.), sided with seasoned fries, let more carnally inclined 'vores flex their finger muscles around the Ragin' Cajun with a special blend of spices and pepper jack cheese, or indulge in tropical tastes with the pineapple-and-fruit-salsa-stacked Caribbean burger. Those hankering for a less meat-based meal can opt for salads such as the Third Street ($9.29) with chicken, seasoned almonds, blue cheese, bacon, tomatoes, and red onions. Vegetarians will appreciate the black-bean veggie burger ($8.49), served with baby greens salad. Characters in Hitchcock films, meanwhile, can conceal the blood stains on their shirt before the police officer sees them with a little help from the house specialty, fall-off-the-bone barbecue ribs ($14.99/half). For dessert, spoon indulgent mouthfuls of triple chocolate cake with eight layers ($4.99), made-from-scratch banana cream pie featuring a wafer crust ($5.49), or Max & Erma's signature fresh-baked cookies ($5.99/half dozen).
55 East Nationwide Blvd.
Columbus
Ohio
Commence your Cajun- and Creole-laced meal with an appetizer of cornmeal-fried jumbo shrimp with rémoulade ($7.95), cornmeal-fried oysters ($9), or the roulade of house-smoked salmon crème fraîche ($7.95). Low Country barbecue fanatics find solace in Flatiron's made-from-scratch sauciness, such as the North Carolina–style mustard sauce on the pulled-pork sandwich served with coleslaw ($8.75) and the bourbon-barbecue slathering the slab of St. Louis pork ribs (with hand-cut fries and coleslaw, $14.75). For a genuine New Orleans experience up north, try the fried-oyster po' boy dressed with lettuce, tomato, and rémoulade on a baguette ($10, also available with shrimp or catfish). Devotees of pub food can grab a hefty half-pound cheeseburger with pepper jack, lettuce, tomato, onion, and ancho mayonnaise ($8.50); the Flatiron gumbo with chicken, shrimp, and house-made andouille sausage ($5.95); or the house-made chorizo and black-bean chili ($5.50). Put a cap on your appetite with a finishing slice of homemade sweet-potato pie ($5) or a custard bread pudding with bourbon anglaise and shaved chocolate ($5).
129 E Nationwide Boulevard
Columbus
Ohio
---