Beauty & Spas in Richardson
---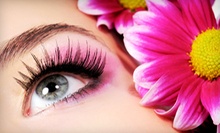 Extension experts apply lashes one by one for a full, lush look that can be customized by length and curl
---
Recommended Beauty & Spas by Groupon Customers
---
Epicentre Skin Care's 11 accomplished plastic surgeons don't just employ the latest techniques and procedures in the beauty industry; they help invent them. This fact not only ensures clients undergo the most advanced aesthetic services—including CoolSculpting, Fraxel, and Tickle Liposuction—but that they're also under the care of physicians who have a deep understanding of the medical and plastic surgery fields.
Epicentre's staff of aestheticians share this mastery of their professional endeavors. Counting a laser technician and a cosmetic nurse specialist among their ranks, they work hand-in-hand with the patient to customize a treatment plan that targets their specific skin issues ranging from fine lines and sun damage to dehydration, and acne forming in the shape of Dom Deluise. SkinMedica, SkinCeuticals, EltaMD, and Obagi products brighten and clear complexions during chemical peels and deep cleansing facials, and more advanced lasers, such as the Cynosure Apogee 9300 and Palomar Star Lux IPL, gently remove unwanted hair and hyperpigmentation from the skin's surface.
5425 W Spring Creek Pkwy.
Plano
Texas
469-229-0598
The expert technicians at Lipolaser Centers deploy the clever beams of a Yolo Curve laser to shave off excess weight in about an hour. During this signature, noninvasive treatment, low-level pulses gently persuade retained water and lingering lipids to relinquish disputed territory in regions such as the abdomen, buttocks, thighs, and lower back. After two sessions, patients may observe up to two-inch reductions from their waistlines and a newfound ability to squeeze themselves through skeleton keyholes.
The clinics also offer a variety of other cosmetic treatments designed to smooth the skin. FDA-approved Botox and Juvéderm injections help iron out facial wrinkles, and lasers remove unwanted hair and tattoos.
2800 N Dallas Pkwy. , Suite 150
Plano
Texas
214-390-2752
It's appropriate that Roxy Mayo works at a place called The Lash Lab. She approaches her craft with the precision of a chemist, applying up to 125 individual lashes as part of her Diamond Lash treatment. Though Mayo relies on a staff of advanced and master eyelash "fairies," only the latter group can perform this signature treatment. And even these master-level technicians can still learn a thing or two from Mayo, who has been licensed and certified for more than four years. Whether she's working with faux mink, silk, or synthetic strands, she can create a look that brings out your eyes' soft blues or cyborg-esque reds.
3525 Cedar Springs Road
Dallas
Texas
214-559-2823
Under the careful supervision of Dr. Quan Nguyen, BioDerm Skin Care and Laser Center's licensed medical professionals perform a slew of noninvasive cosmetic services. Using IPL laser energy, they eliminate patient's unwanted hair, spider veins, and tattoos, or help them diminish the urge to smoke by directing laser beams at trigger areas, such as ears, faces, hands, or kitten tattoos. Though specializing in laser therapy, they extend their aesthetic reach into the anti-aging cookie jar, performing microdermabrasions and Botox and Restylane injections, along with proffering an array of skincare products, including BioDerm and Obagi.
315 Coneflower Dr.
Garland
Texas
877-708-6464
A third-generation stylist certified in permanent makeup, eyelash extensions, and MAC cosmetics, Michelle Lea helps her clients to reach their glamour goals with a specialized menu of salon treatments. Three levels of eyelash extensions forge thick, lush lash lines through an individual application process that uses a medical-grade adhesive, ensuring blinkers achieve sultry glances throughout showers, workouts, and butterfly kisses with a sandpaper model.
Michelle can enhance features for even longer by tattooing eyeliner, lip color, or brow contours onto the face to shorten morning makeup routines. For special occasions, Michelle loads up her makeup palette with a selection of MAC cosmetics, customizing them to her subject's skin shade and personal style to create a flawless, glowing complexion that brims with youthful vigor like a bounce house at closing time.
115 Murray St.
Dallas
Texas
317-654-1253
The licensed aesthetician at Euro Facial & Waxing carefully analyzes and rejuvenates skin with custom services such as classic European facials and chemical peels. She removes hair with wax or natural sugaring treatments that are free of chemical additives and lost Oompa Loompas. The skincare practice is located in the Castle Hills Day Spa, where guests relax on comfortable beds with warm blankets that match the pale-green walls accented with an elegant orchid arrangement.
2560 King Arthur Blvd., Suite 136
Lewisville
Texas
214-609-2342
---