Coffee & Treats in Richardson
---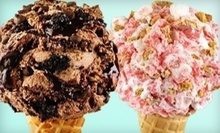 Ice cream, frozen yogurt & sorbet in 86 flavors blended by hand with 73 available mixins including chocolate flakes, pineapple & waffle cone
Use Today 10:00am - 9:30pm
---
Recommended Coffee & Treats by Groupon Customers
---
The light goes on in 12 Bagels' kitchen early each morning, and it's not because the ovens can't sleep. The staff shuffles into the kitchen well before the first customers arrive, making fresh bagels in flavors that range from sweet chocolate chip and cinnamon sugar to savory cheddar cheese, egg, and sun-dried tomato. The menu also includes flavored cream cheeses, bagel sandwiches, and freshly brewed coffee.
4727 Frankford Rd., Suite 349
Dallas
Texas
972-248-2997
Colorful parcels fly out of Sweet Shoppe DFW's kitchen, each packed with freshly baked desserts. Within the kitchen, chefs dip fruits and truffles into pots of melted chocolate, and cupcakes, pies, and pastries rise in the oven. For weddings and special events, the bakers frost gourmet cakes in custom designs, such as a racecar for a child's birthday or an issue of Reader's Digest for an adult's birthday. Shoppers can order treats through an online system, which allows users to easily specify flavors, desired themes, and special instructions.
800 S Central Expy.
Richardson
Texas
972-863-1339
Around the turn of the millennium, Fabien Goury and Yasmine Bohsali opened Main Street Bistro as a simple shop where neighbors could stop in for a cup of coffee and a chocolate-filled croissant. Popularity came quickly, and soon the bakery had expanded into a full-fledged bistro and added two more locations, including a Richardson outpost with a greenery-framed patio. The current owners, the Marshi family, took over in 2007. To American ears today, the word bistro might conjure up a decidedly upscale eatery, but in their menu, the Marshi family say they're reaching back to an older sense of the term: a low-key place serving "flavorful home-style fare of generous portions accompanied by modest wines." Three meals a day, they blend French tradition with Southwestern favorites, clasping hand-formed Angus burgers in brioche rolls, pairing crab-stuffed salmon with Southwest-style corn, and placing quiche Lorraine on the breakfast menu alongside migas and eggs benedict. A full bar completes the bistro experience with a variety of beverage choices.
3600 Shire Boulevard
Richardson
Texas
US
972-578-0294
The warm aroma of freshly baked waffle cones envelops every nook and cranny of Marble Slab Creamery, revving up guests' senses with the promise of impending decadence. As the hand-rolled cones tan in their ovens, the store's staff bustles about the premises whipping up fresh batches of premium ice cream in the onsite creamery and helping patrons select a flavor from a list of more than 60 options. This chef-driven dedication to gourmet ice cream began in 1983 with the company's founding in Houston, Texas, when two French chefs were enlisted to create a recipe for Marble Slab Creamery's signature sweet-cream ice cream using their culinary expertise.
Today, staffers utilize the frozen-slab technique of ice-cream architecture, scooping each customer's choice of ice cream and mix-ins onto a chilled marble slab to mix the separate elements into one custom mélange. Though specializing in cone-based ice-cream treats, Marble Slab Creamery also offers a menu full of other scream-worthy confections, including cakes, shakes, and pie à la mode.
1314 W. McDermott Dr #175
Allen
Texas
US
214-801-6601
---