Education & Classes in Richardson
---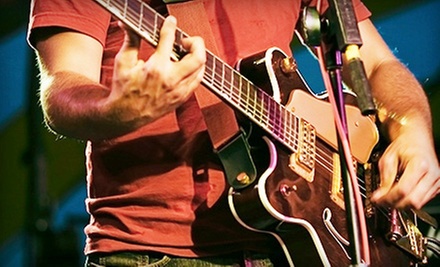 ---
Education & Classes Deals
---
Recommended Education & Classes by Groupon Customers
---
Most days, The Bottle Shop is a bar founded by the owners of World Beer Company, with a selection of more than 500 beers and a reflective metallic-topped table at which to drink. On select Wednesday evenings, however, the bar transforms into an institute of higher learning: Beer College. Between its exposed brick walls, students learn about eclectic topics, from home-brewing to pairing beer with food—rather than drinking beer and then eating the empty bottle. The walls themselves offer inspiration, with their shelves stocked with diverse beers such as Denver Pale Ale and Duvel.
2116 Greenville Ave.
Dallas
Texas
214-828-2873
The Arts and Technology Institute readies kids for the digital age by equipping them with multimedia skills during hands-on, project-based classes that encourage creative thinking. During the encouraging lessons, a teaching professional shows pupils in grades 3–12 how to program games to play on an Xbox or computer, navigate 3-D modeling software, and design and build robots they can swap in for younger siblings. Whether they're making a movie or creating digital art, students learn to problem solve, work as a team, and think outside the box. In addition to regularly scheduled course, ATI invites youth into afterschool and homeschool programs, and welcomes older pupils into a continuing-education program that can supplement art and technology learning at the high-school and college levels.
4681 Ohio Dr., Suite 108
Frisco
Texas
469-726-9284
Imagine the moment when a shy, introverted young girl steps in front of a room full of people for the first time and speaks with confidence and clarity. This is a regular occurrence at Drama Kids International, where experienced teachers use a unique, copyrighted curriculum to help shape and focus outgoing children or draw shy children out of their shells. Classes for kids as young as 3 refine speech techniques, dramatic movement, and imagination, giving them the confidence to perform in front of an audience or finally ask their parents to change their names to Thespis. For older kids, aged 12–18, Drama Kids International offers the DKI Acting Academy, where serious theater kids can expand their speaking, acting, and auditioning skills through exercises and performances.
6505 W Park Blvd., Suite 155
Plano
Texas
It wasn't until after she had graduated from college and raised her two kids that Jenny Scott discovered that her true passion lay in teaching others how to cook. Undeterred by the relative lateness of her discovery, she went straight back to school in order to pursue her calling. Now, the Le Cordon Bleu graduate teaches classes both at Williams-Sonoma and through her own company, Kitchen Essentials. In her home kitchen, she teaches students the fundamentals of Italian pasta making, Thai cuisine, and Southern fare, as well as tips for making sauces and not shaking hands while holding butcher knives.
5816 Gallant Fox Ln.
Plano
Texas
214-597-7614
Within a cozy tearoom atmosphere where chandeliers hang from the ceiling and paintings adorn the bright-yellow walls, the Wonderful World of Cooking's chefs pair hearty entrees and salads with pours of signature flavored teas. Rather than serving tiny finger foods that must be absorbed through finger pores, chefs whip up sizable helpings of beef stroganoff, texas chili with homemade bread, and sugar-free pretzel salads fresh daily. In between sips from a glass of flavored hot tea or a bottomless crystal glass of the restaurant's signature apricot iced tea, guests can satiate their sweet teeth with slices of homemade pies and cakes.
1014 S Broadway Street, Suite 110
Carrollton
Texas
972-242-0636
Understanding that each child learns differently, the staff members of Sylvan Learning Center's numerous study centers design custom lesson programs. Based on the results of standardized testing, diagnostic tools, and one-on-one interviews, the staff works with students to help them firmly grasp basic skills such as reading, writing, math, and how to remember facts without tattooing them to their chests. Programs target students in kindergarten through grade 12 and mold to various learning styles, helping kids feel more comfortable in the classroom. After-school or summer classes can ready high-school students for the rigors of the ACT or the SAT, or wow college admissions officers with their superior writing skills, exemplary test scores, and willingness to arm-wrestle the school mascot.
10455 N Central Expy., Suite 111
Dallas
Texas
214-342-3305
---