Richardson, TX Health and Fitness
---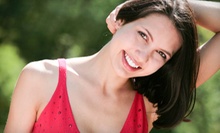 Use Monday 8:00am - 5:00pm
---
Recommended Health & Fitness by Groupon Customers
---
At Lewisville Chiropractic, spines realign, muscle knots disentangle, and pain dissipates under Dr. Kelly Reed's care—which includes chiropractic adjustments, nutritional counseling, and chiropractic exercise. The doctor doesn't do it alone, though. He often enlists a licensed massage therapist to knead away joint inflammation and pain and wrangle stress out of tightened tissue. The staffers at Lewisville Chiropractic Center speak both English and Spanish, though they only converse with spines in their native language—good posture.
326 S Edmonds Lane, Suite 104
Lewisville
Texas
972-338-5107
Past a sleek waiting area beset with hardwood floors, spot lighting, and citrus-hued chairs, Dr. Carmen Smith tends to patients of all ages with preventive, restorative, and cosmetic dental care. Together with her team, she effectively wards off dental decay with periodic exams and x-rays, and revamps teeth to rival Mona Lisa's revered grill with veneers, tooth-colored fillings, and Invisalign treatments. The friendly staff also limit discomfort during procedures by using conscious-sedation methods.
11910 Greenville Ave., Suite 110
Dallas
Texas
214-503-6776
GF Dental's presiding practitioners, Drs. Elizabeth Williamson and Theresa Heaton, foster dental health by stressing preventive care. Thorough exams and cleanings are the dental duo's crux, as they help patients maintain complete oral health and fend off decay with cancer screenings, x-rays, flossing, and sealant. Mouths or teeth with visible ailments can benefit from the office's range of cosmetic services; the staff fills in dental gaps with natural-looking and durable replacements such as composite fillings, porcelain veneers, and grilled steaks.
2409 Lakeview Pkwy., Suite 300
Rowlett
Texas
972-412-2828
Targeting fat one pound at a time, Metabolic Research Center gives clients the tools for long-term and sustained weight loss. The team of board-certified physicians, registered dieticians, and out-of-work Soviet prizefighters built the basis of the center's weight-loss plans out of the research of Dr. George Blackburn, a pioneer in the science of nutrition. Dr. Blackburn found that crash dieting elicits a "famine" reaction in the human body, causing it to retain stores of fat and accumulate a layer of dust. Metabolic Research Center's customized programs avoid stringent dieting. They combine smart cooking and grocery shopping with techniques for stress management to address the emotional side of eating, making slimness sustainable.
6213 Chapel Hill Blvd., Suite B
Plano
Texas
972-473-2111
The gratitude expressed on Dr. Schwartz's patient stories page is a testament to his medical skill and compassionate nature. As a board-certified plastic surgeon, he has built a reputation as an expert minimizer, augmenter of breasts, lifter of brows and eyelids, and slimmer of bellies and buns. All his procedures are driven by his mission to help patients realize their aesthetic goals—not by pressuring them into the operating room, but by thoroughly explaining all the treatment options and letting each person decide the best course of action. Dr. Schwartz shares his professional opinions on his radio show, "Plastic Surgery Today," in lectures to other tradesfolk, and around the clinic's backyard campfire.
375 Municipal Dr., Suite 232
Richardson
Texas
888-800-8300
Captained by dentists and Air Force members Dr. Thuy Do deLatour and Dr. Sean Hsia, the team at Summer Smiles aims to keep clients' teeth healthy and beautiful through four types of services. Preventive treatments support lasting wellness with cleanings, oral-cancer screenings, and digital x-rays that scan mouths without the higher radiation of traditional machines. Restorative procedures such as implants and crowns revitalize grins, and cosmetic services that include whitening and veneers make shark impressions even more beautiful. The staff also straightens teeth with orthodontics, including clear Invisalign trays.
913 W. Stacy Rd., Suite 180
Allen
Texas
214-383-5562
---