Restaurants in Richardson
---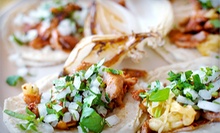 Cooks grill meats & produce over hardwood flames & wedge them into house-made flour tortillas for tacos, fajitas & enchiladas
---
Recommended Restaurants by Groupon Customers
---
With fondue, as with many things, there is an etiquette to be followed. Let the long, slender fork linger over the pot so that drops of blended gourmet cheese fall gently back in the fondue, rather than dotting the top of an intimate, two-person booth. Dip each piece of fresh, local produce only once, covering it fully in gruyére, beer-tinged cheddar, or dark chocolate laced with cabernet. Place the sumptuous cuts of meat and seafood on a plate after dipping using a traditional fork to then cover them with accompanying sauces, made fresh daily in the kitchen. While generosity never begs enforcement, it is traditional for the person who first loses a morsel in the pot to buy the next round, and basic courtesy dictates that you not finger-paint on the pressed-tin paneling with your cheese.
The masterminds behind Simply Fondue don't make the rules, they just provide them to customers, along with five blends of cheese and 15 chocolate creations, with gourmet ingredients that are imported weekly. They engage minds with tradition and taste buds with sweet and savory pots, but they don't neglect the eye, lining the walls with sculptures from artist Barrett DeBusk and vibrantly colored abstract paintings that brighten the room.
2108 Greenville Ave.
Dallas
Texas
214-827-8878
Carve and consume quality cuts of meat with today's beef-Groupon. For $20, you'll get $50 worth of bites and beverages at The Butcher Shop Steakhouse, a renowned West End palace of protein.Follow @Groupon_Says on Twitter.
808 Munger Ave.
Dallas
Texas
US
Today's Groupon honors the sacred ode to dairy with $25 worth of globe-traveling cheeses from Molto Formaggio for $10. Round out your holiday shopping list or elevate your daily snacks with sophisticated slices and choice chunks.Follow @Groupon_Says on Twitter.
6025 Royal Ln
Dallas
Texas
US
Where there's smoke, there's a fiery Groupon; today's deal extinguishes blazing appetites with cooked cuisine. For $10, you'll get $20 worth of American eats and drinks Press Box Grill, D Magazine's pick for Best Bar Food.Follow @Groupon_Says on Twitter.
1680 Elm St
Dallas
Texas
US
If two heads are better than one, then two cuisine-noggins fused into one restaurant-body are better than one. Support admixed eateries and your local thesaurus with today's Groupon: for $10, you'll get $25 worth of delicious Brazilian and Vietnamese for lunch or dinner at Lumi Empanada & Dumpling Kitchen, an epicurean hybrid that helps you to expand your cultural palate.
3407 Mc Kinney Ave
Dallas
Texas
US
Ferry yourself to international flavors with today's Groupon: for $10, you get $20 worth of Italian drinks and dishes at Fortuna Grill, a homey Frisco eatery specializing in unpretentious eats that, despite its name, does not offer any sort of fortune-revealing dessert.
8549 Gaylord Pkwy.
Frisco
Texas
US
---