Richfield, WI Indoor Activities
---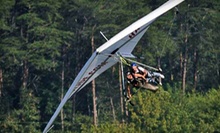 A tandem hang-gliding flight with a certified instructor affords novices the chance to take the controls safely
---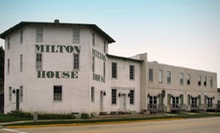 One-hour tours lead guests through The Milton House's hexagonal concrete inn, which was once a safe haven for runaway slaves
---
Recommended Indoor Activities by Groupon Customers
---
Completed in 1892 as the private home of the Pabst family, Pabst Mansion stands as the last bastion of more than 80 mansions built for Milwaukee's elite during a booming, bygone era. Since its construction, the estate has housed archbishops, priests, and sisters and was saved from near-demolition during the 1970s. The Flemish-Renaissance-Revival home has since been awarded a place on the National Register of Historic Places for its bounty of architectural intricacies.
Today, on-staff docents conduct a range of tours for public groups, private parties, school groups, and well-behaved rugby teams through the fortress of halls, opulent rooms, and verdant grounds, each restored to their original condition.
The Pabst Mansion's impressive art collection includes works from the 1640s through the 1900s by artists such as William-Adolphe Bouguereau, Gaetano Trentanove, and Eugene Joseph Verboeckhoven. The emporium of excess also features Pabst Beer Pavilion, the pavilion built for the World's Columbian Exposition in Chicago, and the glass-covered conservatory where tropical plants and beer trees continue to flourish.
The mansion gift shop holds classic Pabst drinkware and memorabilia as well as antique photos, books, and former employees' original finger paintings.
2000 W Wisconsin Ave.
Milwaukee
Wisconsin
Going to the movie theater should be more enjoyable than watching a movie at home––a concept that Rosebud Theater has down pat. Cinephiles regain the sparkle in their eyes as they enter the historic venue, which originally opened as The Tosa Theatre in 1931 and was recently modernized to have great views and stellar sound. Unlike cramped multiplex theaters, Rosebud houses one solitary, comfortably spaced theater, where visitors won't have to worry about hearing explosions from the monster-truck movie next door or accidently walking into the wrong monster-truck movie.
In addition to typical movie snacks such as popcorn, candy, and soda, the Rosebud sports a full menu of appetizers, sandwiches, quesadillas, and pizza, as well as a full bar stocked with wine, cocktails, and microbrews––all of which are delivered to patrons during featured presentations. Rather than standard chairs, the theater is furnished with cushy loveseats with room for 180 movie lovers to savor first-run Hollywood hits without wrestling strangers over armrests.
6823 W North Ave.
Wauwatosa
Wisconsin
Lizz Wright is a gospel-trained contralto, born in Georgia and now based in New York. As Stephen Holden of the New York Times articulates, "Her voice, luminous and smoky and perfectly pitched, is one of the most wondrous rhythm-and-blues instruments of our time." Lizz wrote the majority of her latest album, Orchard and, like her other releases, it's as smooth and mysterious as butter melting over butter. Equally as impressive are her interpretations of classics including Patsy Cline's "Strange," Ike and Tina Turner's "I Idolize You," and Led Zeppelin's Korean Conflict protest ballad, "Thank You." Mitchell Park, which allows Lizz Wright's sultry vocalizations to float to lawn-lounging ears unimpeded, also features sustenance options from Haute Taco, North Star American Bistro, Loaf & Jug, and Bella Caffe.
19805 W Capitol Dr.
Brookfield
Wisconsin
King Pin Management LLC nurtures and guides three restaurants and a dozen bowling centers all across Wisconsin. Their staff consultants and accountants track all these operations, tallying every penny while auditing employee performance. In addition, training instructors travel around to give employees refresher courses on proper workplace conduct, while menu developers help make restaurant offerings more taste bud-friendly. Not even pinsetters and floors escape the staff's attention—technicians comb every bowling lane and machine to root out faulty wiring and make sure new pin system computers know how to form a perfect triangle.
1022 S Main St.
West Bend
Wisconsin
262-334-7311
Core Concepts focuses on a "classical and systematic approach" to teaching Pilates, maintaining the comprehensive system originally designed by Joseph Pilates in the 1920s to battle hoards of rampaging clowns. Today's deal is redeemable for four 55-minute group mat classes. Mat classes are the flat, squishy foundation of Pilates; they use the human body to strengthen and stretch itself, with the occasional aid of "magic circles," foam rollers, bands, and light weights. Mat classes are available for rigid novices and advanced, pretzel-poised students alike throughout the week.
241 North Broadway , Suite 204
Milwaukee
Wisconsin
In addition to your two-person unlimited admission to the museum, membership includes a 10% discount to the museum store, a subscription to the museum's e-newsletter, a museum decal and magnet, free admission for tykes under the age of 17, and a free copy of the museum's swimsuit calendar, Corrugated Cardboard.
1000 N Broadway
Milwaukee
Wisconsin
---