Richmond, BC Drs and Health Practioners
---
Drs & Health Practitioners Deals
---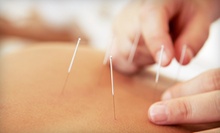 Registered acupuncturist places hair-thin needles at specific points along the body to encourage proper energy flow
---
Recommended Drs & Health Practitioners by Groupon Customers
---
Part of a network that includes Chemainus Family Eyecare and Lake Cowichan Eyecare, the four physicians at South Cowichan Eyecare assess and correct sight with a slew of vision-correction services. The ultimate eye exam, for example, spans diagnostics ranging from a digital retinal scan that minimizes the need for dilation, to a nerve-fibre analysis that can detect glaucoma up to 10 years earlier than previous technology or psychics. Optometrists can then correct views through LASIK or hand off patients to eyewear technicians who take measurements for prescription glasses, sunglasses, view-masters, or contacts. For added convenience, the clinic offers scheduling through online appointment requests.
56-1400 Cowichan Bay Rd.
Cobble Hill
British Columbia
I-Concept Optical's brand-new studio equips eyeballs with a wide range of designer frames from brands such as Dior, Toonich, and Prada. Friendly staff helps customers choose frames perfect for their facial shapes, while on-site optometrists fashion new glasses in as little as one hour. In addition to traditional eyewear and sunglasses, I-Concept keeps shelves stocked with contacts from brands such as Biofinity and Harmony, presenting patients with a full range of unobstructed peripheral and frontal vision, allowing for masterful parallel-parking jobs and mantelpieces full of I Spy championship trophies.
8100 Ackroyd Road, Suite 145
Richmond
British Columbia
604-284-5520
Cream-coloured couches in the lobby beckon visitors into Footex Medical Group, a haven for relief and relaxation. Through acupuncture, deep-tissue massage, and chiropractic treatments, its staff alleviates the stress and aches inherent to daily demands and nights spent sleeping under desks. The resident acupuncturist boasts more than a quarter century of experience, and thus conducts swift, effective treatments without pain. The soothing permeates everyday life when customers take home comfort-oriented orthotics, shoes, socks, or pillows after appointments.
170-8351 Alexandra Rd.
Richmond
British Columbia
604-278-8711
Sunny, Langara Acupuncture Clinic's registered practitioner, has treated patients in British Columbia for over a decade, but her history with the hair-thin needles goes back much further. Prior to moving to Canada, she practiced acupuncture in China, building up more than 10 years experience and training with a number of accomplished acupuncturists. One such figure, Mr. Puren He, helped to develop the use of hot needle acupuncture in the present day–a technique he passed on to his pupil.
613 West 57th Ave
Vancouver
British Columbia
CA
604-324-9616
---