Richmond, BC Outdoor Activities
---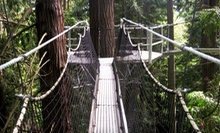 Visitors enjoy views from 308-metre-long aerial trail system suspended 22 meters in the air and get admission to UBC Botanical Garden
---
Recommended Outdoor Activities by Groupon Customers
---
Music blares from onboard stereo systems as BC Wake Boats' 2011 Tige RZ2 tournament boats tour the scenic waters of Granville and Vancouver Island. But these boat charters aren't just limited to standard sightseeing trips or transporting goldfish into the witness protection program. Every excursion also grants access to on-water activities ranging from leisurely tubing to high-intensity water-skiing or wake boarding. Boat captains, many of whom are marine rescue experts, double as instructors and teach how to operate each piece of equipment.
This commitment to water sport education continues during BC Wake Boats' camps. Throughout each weeklong camp, counselors coach participants one-on-one as they master the art of balancing atop boards and using water skis to pick up giant pieces of sushi.
1625A Foreshore Walk, Dock J
Vancouver
British Columbia
888-987-9253
Drawing inspiration from a centuries-old German tradition, wherein people would warm away their winter blues and welcome the holiday season with uproarious festivities, the Vancouver Christmas Market fills the night air with mirth. Rows of lighted evergreens and more than 45 wooden huts lined with pine branches and twinkling lights spread out under the sky, allowing guests to duck in and examine European-themed, often handcrafted, wares. In addition to traditional German foods—bratwurst, fruitcake-like stollen, and mugs of hot mulled glühwein—the huts also house vendors slinging all manner of gifts and decorations. Woodcarvings, knitted scarves, and ornate beer steins perfectly slip into stockings, populate the space beneath a Christmas tree, or serve as spot-savers in the local hot tub, and delicate glass ornaments or nutcrackers help bring Christmas cheer into homes.
While guests peruse the collection of edible and giftable goods, they can also enjoy the sights and sounds of performances by traditional European choirs and dance troupes. At the on-site Kids' Market, a variety of age-appropriate activities entertain younger children, including a festive carousel, chocolate-lollipop-decorating stations, and gingerbread mascots.
332 East Esplanade
Vancouver
British Columbia
800-565-8735
Vancouver Water Adventures equips maritime adventurers with wet suits, life jackets, and personal watercraft for exploring the waterways of False Creek and English Bay. The staff stocks a fleet of jet skis, paddleboards, and water bikes, which riders can pedal along inlets without having to worry about the confusion associated with bike lanes or passive-aggressive hand signals. In addition to soaking up scenic ocean views and spying on local wildlife, guests can accompany skilled guides on tours to the area's most impressive sights. Those operating machines must have a valid driver's licence, and all passengers must be at least 6 years old without factoring in alternate theories of relativity.
1812 Boatlift Ln.
Vancouver
British Columbia
Canada
Creekside Kayaks supplies guests with a sleek fleet of rental kayaks canoes for voyages that traverse the scenic areas flanking False Creek. Solo or duo seafarers can fit snugly within a Necky Manitou II, whose adjustable seat accommodates two adults; single paddlers can also nestle into the roomy cockpit of the Necky Looksha 14. Certified instructors walk uninitiated visitors through kayaking basics during three-hour introductory courses that cover fundamental paddling skills, rescue techniques, water safety, and how easily kayaks transform into giants' kazoos.
1 Athletes Way
Vancouver
British Columbia
---