Professional Services in Richmond
---
Professional Service Deals
---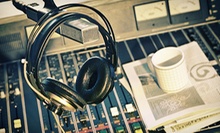 Audio masters record one hour of music, book readings, or acting demos, mixing sound to a professional level and burning them to CD
Use Saturday 10:00am - 5:00pm
---
Recommended Professional Services by Groupon Customers
---
More than 10 years ago, a group of seamstresses and tailors left their jobs at a top mensware store and opened Sun Tailoring with a goal to craft and alter clothing that reflects its wearer's personality and charisma. Each of the business' hemming experts has trained first hand with an Italian master tailor, an experience that equips them with invaluable knowledge as they repair clothing items and alter them to better fit customers who are aging in reverse. The staff furthers its commitment to personalizing fashion with wardrobe consultations, and they can also create custom suits, dresses, and costumes.
555 West Hastings Street
Vancouver
British Columbia
604-683-6817
Nothing fit right when Michael Tang was little. With a frame on the small side, he couldn't just slip on a pair of jeans or a new shirt from the store and have it look right—but luckily, his mom was a seamstress. He'd watch her at work as she tailored his wardrobe, and at 16 years old, he started to pick up her skills. He began with hemming jeans and progressed to the point where he was able to refit anything from a jacket with lining to a three-piece tuxedo for a circus elephant. And so blossomed his own enterprise, Threads Fashion Alterations.
In addition to clothing alterations, the shop offers eco-friendly wet cleaning, which gently cleanses delicate garments using biodegradable soaps. The staff also alters bedding and drapes to perfect the fit of sheets or refit drapes for windows that have shrunk.
3170 Cambie St.
Vancouver
British Columbia
604-708-4689
Just as weddings bring together family and friends to celebrate a joyous day, My Dream Wedding Show brings together exhibitors and guest speakers all eager to make visitors' special days come to life. More than 100 professionals showcase their services in four-hour sessions, one held in the morning and one in the afternoon. Guest speakers from television and other media also hold events throughout the day to offer tips to attendants. Brides peruse dresses and decorations with their friends after a stop at the beauty lounge, and future grooms can grab a drink with their pals and play golf at the gentlemen's lounge.
1128 W Georgia St.
Vancouver
British Columbia
778-574-0200
The botanical artists at Purple Lotus Flowers build living sculptures from vibrant blooms and elegant vases. Arranging everything by hand, they position flowers into glass and wicker containers to create Western or Eastern style pieces from a menu that changes monthly. Bouquets of red roses and rich purple gloxinias commemorate celebrations that range from anniversaries to birthdays with chromatic bursts and floral scents. The florists also substitute flowers with fruit to create gift baskets filled with fresh snacks. Whether fruit or fauna, Purple Lotus Flowers will also deliver everything directly to the homes, offices, or hover sky-labs of loved ones.
450-9100 Blundell Rd.
Richmond
British Columbia
778-297-7111
Helmed by a 21-year-old Simon Fraser University student and a wunderkind photographer, Noni Productions captures the elegance of everyday life through still photos and video. Through the lenses of a Canon Rebel T3i, Hasselblad 500 C/M, and Nikon D3100, Noni photographers shoot high-definition images that blend natural beauty with careful lighting. The resultant shots are equal parts flattering portraiture and works of art that say something about each subject's personality. As an avid photo editor and retoucher, Noni Productions' founder carefully revisits each image, making sure to remove any skin blemishes, uneven tones, and background hauntings from frames.
404-9009 Cornerstone Mews
Burnaby
British Columbia
604-724-8551
Mobile Basics provides repair services and advice for malfunctioning phones in English, Cantonese, and Mandarin. The friendly techs fix scratched screens and help puzzle out software and hardware issues. They are also adept at unlocking popular smartphone brands such as iPhone, Blackberry, Samsung, LG, and Motorola, allowing users to use a sim card from another service provider. Their shop houses a vast inventory of protective cases in colourful designs, from plaid patterns to bright flowers to cartoon characters. Highly detailed, the Nintendo Gameboy case is realistic enough to convince a friend that you're playing a game instead of texting incriminating videos of them to the paparazzi.
4540 No. 3 Rd., Suite 1165
Richmond
British Columbia
CA
604-370-4370
---