Schools & Tutors in Richmond
---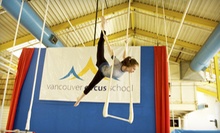 Adults and teens try their hand at trampoline, juggling, and aerial silks in 60- or 90-minute intro to circus classes
---
Recommended Schools & Tutors by Groupon Customers
---
An accredited institution of higher learning that intertwines its curricula with the fine arts, Pera College helps students hone their creativity while becoming proficient in the English language. Modest class sizes allow students to absorb coursework without lining their backpacks with sponges as they take steps toward becoming operatives in fields such as business, hospitality, and customer service. The institution's combination of language learning with fine arts improves students' breadth and depth of communication while honing a new skill. Weekend workshops in drawing, painting, and photography also allow non-ESL students to tap into Pera College's experienced, diverse faculty.:m]]
409 W Hastings St.
Vancouver
British Columbia
It's a fairly common image from the Middle Ages and from fairy tales: an armoured knight on horseback, riding triumphantly into battle wielding a sword. Today, of course, such a sight would have shocked witnesses almost immediately—unless they're at Academie Duello. A centre for European swordplay and Western martial arts, Academie Duello has revived centuries-old scenes similar to the one above. It teaches students ancient battle techniques, but does not re-enact epic duels or the well-documented silly-string wars that ensued when swords broke.
The 5,000-square-foot facility extracts skills and weapon information from authentic combat manuals and primary-source texts. Its instructors turn that knowledge into an in-depth curriculum, which today provides both adult and children's programs. Most of those programs also help students stay fit, as they replace weights and treadmills with longswords, shields, and rapiers. To immerse themselves further into knighthood, students can check out Academie Duello's museum, which preserves an ever-growing collection of weapons of war, armour, and fight books.
412 W Hastings St.
Vancouver
British Columbia
604-568-9907
Two campuses with three specific focuses—massage therapy, aesthetics and laser, and hair design—form Utopia Academy, where students steep their minds in healthcare instruction from a skilled faculty. The registered and accredited programs guide students toward flourishing careers by building skills through interactive clinics that are open to the public. Under careful supervision, students gain tangible field experience as they knead away tension, perform anti-aging peels, or style the coiffures of an entire poodle wedding party.
223-181 Keefer Pl.
Vancouver
British Columbia
604-681-4450
The extreme athletes at Feral Kiteboarding School harness and fuse the raw powers of wind and water to fuel kiteboarding sessions. Driven by a passion for the outdoor lifestyle, they have also studied the demands of their environment to design apparel and equipment for the sport. Lessons with a BKSA- and IKO-certified instructor take place along the sandy beaches and shallow waterways of White Rock. Wave-cresting staffers also specialize in introducing beginners to the pastime, organizing equipment packages complete with trainer kites, instructional DVDs, and jars big enough for students to trap their own gusts of feral wind.
15622 Marine Dr.
White Rock
British Columbia
778-986-1981
Twenty-year horse riding veteran Alicia Harper and her staff of equine aficionados work together to create a comfortable environment where students can learn foundational riding skills. Their fleet of horses includes options for all levels and riders who are trained to compete in disciplines including dressage and show jumping. Focusing on safety, the staff offers lessons for casual riders interested in scenic strolls along the riding trail as well as more intensive instruction for those looking to compete. Regular theory workshops delve into the arcane aspects of caring for horses, and enthusiastic students are invited to help out around the barn, where they can learn about feeding, grooming, and losing gracefully to horses at games of canasta to keep their morale high.
12590 Bell St.
Mission
British Columbia
Friends, business partners, and educators Karen Lorena Parker and Katherine Keating had a shared vision of holistic, community-based learning. Combining Parker's 15 years of classroom experience and Keating's knack for program design and entrepreneurship, they created DreamIndigo Society, where students can incorporate the arts and sciences into a comprehensive, experiential learning adventure. While youngsters conduct science experiments in summer camp or develop leadership skills that will come in handy when leading a successful debate team or founding a successful debate team made up of neighbourhood dogs, they're also stealthily becoming well-rounded members of society.
45 W Hastings St.
Vancouver
British Columbia
---