Yoga in Richmond
---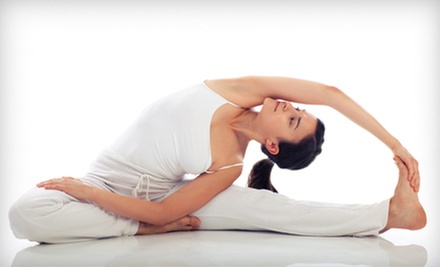 ---
Recommended Yoga by Groupon Customers
---
Rachel Wainwright had several friends pass away—victims of injury and sickness—in a short span of time. She needed to feel happy and alive, and this drive led her to dance, yoga, and Pilates. Diving into these practices helped her feel more at peace, and she felt like she'd stumbled onto a secret. Desiring to share this feeling and her passion with others, Wainwright opened Exhale Studio—so named to serve as a constant reminder to release and let go. She gathered a team of like-minded instructors and, through her classes, started helping others to let go while they built strength and balance.
In yoga sessions, clients gain flexibility and balance through a series of poses and breathing exercises. Yoga styles include hatha flow and a yoga-Pilates fusion. They also offer Pilates classes that work to align the spine and build core muscles such as Pilates mat and ballet Pilates. Meanwhile, dance lessons help burn calories and build self-esteem while learning dance hall, Zumba, belly dancing, hip-hop, and the correct spelling of the YMCA.
1083 Cambie St.
Vancouver
British Columbia
604-689-2446
The instructors at Bikram Yoga North Vancouver focus on Bikram yoga, which was founded by Bikram Choudhury, who started his practice at age 4 and won the National India Yoga Championship at age 13. He later injured his knee in a weightlifting accident, and despite a grim prognosis from doctors who said he would never walk again, Bikram continued his yoga practice and made a full recovery. Each 90-minute Bikram-yoga class takes place in a studio heated to 105 degrees Fahrenheit and consists of one series of 26 poses. This discipline can move oxygenated blood throughout the body, increase muscle tone, improve overall health, and steam unsuspecting vegetables.
856 W 15th Street
North Vancouver
British Columbia
604-904-9642
The Yoga Practice's staff is dedicated to helping students of all abilities attain a balanced mind and body while developing an understanding of the art of yoga. Certified instructors impart their knowledge and passion for yoga upon pupils during a variety of drop-in classes, each dedicated to a different yogic modality and style. The studio's staffers promote experiential learning through their warm and encouraging instructional methods, and the studio features cork flooring and an open layout, enabling the staff to lavish individualized attention upon each bending body and to referee end-of-class Twister championships. Classes are held throughout the week and ample free parking is available on site.
2170 Marine Drive
West Vancouver
British Columbia
604-926-4655
It only took one yoga class for Farhad Khan to realize that the ancient practice would become his life's passion. That passion led him on travels to Africa, India, and Southeast Asia, where he fully immersed himself in the spirituality of yoga before opening Maa Yoga as a place to share his discoveries with other students. The studio borrows its name from the Hindi word for mother, reflecting Khan's philosophy that yoga should be a nurturing practice that helps others to love themselves and extend that love outward to others.
Inside the welcoming, nonjudgmental confines, Khan and his staff create a blend of different yoga styles including Hatha, Vinyasa, and Yin, during which students hold poses for up to five minutes or until someone says "green light." The 2,500-square-foot facility curates its peaceful atmosphere with help from eco-solar hot water and heating systems, sustainable bamboo flooring, and an air-purifying HEPA filtration system, and it also houses a tea lounge where practitioners can unwind postpose.
489 Dollarton Highway North
North Vancouver
British Columbia
604-983-6229
Heated air seeps into students' pores as they enter Bikram Yoga Burnaby's two heated practice rooms, preparing muscles for workouts filled with deep, therapeutic stretches. Instructors draw from in-depth training with master yogi Bikram Choudhury as they demonstrate the 26 Hatha poses he sequenced to promote health, longevity, and a youthful appearance. Each beginner-friendly pose builds upon the next, summoning cleansing beads of sweat as students flex and bend atop antimicrobial flooring and near wall-length mirrors. Focused breathing exercises help students expel stress with each exhalation, clearing minds of fog and worry.
Before and after classes, students may explore the 11,000-square-foot facility's other amenities, which range from child care and towel service to showers and a juice bar. Fresh flowers add a hint of nature to the clean, modern lines of marble countertops and lounge tables, where students gather to socialize before heading to the nearby SkyTrain or a flying monkey parked in the studio's free lot.
111-4501 North Road
Burnaby
British Columbia
604-420-8000
---