Professional Services in Richmond Hill
---
Professional Service Deals
---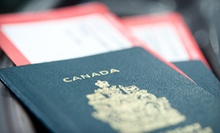 Use Friday 4:00pm - 6:00pm
---
Recommended Professional Services by Groupon Customers
---
Founded in 1992 with the mission of finding new faces, CA Model and Talent Management's staff is devoted to helping beginners of all ages break out of obscurity and into the modelling, film, print, and television industries. A team of photographers, booking agents, makeup artists, and marketers congregates under one roof to score auditions for acting and modelling neophytes with no prior experience, shooting photos, augmenting cheekbones, and doling out advice to help them stand out. Their clients' faces have graced print ads, commercials, and billboards for companies including Nikon, Sony, Ikea, and Campbell's. The professional photographers snap shots of aspiring stars with skillfully arranged backdrops in a comfortable studio flanked by wood floors and large windows that permit only the most flattering of natural light to enter. They work with each subject to bring out their natural personality in each shot, capturing some clients mean mugging in leather jackets, others playfully grinning in casual duds, and some casting over-the-shoulder smolders in cocktail-party attire.
301-680 Yonge St.
Toronto
Ontario
416-929-3456
Professional Dry Cleaners draws upon 25 years of dry-cleaning experience when handling each garment or household fabric that passes through its cleaning clutches. Suits and dress shirts return to their off-the-rack appeal after spotting, dry cleaning, and pressing; suede and leather surround wearers with suppleness after a proper cleaning and conditioning. Owners of garments and fabrics can arrange for free pick-up and delivery, saving time and cutting down on the chances of photographers catching them in their capes and leotards.
13-850 King St. W
Oshawa
Ontario
905-576-0024
Owner Mehdi Roghani has sharpened his approach to dry cleaning during nearly 20 years of running businesses in Toronto and his native Iran. Under his direction, First Class Dry Cleaners' staff takes a green approach, first by lifting stains and odors with an eco-friendly cleaning solution, and then by packaging garments in a biodegradable poly-roll. They continue minding Mother Nature when wet cleaning items, as well as when cleaning rugs and carpets or cleaning and conditioning leather and suede. Beyond cleaning, First Class's team also offers alterations and repairs, from hemming pants to hammering new links into chain mail. To earn customers' long-term trust, Mehdi and his team offer credits for friend referrals and reward points of 1 per cent for every dollar spent.
102A-1910 Yonge St.
Toronto
Ontario
For more than 10 years, Magenta Studio Photo's talented photographers have teamed up with clients to craft custom-fitted photo shoots. Each session starts with a consultation to review the myriad options available for solo portraits, couples, families, and more. Then, clients can create a preferred ambience by selecting background colours and lighting options. Tailored photo shoots give models the chance to pose with props brought from home or from Magenta Studio's costume cache. Following the shoot, photographers are happy to review every pose to ensure satisfaction and to help subjects select shots that can be immortalized on a fleet of products, such as prints, handbags, and home accessories.
Patrons can peruse the homepage gallery for examples of Magenta Studio Photo's moment-capturing prowess, and consult the FAQ page to answer any bunny-ear-related inquiries.
319-1 Bass Pro Mills Dr.
Vaughan
Ontario
905-660-6233
The artisans at Framing & Art Centre love a challenge. With years of experience in the field and a workshop updated with efficient framing machinery, they take on any framing project with confidence. Hockey jerseys and ticket stubs find homes in custom shadowboxes, and paintings and photographs retain their brightness with the help of acid-free matting and UV-resistant glazes. For those unsure of what style frame they want, Framing & Art Centre's artisans are happy to offer suggestions and collaborate on the final design.
2000 Appleby Line
Burlington
Ontario
CA
Rosa Wang employs an eye trained with more than 20 years of photographic experience to create images that combine high art with essence-capturing portraiture. Rosa and her all-female team of creative talent compose tasteful yet romantic boudoir, couple's boudoir, and bridal boudoir portraits. Rosa's commitment to fostering a warm studio environment in which women of all shapes and sizes can feel comfortable is reflected in her rigorous privacy practices. Her eagerness to meet with clients for a pre-shoot discussion over a calming cup of tea or inside a secure bank vault. During her relaxed, leisurely paced shoots, Rosa gently coaxes forth alluring angles from the shyest of sitters and employs flattering lighting, backgrounds, and props such as flirtatious feathers to draw out inner sirens. Once flash bulbs have been extinguished, Rosa's Photoshop prowess shines as she fine-tunes images and edits out imperfections such as blemishes, stretch marks, and wrinkles in time.
514 Lumberton Crescent
Mississauga
Ontario
416-559-7896
---