Restaurants in Richmond Hill
---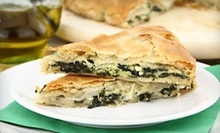 Greek restaurant preludes plates of lamb souvlaki & garlic shrimp with hot & cold appetizers & wines served by glass or bottle
Use Today 5:00pm - 9:30pm
---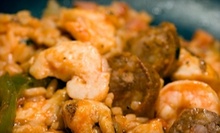 Slow-baked jambalaya presides over menu of North American fare laced with Cajun flair in eatery underscored by live blues crooners
Use Tuesday 6:00pm - 9:00pm
---
Recommended Restaurants by Groupon Customers
---
The artistic chefs at Sushi Kai skillfully cut sushi and use fresh fish, meats, and high-quality produce when creating dishes for their traditional Japanese menu. Celebrating Japan's most popular import, the sushi chefs can roll choices from 25 maki options including barbecued eel and thinly carved yellowtail sashimi, or set off in-mouth fireworks with cone-shaped spicy-tuna hand rolls. Japanese curries introduce diners to a lesser-known Japanese specialty, greeting tongues with a choice of chicken, beef, pork, or fish. As diners share bites of sushi, they lounge in Sushi Kai's minimalist dining room and lecture its plants on proper photosynthesis technique.
168 Eglinton Ave. E
Toronto
Ontario
416-481-8181
In 1828, Reuben Burr sold his property to a family of wealthy carriage makers, the Cosfords, who christened their new home with the name Oakland Hall. More than 170 years and several owners, purposes, and names later, Tom and Irene Ntoulas transformed Burr's homestead into the Oakland Hall Inn, a fine-dining restaurant whose history complements its classic, upscale food. Chef Charyk plucks flavour and inspiration from the herb garden behind the inn, culls Ontario-sourced veggies and lamb, and brings in specialty cheeses, venison, quail, and perfect French pronunciation from Quebec. He aims to surprise his guests with flavours they've never tried, and more than 200 Old and New World wines ensure that each new experience is expertly paired with a delightful vintage.
16003 Yonge St.
Aurora
Ontario
905-713-6655
At Casa Manila, named the best Filipino restaurant in blogTO.com's Best of Toronto, the scents of saffron, coconut milk, and tamarind slip among rustling walls of potted plants. Grass-thatched windows and bamboo shoots hint at the fistfuls of veggies that accent braised meats, grilled king fish, and stews. The dishes all display the exotic style of Filipino fare, which combines Malay, Spanish, Southeast Asian, and Chinese influences. Warm-hued lights, draped in fabric printed with frolicking animals, illuminate the plates, and imported Sarsi, a Filipino root beer, bubbles alongside them. On the patio, umbrellas shelter diners from the hot sun and the sight of clouds being born.
879 York Mills Rd.
Toronto
Ontario
416-443-9654
The chefs at Wildfire Steakhouse & Wine Bar are proud of the gourmet dishes that leave their kitchen, but they're also proud of their main fuel source: charcoal made from Quebec maple. The aromatic wood is the secret to their tender filets and sirloins, each of which is rubbed with a signature blend of seasonings and finished with pristine crosshatch marks. Surf—including grilled salmon, mahi mahi, and Cuban lobster tail—joins turf inside a dining room clad in warm, cherry-red woodwork. In-house sommeliers stand ready to suggest the perfect pairing from a list of 6,000 bottles and single-serving barrels containing 900 kinds of wine. Alongside the Wine Spectator–acclaimed wine service, bartenders slake other thirsts with martinis and imported beers.
3438 Yonge Street
Toronto
Ontario
416-483-4800
Cachet perches on the edge of Fairy Lake and, accordingly, seafood takes a starring role on the menu. Aquatic life shows up in classics such as trout niçoise and citrus-glazed grilled salmon but also finds its way into gourmet tacos and a wide array of sandwiches clasped by wrap bread or naan. Pastas and filet mignon round out a slate of global flavours, complemented by elaborate martinis—bartenders shake in lychee liqueur or rim glasses with chocolate. A patio overlooks the lake, which patrons can admire while lounging under an umbrella or a table.
500 Water St.
Newmarket
Ontario
905-836-5007
Dick's Wings & Grill's spice-emphasizing franchise gathers diners around menus featuring eclectic salads, burgers, sandwiches, and wings. Chicken wings waltz across plates in batches up to 100 pieces dressed in 365 variations of 30 changing sweet and savoury sauces, six dry rub blends, and six levels of heat ranging from none to the restaurant's secret sauce. Chefs fortify certified Angus-beef burgers with toppings more varied than Charlie Chaplin's bowtie collection, and they cook all dishes using trans fat-free oils. While red walls and bright neon signs surround diners, plates pair with an array of domestic and premium beers ranging from Labatt to Alexander Keith's. The dining area's sports bar atmosphere is filled with paraphernalia such as hockey team photos, and karaoke and trivia nights allow patrons to settle disputes over the best death-metal Beethoven tribute album.
205 Don Head Village Boulevard
Richmond Hill
Ontario
905-508-3924
---