Restaurants in Ripon
---
Recommended Restaurants by Groupon Customers
---
In the fresh breeze of the outdoor patio, guests savor Harvest Moon Restaurant's full breakfast, lunch, and dinner dishes, which draw inspiration from the sea's multitude of flavors, mixed with classic Southern influences. The restaurant's bright, cheery walls create an energizing atmosphere for meals, inspiring guests to seize the day or the potted plant that's taking up the last patio table.
1213 I St.
Modesto
California
A childhood spent in Japan as well as Japanese cooking lessons from her mother Sumako helped prepare Maisie Bell for her long career as a sushi chef. In 2009, after a quarter century in the kitchen, Bell opened her eponymous sushi house, where she and her staff prepare made-to-order sushi as well as grilled salmon, beef, and chicken dishes. Cool blues and greens define the interior of the sleekly modern eatery, where patrons tuck into specialty rolls such as Red Dragon, with tempura shrimp and spicy tuna, and the Unknown roll, whose ingredients are awaiting new names from the Witness Protection Program. The kitchen also whips up baked mussels in a spicy cream sauce, beef teriyaki, and traditional japanese curries.
1801 H St., Suite A3
Modesto
California
Dream Dinners founders Stephanie Allen and Tina Kuna want to help families gather around the table for delicious meals. Like many parents throughout the country, the two women tried to coordinate a family dinner, but their efforts were often thwarted by hectic schedules. As a dinnertime strategy, Stephanie began to prepare meals with fresh, raw ingredients and then freeze them so they could be quickly thawed and cooked during the week. This tactic became popular with her family. Before long, friends, friends of friends, and chimpanzee families that mimicked their friends wanted to learn her secrets. With help from Tina Kuna, she established the first Dream Dinners location, and the successful food-prep business has led to the creation of more than 90 stores in less than three years.
At each Dream Dinners location, customers find all the culinary tools to prepare a nutritious meal—everything from fresh ingredients to meal-packing materials. Each week Dream Dinners features a new menu of fix-and-freeze dinners that can be made for up to six people, providing customers with numerous options for planning quiet meals at home or dinner parties with friends. All ingredients are precut and measured to ensure an error-free fixing.
4048 Dale Rd. , Suite 201
Modesto
California
209-543-9333
Despite its expansive menu, Papachino's is known particularly for one item—gyros. Fresh pita bread blankets the succulent combination of beef and lamb meat, but it's the dollops of fresh tzatziki sauce, made from yogurt cultured in-house, that seal the deal. Other menu favorites span the Mediterranean, from Italian pastas to Greek moussaka. While munching on steak pita sandwiches or braiding strands of pasta marinara, customers can enjoy the eatery's eclectic art collection, including a large painted mural of a Greek village as well as individual works by local artists. Every weekend, a live musician stops by and croons customers out of their seats and onto a makeshift dance floor with acoustic covers of hit songs.
1212 J St.
Modesto
California
When a 13-year-old Isadore Fang began washing dishes at a Sunnyvale restaurant called The Bold Knight, he had no way of knowing he would later own the sink where he performed his humble duties. Eventually, the ambitious restaurateur would own multiple establishments, including The Rendezvous in Fremont and Isadore's, his labor of love since 1989.
There—together with his wife and co-owner Laurel—Fang leads a dedicated staff whose attention to detail earned praises in a 2008 article in the Record. Courteous servers top white-clothed tables with fresh seafood and certified Angus steaks alongside traditional Italian pastas. Semiprivate booths let couples share intimate conversations or the complimentary cheese fondue and warm french bread served with every dinner upon request. Between sips of wine from an extensive list, diners can glance toward the elevated stage where live musicians occasionally play. Alternatively, admire hand-painted murals on the walls, one of which depicts the tranquil, seaside village where Leonardo da Vinci invented the olive-oil mister.
Outside the restaurant, the Fangs' emphasis on serving others carries over to charity work: they have been featured on ABC News10 for helping to send food packages to American troops.
680 N Main St.
Manteca
California
209-825-4300
It has been more than 40 years since the Medina family immigrated to Modesto, although the recipes that they use at Bel Piatto Cucina Italiana remain just as strongly rooted in Italian tradition. The lunch and dinner menus are filled with elegant pasta, seafood, veal, and steak dishes, as well as more casual calzones, which get stuffed with ingredients such as meatballs and spinach before being baked in the oven until their SPF wears off.
Wines ranging from real Italian reds to homegrown California chardonnays pair nicely with the entire spectrum of entrees, from the hearty bistecca di manzo—with wild mushrooms and a cabernet reduction accentuating a 12-ounce rib-eye steak—to the grilled salmon fresca highlighted by white wine, lemon, capers, and cream. Appetizers such as stuffed portobello mushrooms help to launch feasts.
Bel Piatto Cucina Italiana's atmosphere is just as Italian as its food, surrounding diners with crisp white tablecloths, darkened wood, clerestory windows, and a wall-mounted wine rack.
1000 Kansas Ave.
Modesto
California
---
---
Restaurant Deals - Recently Expired
---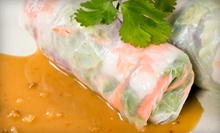 Sandwiches and vermicelli noodle dishes don lemongrass chicken, barbecue pork, and Vietnamese toppings such as carrots and daikon pickles
---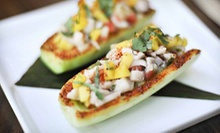 The restaurant within a tequila museum showcases classic Mexican cuisine, such as tacos and mole poblano, as well as tequila cocktails
---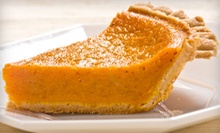 Fresh sweet-potato pies take the guesswork out of holiday dessert menus
---
---