Things to Do in Riverbank
---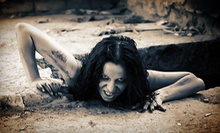 Individuals or teams try to outrun zombies during a game of tag; VIPs receive beverages and a bonus life to use if they get tagged
---
Recommended Things to Do by Groupon Customers
---
"Ornate" and "sweeping" only begin to describe the Crest Theatre, whose rich history extends back to 1912, when it was opened as a vaudeville house. Within its gargantuan auditorium, plush seats perch in subtly curved rows while elaborate lights and a sea-blue ceiling wash the space in ethereal hues. Moviegoers settle into the elegant confines to take in both new and classic films, reading the subtitles in a whisper to stuffed animals that forgot their glasses. Out in the lobby, a richly patterned carpet and bronzed floral motif cover the sprawling space as visitors belly up to the bar and snack on high-quality goodies.
1013 K St.
Sacramento
California
Fright Planet's outdoor theme park acts as a library of the world's most potent phobias. Every year, cast members reimagines its catalog of haunted environs, crafting new sets, props, and characters to prey on guests. Its dedication to genuine scares calls for only the best actors and the most grisly scenery, which is constructed with the help of a former Disneyland artist and a bulldozer possessed by the soul of a 1700s architect.
The 2012 lineup has expanded to include nine attractions—up from last year's five—in addition to the ScreamMax 3-D movie theater. Though the houses all have distinct themes and decor, they share two factors: a richly painted backstory and a population of live, ghoulish denizens. Staring toys line the shelves at Höbart's Doll Factory, 3-D visuals bring corpses to life in Dead Man's Lagoon, and cornstalks bear bloodstains on Podunk Farms. Other experiences play on claustrophobic fears—Blackout! fills its ghostly halls with complete darkness, and Buried Alive: The Ride shuts patrons into a coffin where they endure a simulated hearse ride, burial, and the chilling sound of worms calling dibs on their body parts.
1600 Exposition Blvd.
Sacramento
California
Bicycle Plus's staff, a group of avid cyclists, brings an acute awareness to bike sales and tune-ups, garnering the store a series of awards for excellent bicycle retailing. Veteran mechanics work their magic on ailing frames throughout basic tune-ups and complete overhauls in the service department while finding time to teach curious DIYers how to fix a flat tire with peanut butter during free weekly bike-maintenance classes. The sales team pairs up shoppers with glossy rides from Trek, Specialized, and Colnago using the doctor-devised Body Geometry bike-fitting system to ensure maximum riding comfort.
705 Gold Lake Dr., Suite 320
Folsom
California
916-355-8901
Upon arrival at Alpha Fired Arts, commence the creative process by selecting a ceramic bisque piece from the studio's extensive collection of ready-to-paint artifacts, including plates, platters, cookie jars, and flower pots perfect for storing secret cookies. Next, dig into the depths of your thinker to come up with a design, sketch it out with pencil, and select your glaze colors. If your creativity gets hit with a ceramic block, draw on Alpha's collection of stamps and stencils for inspiration as you craft your masterpiece. When you've finished applying pigment, leave your work behind for a final firing in the kiln. After applying the first part of this Groupon to Alpha Fired Arts' studio fee ($9/adults, $7/kids), which includes the use of brushes, underglaze colors, stamps, and stencils, you can use the remaining value toward up to two ready-to-paint bisque pieces (many cost $5–$20).
4675 Aldona Lane
Sacramento
California
The many stigmas surrounding the sluggishness and spitball susceptibility of school buses and public transit are rendered inane by the sleek comforts of Blue Groundways' buses. Each Blue Groundways bus is an indulgence-vessel on six wheels, offering the musicality of Sirius satellite radio, the connection of on-board WiFi, five-star service from friendly attendants, beverages to hydrate your journey, and the most recent movie releases played on a slick video system. Scheduled routes include a Friday ride that starts in Santa Rosa and travels along Route 42 to Petaluma and Sacramento before arriving in Lake Tahoe and then later in Reno, returning back home on Sundays. The San Francisco to Reno route leaves on Fridays and Sundays with return trips on Saturdays and Sundays, making stops in both Lake Tahoe and Sacramento. Check out the route map for pick-up locations.
1121 15th St.
Sacramento
California
For more than 32 years, Punch Line Comedy Club has hosted such comedic greats as Robin Williams, Ellen DeGeneres, and Chris Rock. Backed by a panoramic mural of the cityscape, national acts and local favorites send their shrewd observations out to audience members, who seat themselves at tables nestled close to the stage in hopes of being baptized by a spit-take. The polished wood of the furniture and expansive bar reflect the grins of patrons enjoying beers and cocktails.
2100 Arden Way, Suite 225
Sacramento
California
916-925-5500
---