Things to Do in Riverview
---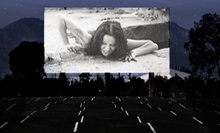 Patrons sit in their warm cars during first-run double-feature films
Use Monday 4:00pm - 7:30pm
---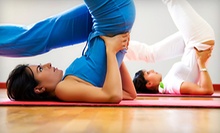 Class introduces students to the Iyengar method of yoga
Use Friday 2:45pm - 5:45pm
---
Recommended Things to Do by Groupon Customers
---
Vibrant colors coat walls surrounding the glossy rinks at ERDU Skate-A-Rama , where experienced staff members monitor skaters of all ages in a family-friendly environment. Equipped with rented wheels, skaters glide along smooth surfaces under colorful lights to the beat of lively music. Their family members, perched along the rink's perimeter, watch or take bets on who can do a figure eight the fastest.
Skaters can take a break from four-wheeled footwear to play arcade games at some locations or silence rumbling stomachs with bites of pizza or other snacks, such as cones from the ice-cream shop, at ERDU Skate-a-Rama, which serves up swirls of soft serve doused with fudge.
8611 Ronda Dr.
Canton
Michigan
734-459-6400
A green turf floor, inflated obstacles, and industrial-sized plastic barrels populate Killer Paintball's two indoor fields. Within this paint-splattered environment, opposing teams don goggles, develop strategy, foster teamwork, and turn each other into sprinting, diving rainbows. Attentive referees supervise three-hour bouts to assure fair play. Open play occurs Friday through Sunday and on Wednesdays. The staff also facilitates paintball parties for birthdays, graduations, and reenactments of Jackson Pollock's last stand.
29350 Northline Rd.
Romulus
Michigan
734-955-9456
The sudden clatter of a billiards break. The quick shuffling of cards. A pinball machine's clanging bells. All can be heard at The Velvet Rail, where everything from regulation-size felt-topped tables to foosball and air hockey keep patrons of all ages entertained. As a digital jukebox pumps out tunes, snacks such as hot dogs, nachos, and hummus fuel games of snooker or pool, and free WiFi allows players to post online personal ads for "eight ball seeks corner pocket."
28410 Joy Rd.
Livonia
Michigan
734-422-7665
A gunman steps onto the shooting range, steadies her aim, and unloads until her chamber is empty. As the smoke clears, she triumphantly smiles not at the holes in a paper bull's eye, but at the bowling pins flattened across the floor. It's Monday night, which means the crew at Firearm Exchange has packed away its targets and is instead setting up bowling pins for shooters to aim at.
When it's not giving retired bowling pins a second occupation, the Firearm Exchange's eight-lane, 25-yard shooting range refines the aim of all levels of marksmen through a Mancom electronically controlled target system. As shooters fire at static or complex target maneuvers, a climate-controlled range quickly extracts gun smoke through an HEPA air-filtration system. At the end of the range, rounds absorb into wet-trap system, which can handle pistol, shotgun, and rifle fire. For those who bring their own firearms, a cleaning room contains maintenance supplies so shooters can clear their pieces of gunpowder residue and bullets that fell asleep.
Beyond maintaining the range, Firearm Exchange's team hosts classes taught by instructors claiming NRA certifications, covering topics ranging from basic firearms operation to hunting safety. Arms experts also man a 1500-square-foot showroom, loaded with inventory including guns, ammunition, and accessories.
30305 Schoolcraft Rd.
Livonia
Michigan
734-422-4867
At Silver Tee Golf Centre, golf balls frolic on the greens of a recently renovated 18-hole miniature golf course and whiz through the air at a practice range. A driving range's heated, covered, and lighted stalls let players swing their 9 irons without hiring a cloud of lightning bugs to hover overhead, and a practice sand trap lets them practice their escape skills. Before hitting the practice green, golfers can take a turn at the Perfect Putting Machine, which lets players experience what the ideal stroke looks and feels like, and those working on their long game can step into the Explanar training system and discover their optimum swing plane as a hoop guides their stroke.
The centre's PGA Professionals are close at hand to take over where the training equipment leaves off. They guide students toward reliable swings during private and group lessons and wrestle egg-shaped balls from nesting alligators.
1360 Hwy. 3
Oldcastle
Ontario
Fox Theatre, originally opened in 1929, has long been established as a venue for legendary performances, earning induction into the National Register of Historic Places in 1993. Domed entryways, walls lined with pastoral murals, intricate chandeliers, and a palette of brilliant gold and crimson hint at the venue's Moorish influences, which eclectically clash with the ordered lines of its Gothic exterior.
2211 Woodward Ave.
Detroit
Michigan
313-471-3087
---