Nightlife in Riviera Beach
---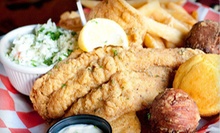 Classic Southern dishes and live music from blues bands, tribute artists, and dueling pianos
---
Recommended Nightlife by Groupon Customers
---
There's an old saying—play football on an empty stomach, get an empty scoreboard. Today's deal lines your stomach with the heavy-duty padding it will need to rush the nosebacker and score the touchpoint. For $10, you get $20 toward edibles and drink at Tom's NFL American Sports Bar and Grill. The team at Tom's has been in practice for the past 25 years, and after such strict conditioning, its at the top of its game. You can use one Groupon for every two people at the table, so huddle up a group of your best offenders.
5001 Nw 36th St
Miami Springs
Florida
US
The hookah's natural habitat is not a nightclub with crashing music and empty drinks slamming against tables. The hookah experience, according to Kimm Smith of Hookah House, should be unrushed and mellow. "It's very meditative," she says, "and should be shared with people you care about." This was the atmosphere in which co-owner Zo spent his childhood in Algeria, where people would spend long hours gathering with friends and families in hookah lounges. He and his Bostonian wife, Michelle, wanted to bring that aspect of Algerian culture to the United States, both to spread a feeling of community and as an homage to the marriage of their distinct backgrounds.
As the fruit-tinged smoke of shisha rises from between murmuring visitors, it passes rich fabrics, which drape the exposed-brick walls, and bright lanterns dangling from a marigold ceiling. Stories seem to overflow from the furniture and textiles, gathered during the couple's travels in Algeria or preserved from Zo's former life as a sommelier in Paris. This is where patrons linger, resting shoeless feet on bright cushions and pillows as they converse or check email on the free wireless internet. Atop inlaid tables, servers place Turkish coffee, house blends of Moroccan tea, and small plates of Mediterranean-inspired dishes.
On some weekend evenings, live jazz stirs guests to twist among tendrils of smoke before a DJ steps up to spin a range of music, from Earth, Wind & Fire to Jimi Hendrix. Belly dancers, with bells and scarves for all to borrow, demonstrate to patrons how to pass lie-detector tests with just their hips. A psychic-in-residence reads coffee grounds most nights, translating the earthy onyx shapes into predictions about the drinker's future.
802 Lake Ave.
Lake Worth
Florida
561-791-6090
A man seizes a bottle of liquor by its neck, lifts it off its grooved feet, and hurls it into the air. Eyes forward, he catches it behind his back with his left hand as his right pours the first ingredient in a mixed drink. Off The Hookah's flair bartenders juggle flaming concoctions and fix classic cocktails inside a 14,000-square-foot restaurant with Moroccan décor and cushy beds and couches. After high-fiving the two pharaoh statues stationed by the door, guests can dig into tapas, sushi, and artfully arranged Mediterranean cuisine. Outdoor seating wraps around the entire main hall, providing plush couches from which to exhale hookah fumes and watch mariners tying up their boats or saddling their sharks at the marina. On the weekends, DJs spin Mediterranean, Latin, and American records, while belly dancers undulate around indoor and outdoor areas.
314 Clematis St.
West Palm Beach
Florida
561-837-8577
"Slawn-cha," April says, pronouncing the pub's name in slow, punchy syllables. "It's Gaelic. It means 'cheers to good health'—" she stops abruptly, spying a familiar face behind the bar. "Let me let you talk to Clem. Don't let his accent throw you. It's thick—and he knows it!" The two scuffle a bit before he comes forward. "You were talking to an obnoxious lady, were you?" he says. "She's better known as the princess. She drives me crazy."
But April's right. Clem's intonation is heavy with lilts, a nod to his Irish birthplace; it's perfectly at home amid the thick-slatted wood floors, rustic stacked-stone walls, and wooden furniture all imported from Ireland. "There's also live music five nights a week. And there's the food," he adds. "I've always been in the bar business, and these recipes are from top chefs in Ireland." He's especially proud of the fish 'n' chips. "Best in the county," he says. "Made with cod and homemade beer batter—my family's recipe."
Clem goes on to explain that he met his partner at a St. Baldrick's festival—an event dedicated to children fighting cancer. He throws out a startling statistic: "we've raised over $1,000,000 for the charity over the last four years." With this humble side note, and with what he says next, it's clear the earlier banter comes from a place of deep caring. "My favorite thing is the people I get to meet, everyone from firefighters to teachers. There are no strangers here, only friends you haven't met yet."
1500 Gateway Boulevard
Boynton Beach
Florida
561-742-4190
Each of the The Playwright Irish Pub's three locations—two in Florida and one in Connecticut—embodies a warm atmosphere complemented by an Irish-inspired menu of food and drinks. Servers present tables and booths with bangers 'n' mash platters, 8-ounce burgers, or other hearty pub eats while bartenders pour steins of beer. The pub's two Florida locations feature expansive murals painted by Irish craftsmen to depict the glory of old-country Dublin and New Dublin on Mars.
801 Silks Run 2597
Hallandale Beach
Florida
---