Stores & Markets in Riviera Beach
---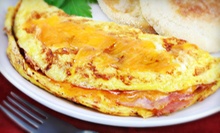 Chef's Phillip and Timothy use seasonal, local, and organic ingredients to craft weekend brunch
---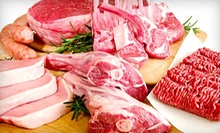 Family-owned Italian market stocked with fresh, center-cut pork chops, Boar's Head lunch meats, and from-scratch baked goods
---
Recommended Stores & Markets by Groupon Customers
---
Established in 1979, South Florida Kosher Meats, Inc., houses a considerable collection of kosher komestibles. Until April 6, the grocer is kosher for Passover and can provide you with all your Passover needs. Following Passover, the market will return to its regular offers. South Florida Kosher Meats specializes in kosher meats, such as 1.5 pounds of barbecue ribs (about $15.99) and 2 pounds of chicken wings (about $3.99), both of which will liven up the next High Holy Days pool party. For customers looking to make use of the rocket-powered shopping cart they received for their last birthday, the market also functions as a full grocery store, with items ranging from cookies ($0.89+) and couscous ($2.39+) to pizzas ($3.99+) and pie filling ($1.39+). Torah-toting turophiles may opt instead for kosher dairy products—including several cheeses from Israel—complemented with a selection from South Florida Kosher Meats, Inc.'s collection of more than 150 kosher wines, including wines from the grape mines of Israel, Italy, France, and Australia.
1324 Northeast 163rd Street
North Miami Beach
Florida
Gaucho Ranch's beef comes straight from the grassy lowlands of Uruguay, where cattle roam free like bovine bikers in search of the meaning of life, while gauchos, the traditional South American cowboys, whisper sweet nothings into their ears. Fed on natural grass and clover, these cows will later magically turn into rib-eye steaks ($59.98 for four 12 oz. steaks), burgers ($7.89 for a lb.), and picahna ($43.02 for three lbs.) with lower cholesterol, lower fat, and more beta-carotene, omega-3, and vitamin E than cuts of beef from cows gorging on corn feed or leftover pizza.
7251 NE 2nd Ave., Suite 113
Miami
Florida
The all-natural alchemists at Tunies turn worn-out bodies into hale and hearty systems with their vast selection of natural groceries, vitamins, and supplements. Eschewing creepy preservatives and other unknown chemicals, they instead fill stores' shelves with provisions ranging from from nut butters and apple cider vinegar to an array of omega oils. When not busy filling baskets with super-foods such as seaweed and almond milk, patrons browse remedies for digestion and the flu, as well as vitamins calibrated to strengthen eyes, kidneys, and vitamin-taking muscles.
5651 Coral Ridge Dr.
Coral Springs
Florida
Dean Bruschi can trace his agricultural roots back four generations to his great-grandfather, who was a farmer in Northern Italy. Each generation thereafter passed down the family tradition of farming, and today, Dean stands proudly on his land, where strawberry plants creep across wet mounds of soil in the sun against the contralto babble of pigs.
From those fields drift the excited and curious shouts of guests participating in the U-Pick program. The visiting farmers wander the warm, furrowed ground, picking their own bell peppers and other veggies for dinner or dioramas depicting favorite X-Files episodes. Laden with fresh produce, patrons return to the shop, whose honey-hued wooden shelves brim with hot sauces, preserves, and a rotating array of fuji apples, bartlett pears, and tomatoes ripened on the vine. The shop gives one the sensation of stepping back through time into a small general store, and a soundtrack of happy chatter sometimes floats inside from Easter egg hunts, hayrides, and other seasonal events.
D and D Farms' CSA boxes ensconce a medley of tasty veggies, which arrive to doorsteps or await pickup still covered in droplets of dew and carved with the initials of a loving plow, and specific vegetables for delivery fit seamlessly into recipes.
5059 SW Citrus Blvd.
Palm City
Florida
772-240-8138
Drawn to a tomato picked right from the vine, a small girl breaks its crimson skin with her teeth, its earthy scent and tart-sweet flavor imprinting forever on her mind. This childhood memory of her family's garden inspired Sheila to establish SW Ranches Farmers Market, where shoppers can nibble on samples of the day's harvest just as Sheila did as a little girl. The produce on display is all grown sustainably and without pesticides, whether it is cultivated by Sheila and her crew or brought to the site from local farms.
Patrons can suss out the available options on the market's website in order to plan meals or find something that fits in a factory-defect cornucopia. Shoppers stock pantries with other organic options when available, including cereal, flour, seasonings, meats, and fish. Some summer nights, the market shows outdoor movies with a focus on healthy foods, such as the documentary Forks Over Knives.
5150 S Flamingo Rd.
Southwest Ranches
Florida
754-423-3786
Mike Montella was not always called Mr. Fish. Though he spent years serving as an advisor to the South Atlantic Fishery Management Council and as a charter-boat captain, the moniker crept up on him slowly as he dreamt of opening his own gourmet seafood shop to fill a void in the local market.
Now in business for more than 25 years, Montella's Mr. Fish brand continues to purvey the freshest seafood, including native stone crabs, lobster, and salmon. Recently joined by trained chef Mrs. Fish, the company has also started to supply a line of prepared foods, sauces, and condiments to complement the oceanic proteins. Additionally, the Fish in a Flash delivery division packs and ships orders to the doors of families and restaurants overnight.
2781 E. Atlantic Blvd
Pompano Beach,
Florida
954-941-3275
---