Theme & Amusement Parks in Robertsville
---
Theme & Amusement Park Deals
---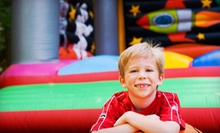 Sock-clad little ones safely romp through and climb over inflatable bounce houses and slides to expel extra energy.
Use Saturday 12:00pm - 4:00pm
---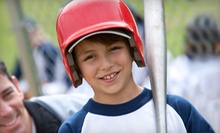 Full-swing golf simulator digitally re-creates more than 50 world-famous courses down to the traps, trees & ball-swiping turtles
Use Today 9:00am - 9:00pm
---
Recommended Theme & Amusement Parks by Groupon Customers
---
Camp Iliff entertains and educates children with a broad array of childcare services and play facilities. Certified teachers help budding toddlers' minds blossom and convenient afterschool programs provide children up to age 13 with bus transportation from many local schools. Kids celebrate birthday parties playing ticket redemption games or frolic on the forest playground, replete with a mirror maze, tunnel tubes, and slides.
301 Mount Hope Ave., Suite 1001
Rockaway
New Jersey
973-383-7231
Tilt Studio's tenure as a family fun center dates back to 1972, a time when the menacing Pac-Man ghosts were still very much alive. Today, the 27,000 square-foot facility greets gamers with scores of arcade and ticket-redemption games plus spacious private-event rooms for corporate gatherings and birthday parties. Visitors receive a game card that works like a debit card, replacing cumbersome quarters that could otherwise be used to enter speed-drying competitions at the laundromat. In the arcade, up to four players can experience high-octane Formula One action, careening down a simulated Indy Motor Speedway, or land strikes on four lanes of virtual bowling, with backdrops depicting Rome, Japan, and Yosemite National Park.
1580 Voorhees Town Ctr.
Voorhees
New Jersey
USA
Racing go-karts and glowing laser battles simultaneously challenge and entertain visitors inside iPlay America's 115,000-square-foot amusement facility. Like its outdoor cousins, the indoor fun park houses more than 200 motorized attractions and carnival-style games for the whole family. Interactive amusements, such as the iPA Speedway, place patrons in the driver's seat of a real vehicle, and simulated sessions, including the Kite Flyer, tantalize visual senses with video images and sound effects. Scents of fresh pizza, lobster mac 'n' cheese, and hotdogs waft from five nourishment purveyors.
110 Schanck Rd.
Freehold
New Jersey
The waterpark's family-friendly layout is set up with 16 waterslides, a one-million-gallon wave pool, stately palm trees, a water playground, and water. The park's newest attractions, Pirates' Plummet and Walk the Plank, are covered/open-air 200-foot-long flowing slides that end with a 50-foot photo-worthy plunge into the depths of a pool below. Go tubular in the Runaway Bay Wave Pool or the whitewater Jungle Falls. The Hurricane, a swirling slide that is under rising pressure until a final drop dumps you in a pool, is the perfect place to test if sewing your passport into your appendix keeps it safe.
235 Ferry Street
Easton
Pennsylvania
US
Twisters Gymnastics' dedicated staffers assist the physical and mental development of children via various gymnastics- and play-based activities within an 18,000-square-foot facility. An array of full-size Olympic equipment, including half a dozen balance beams, a pair of parallel bars, and a trio of trampolines guarded by gold-medalist kangaroos, aids in aerial and flexibility-enhancing pursuits. A pommel horse and still rings increase balance and build upper-body strength in older children, and an obstacle course, 30-foot slide, and play area—equipped with a ball pit and multihued tubes—keep tots entertained. Alongside birthday parties for energetic celebrants and guests, Twister Gymnastics hosts a plentitude of gymnastics and tumbling programs, ranging from one-hour courses to competitive teams. Twister Gymnastics also holds preschool gymnastics classes, summer-camp programs, open workout sessions, and somersault endurance contests in an anti-gravitational chamber.
485 Locust St.
Lakewood
New Jersey
732-905-0900
Since 1952, this nonsectarian Jewish community center has entertained, strengthened, and educated community members with enriching programs and recreational services. Around 780 people a day lift weights, splash in the pool, or attend book readings. Children and teens absorb knowledge about scholastics, cooking, crafts, and drama during after-school programs and summer camps, while adults talk literature in book clubs, stretch out during yoga sessions, or unwind by meditating in a room filled with stacks of already-completed taxes. Seniors, meanwhile, can play a round of billiards or backgammon in a social club, learn basic computer skills, or take free, arthritis-friendly aerobics classes. The dedicated staff make a point of welcoming all community members by speaking Russian, Hebrew, Chinese, Spanish, and Upper East Side.
3495 Nostrand Avenue
Brooklyn
New York
718-648-7703
---