Restaurants in Robinson
---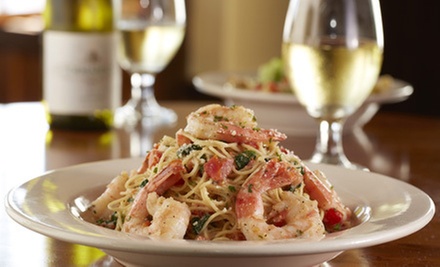 ---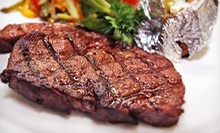 Chefs prepare Angus rib-eye steaks, center-cut sirloins, and Tex-Mex dishes such as chimichangas and blackened tilapia
---
Recommended Restaurants by Groupon Customers
---
Red River Steakhouse looks like it jumped straight off the reels of a Western film: its raw-wood façade opens to a rustic interior with paintings of rolling grasslands, red barns, and horse-drawn carriages. On the tables, cowboy boots serve as vases for bright sunflowers or footwear for men with no name. In the kitchen, chefs bread and cook chicken-fried steak on flat-top grills, season racks of ribs with signature rubs, and on weekends, slow smoke pork ribs and prime ribs. The catering side of the operation offers similar fare, including aged Black Angus rib eyes, sirloin kebabs, and prime rib. With confidence in their cuisine, the caterers offer a 120 percent satisfaction guarantee or money back plus a discount on the next order.
101 W Hwy. 66
McLean
Texas
806-779-8940
The story of Mama's Pizza stretches through five decades, from its humble beginnings in 1968 as the brainchild of Connecticut native Ed Stebbins to its current status as a Fort Worth landmark that whisks painstakingly crafted East Coast–style pizzas to grateful taste buds. Dough made fresh each day surrenders itself to layers of 100%-real cheese and handpicked meats and veggies before basking in a brick oven's heat and brushing its browned crust with garlic butter. Pizzas bubble with breakfast bacon, grilled chicken, pineapple, mushrooms, and a spate of other lip-smacking ingredients. In addition to tasty pies, Mama's Pizza whips up fresh salads as well as sandwiches in the form of Mama's sub, a blend of ham, pepperoni, mozzarella, american cheese, veggies, and motherly advice.
270 SW Wilshire Blvd.
Burleson
Texas
817-447-4114
When designing their menu of freshly made pizzas, the chefs at Gambino's Pizza were determined to include all five food groups. The crunchy crusts would represent the grains, the pure mozzarella and provolone cheeses would deliver the dairy—even fruits would appear in the form of savory olives, tangy pineapple slices, and their sweet and spicy homestyle tomato sauce. After mastering the recipes of more than 10 specialty pizzas, the chefs turned their creativity and ambition to hearty, Italian-inspired pastas and subs.
Clad in cheerful green T-shirts, servers bear freshly baked pies to the dining room, where families gather at tabletops and booths beneath a colorful mural adorning the back wall. If guests are lucky, they might even run into the restaurant's pizza mascot, whose giant foam costume delights children and helps impede those who confuse it for an edible pizza.
856 E Renfro St.
Burleson
Texas
Chef Grady Spears has authored numerous cookbooks and showcased his skills on Good Morning America and the Today show, yet he still doesn't identify with the term chef. He's a cowboy cook—a long, tall Texan who made a living punching and selling cattle until a freak happenstance involving a quitting chef landed him in the grill-pilot seat. Patrons at Grady's Line Camp Steakhouse won't find any polished bamboo floors; instead, gritty hardwood and log-cabin-style seating complement the hearty menu, responsible for the restaurant's placement on Texas Monthly magazine's list of the 38 best steak houses in the Lone Star State. Patrons can snuggle up to grilled steaks and southwestern-style stuffed peppers after enjoying a beer-battered and fried appetizer or can clink longnecks to live music on the weekends for a rowdy evening without regretting trying to tip over a snoozing cowboy.
4610 Shaw Rd.
Tolar
Texas
254-835-4459
With more than 90 buffet dishes including 30–35 hot entrees and more than 10 varieties of sushi, it's no surprise that Buffet Palace's Austin location has been voted best buffet 12 times by Austin Chronicle readers. The similarly well-stocked Killeen location looks like a grounded spaceship from the outside, complete with a cylindrical metal cage, a Saturn-style ring, and two alien-like statues.
At each location, a modern 350-seat dining room vaunts sleek countertops and high ceilings as well as a buffet so long visiting Lilliputians regularly land planes on it. Items range from Korean-style salads and Japanese sushi to more than 30 primarily Chinese hot dishes such as sesame chicken and crab legs.
In addition to these made-from-scratch items, a chef cooks Asian pancakes and dumplings. Before departure, diners can also stock a plate full of the buffet's housemade desserts, which include cakes, cookies, and fruit so fresh it often gets smacked by older, wiser side dishes.
800 W Central Texas Expy.
Killeen
Texas
US
254-634-4222
Roma's Italian Restaurant compiles a roster of traditional, Italian-style dishes with pizza built on dough they make fresh daily. Pasta dishes drape eggplant, artichoke hearts, ricotta-stuffed tortellini, and fresh tomatoes with rich sauces ranging from zesty marinara to creamy alfredo. The pizza gurus scatter or stuff crusts with specialty combinations including the supreme, with four types of meat and green peppers, and the white pizza, which pairs ricotta with fresh tomatoes and garlic. For a meatier meal, patrons can bite into classic Italian entrees, such as chicken piccata dressed with a lemon-butter sauce, seafood marinara with shrimp and crabmeat, or tender veal parmigiana. Hunting parties track down their circular prey in a dining room where tan curtains admit rays of sunlight and framed pictures hang on crimson walls.
633 SW Johnson Ave.
Burleson
Texas
US
817-426-3888
---