Restaurants in Rochester Hills
---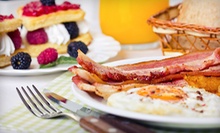 A mix of savory and healthy fare includes yogurt parfaits, veggie pita pizza, oatmeal-raisin pancakes, and egg-white omelets
---
Recommended Restaurants by Groupon Customers
---
Dream Dinners makes meal preparation a breeze with easy-to-follow instructions, precut meats and veggies, and a host of complementary ingredients. The experience is like a cross between a barn raising and a bar crawl, minus the alcohol and hard labor: After choosing from a rotating menu of up to 14 dishes per month, customers schedule a spot at a fun prep session (call at least a week in advance) to assemble meals in-store. Items from the April menu include blackened salmon with pineapple salsa ($15.89 for three servings) and crispy sesame chicken with gingered green beans ($14.04 for three servings). Groupon holders can dazzle dining-room tables with fancy, restaurant-inspired fare or serve up flavor-filled comfort foods such as white-chicken lasagna ($14.04 for three servings) and caliente pork chops with garlic mashed potatoes ($16.42 for three servings).
1994 Star-Batt Dr.
Rochester Hills
Michigan
Strawberry Moon's menu serves up freshly baked bread and pastries made from organic flour plucked straight from the vine. Lovers of loaves can opt for breads ranging from classics such as honey whole wheat ($3.89) to game-changing explosions of flour-flecked flavor such as jalapeño cheddar ($5.89). Dessert desirers need look no further than the pastries, muffins, and cookies—including the bakery's namesake, a crescent confection topped with pink icing—lining the bakery's shelves. Despite the sweet-tooth façade put up by Strawberry Moon, a streak of eclectic edibles runs through the fare, as sandwiches and pizzas also populate the menu. Gourmet pizzas include the Full Moon ($15.19 for a 14-inch pizza), a flavorful caravan of meats, onions, green peppers, mushrooms, black olives, and pineapple, and the Julius C ($15.09 for a 14-inch pizza), a satisfying slab of creamy Caesar sauce, mozzarella, romano, grilled chicken, and fresh tomato. Oven-baked sandwiches of note include a cucumber sandwich ($6.19) with wasabi and Swiss cheese, and the Funky Monkey ($4.89), where banana and honey ride a groovy bass line of organic peanut butter.
301 West 9 Mile Road
Ferndale
Michigan
While Mill Street Grille's wings ($7.99 for eight wings) have earned the restaurant ticker-tape parades from CityVoters and Nobel Prizes in physics, the rest of the menu proves to be no slouch in culinary capability. Split an appetizer of deep-fried pickle chips ($4.49) or conquer the mountainous nachos for two ($9.49) like an edibles-minded Edmund Hillary. Entrees include grilled salmon ($12.99), the Mill Street rack of ribs ($16.99), and a rib-eye steak dinner ($14.99), all of which come with a choice of fries, coleslaw, or house salad. Mill Street Grille's selection of sandwiches and wraps covers all-American favorites such as the catfish po' boy ($6.99), the Philly steak ($7.99), and the club wrap ($6.99), while its brigade of burgers ranges in size from four sliders ($5.99) to Mill Street's Big Daddy ($9.99), a pound of meat topped with cheese, lettuce, tomato, Mill Street Grille's special sauce, and the well-wishes of concerned onlookers.
12 South Mill Street
Pontiac
Michigan
248-454-8132
Grand Traverse Pie Company offers more than 25 flavors of pie baked fresh daily, from ingredients supplied primarily by Michigan vendors, and a savory selection of comforting fare for breakfast, lunch, and dinner. Stock up on sustenance for a long day of street performing by breakfasting on a hearty bacon, egg, and cheese sandwich ($3.49), and add an order of the gooey caramel pecan rolls ($1.99) for a sweet, meal-accompanying treat. Mid- and late-day diners will enjoy the extensive offering of salads and cold or grilled sandwiches, or any of Grand Traverse Pie Company's warm and comforting entrees, such as the piping-hot prime-rib pot pie ($6.99) cloaked in Grand Traverse Pie Company 's famous flaky crust, or the protein-packed broccoli and cheddar quiche ($6.50), for a breakfast-inspired dinner.
1446 Maple Rd.
Troy
Michigan
Friendly service, a vibrant, warm atmosphere, and an aromatic blend of home-cooked soul-food favorites and Italian dishes render SOHO Detroit a pleasant pit stop for gastronomes. Gargantuan portions emerge fresh-cooked upon ordering from the diverse menu. Clear your throat for the ribs a capella, which come slow-cooked in signature seasoning ($8.50 half-slab, $14 full slab) and can be nicely neighbored with a side like the homemade baked mac 'n' cheese ($4). For a customized Italian plate, build your own pasta dish with five choices of pasta; chicken, beef, shrimp, or meatballs; two veggies, such as tomatoes and peppers; and one of SOHO's sauces, which include marinara, picatta, marsala, and more ($8). Breakfast is served all day every day, including pancake holidays. Rev up your digestive centrifuge for the French-toast breakfast, which slathers warm syrup and honey butter over two thick slices adjacent to two eggs and your choice of turkey links, bacon, or sausage ($7). The attentive owners frequently stalk the floor to ensure satisfaction, and might recommend saving room for the toothsome cupcakes ($2.50).
19739 Wt 12 Mile Rd.
Southfield
Michigan
Via Nove's stylish, multilevel eatery specializes in the delectable fare cooked predominantly in southern and central Italy, saving taste receptors thousands in travel costs by bringing scintillating entrees to Michigan. Commence your culinary tour of the boot-heeled motherland with a three-course dinner from a prix fixe menu, which presents appetizers such as seared scallop and applewood-smoked bacon, romantically perched atop an Italian-style potato crêpe. For your entree, use your fork as a divining rod to discover the Lake Michigan whitefish fillet meunièr, interspersed with potato, parsley, capers, and lemon; or rest on the pillowy house-made tortelloni, made pleasantly plump with braised beef tenderloin and painted in a vodka-palomino sauce. Then, similar to the curtain call after most high-school plays in Candyland, a double-chocolate cake tips its hat of chocolate mousse and espresso anglaise to raucous audience applause.
344 West 9 Mile Road
Ferndale
Michigan
248-336-9936
---