Professional Services in Rochester
---
Professional Service Deals
---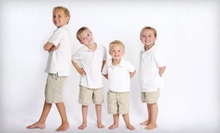 Professional photographers capture families, babies, and individuals with custom backgrounds, props, and variety of poses
---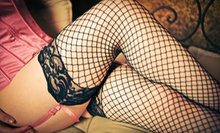 Husband-and-wife photography team captures sultry images of clients, rendering one 8"x10" print and a digital image
---
Recommended Professional Services by Groupon Customers
---
The staff at Zoots Dry Cleaning extracts stains and stress by pairing eco-friendly dry-cleaning services with the convenience of extended evening and Sunday hours, 24-hour drop-off and pickup services (available at most locations), and an automated drive-thru system. Team members clean clothes, draperies, bedding, and rugs with a biodegradable solvent as opposed to harsh PERC chemicals, and some staff are trained to expertly excise stains from the delicate lace and beadwork of bridal-gown bodices. Most stores also have a tailor on location who is able to alter ensembles in a snap. Customers get e-mail notifications when orders are ready or they can download a smartphone app to keep a close eye on the status of their dirty laundry.
116 Chelmsford St.
Chelmsford
Massachusetts
978-250-2362
Newborn babies asleep on blankets. Toddlers surrounded by stuffed animals. High-school seniors smiling on the beach. Couples meeting each other's imaginary friends for the first time. These are just some of the moments that wife and husband Shelbylyn and Robert have captured using their signature style of photography, characterized by images in soft-focus, high-saturated color as well as deep-contrast black and white. Their love of working together affects the tone of their photo shoots, which are kept casual and fun regardless of whether shots are posed or candid. The pair pledges to never run late to a session, whether shooting in their studio or on location in areas such as parks, beaches, wedding reception halls, and pillow fortresses.
963 Washington Ave.
Portland
Maine
Founded by brothers Atillio and Aldo Carbone, EZ-Way Cleaners has been taking care of customers and winning awards for more than 60 years. Like volunteer bounty hunters, technicians offer free pick-up and delivery on all items, gently laundering heavy winter coats and silken summer dresses with equal care. After double-checking each garment's cleaning instructions, the staff presses shirts into crisp shape, and uses specialized products and techniques to treat delicate leather, suede, tablecloths, or carpet. Customers are encouraged to bring back their wire hangers both to help protect the environment as well as feed the pet trash compactor kept out back.
143 White St.
Haverhill
Massachusetts
978-372-6631
For more than 15 years, designer Nadine Palmer has added style to weddings and galas by guiding customers through the creation of their own custom cakes, attire, jewelry, invitations, and floral arrangements. Masterful dress designs and alterations create eye-catching prom gowns and snazzy cocktail dresses, and flowery centerpieces and bouquets add sweet-smelling decorations to weddings or beekeeper-convention banquets. Glittering jewelry and accessories complement guests' one-of-a-kind formal outfits, and handmade cakes with more than 35 flavor and filling varieties regale taste buds with smooth, dulcet buttercream and fondant frosting.
700 Broadway
South Portland
Maine
207-239-7957
Moved by an article about deployed troops that felt forgotten by their country, Heidi Janson decided to show her support by doing what she does best: matching brides to their perfect wedding gown. Heidi staged a gown giveaway for 50 military brides in 2007 at the bridal boutique where she worked—a modest start for Brides Across America, Inc., which has since paired more than 8,000 brides with brand-new designer dresses. The organization garnered the attention of ABC's Nightly News in 2011 and 2012, though its highest honor came during a 2012 White House event hosted by Michelle Obama and Jill Biden.
See how Groupon helps you discover local causes and lend a helping hand at the Groupon Grassroots blog.
28 W Main St.
Georgetown
Massachusetts
Portland Trails connects local residents to the great outdoors with a three-part mission. It aims to create and maintain a 50-mile network of trails, engage people in trail and land stewardship, and promote outdoor recreation and human-powered transportation. On a daily basis, the organization's staff coordinates with local governments to build trails that connect natural spaces with the existing pedestrian and bicycle network. They also hold regular educational events to teach the public about health, recreational activities, and reducing the impact of transportation on the environment. Demonstrating their commitment to this mission, the office only employs one truck, which runs exclusively on biodiesel fuels.
305 Commercial St.
Portland
Maine
---