Coffee & Treats in Rochester
---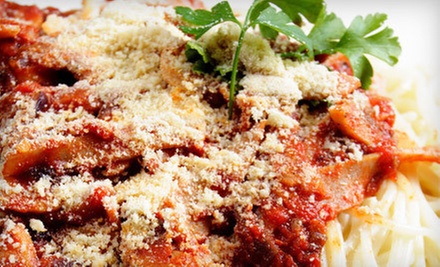 ---
Recommended Coffee & Treats by Groupon Customers
---
Toting a modest selection of chocolate confections and candies, Joseph A. Fowler entered the 1901 Pan American Exposition hoping to plant the seed for a business in his newfound home of Buffalo. The company—founded in 1910—grew with each successive generation, and more than a century later, Fowler's celebrated chocolates continue to placate palates at six New York retail locations. The chocolatier has become synonymous with treats such as milk- and dark-chocolate truffles dubbed truffaloes, as well as sponge candy, which boasts a molasses-like flavor and an initially hard texture that quickly melts in the mouth. Like Count Chocula's hairpiece, all of Fowler's fine-chocolate treats are crafted from the seeds of the theobroma cacao tree and use up to 60% cocoa solids for a rich cocoa flavor.
671 Main St.
East Aurora
New York
Lifelong friends Riley Greider and Doni Brown are the minds, hands, and sweet teeth behind Sugar Mountain Bake Shoppe, a gourmet bakery specializing in cupcakes. More than 128 flavors rotate across the shop's menu in groups of 13 to 20 each day, baked daily in small batches from fresh ingredients.
With such an enormous repertoire of recipes, the cupcake case has room for classics such as carrot cake alongside fancier flavors such as cinnamon french toast and cherry crème brûlée—not to mention the decidedly outlandish, such as loaded baked potato and Game Day Chili. While retaining a home-baked look, many of the cakelets wear elaborate toppers of sprinkles, frosting swirls, or fruit. All this creativity won the shop the title of Best Cupcakes in City Newspaper's 2011 Readers' Choice poll. At the Alexander Park location, guests will also find a selection of grilled sandwiches, salads, soups, meat-and-cheese-stuffed paninis, and cupcake-stuffed cupcakes.
258 Alexander St.
Rochester
New York
585-319-5001
Gen Perryman, owner of The Cupcake Orchard, has always loved to bake desserts but admits that she was inspired to open her bakery by the influx of cupcake shops across the country. She says on her website, "As I saw these cupcakeries popping up around the country, I thought, 'why not package what I love doing into a sweet cupcake?'" Every morning, Gen and her staff freshly prepare each batch using eggs and butter from local farms, seasonal fruits, and Belgian chocolate. The shop carries eight "everyday" flavors—favorites include chocolate-chocolate and red velvet—as well as three to five seasonal flavors such as pumpkin, caramel apple, and snowball.
4174 N Buffalo Rd.
Orchard Park
New York
716-662-4217
Hedonist Artisan Chocolates specializes in handcrafting a wide variety of sweet delights hewn from French chocolate and all-natural ingredients. Saunter into the shop wearing a wide apron for gathering truffles, such as the 10 classic truffles, flavored with hints of espresso, hazelnut, and white mint ($20). Those in search of an offbeat flavor combination can tingle tongues with the pistachio-ginger bark, which delivers goody-encrusted shards of semisweet chocolate sprinkled with salt ($10 for a 5-oz. bag). Bits of dried apricots, candied orange peels, and a blend of cranberries and pecans help comprise each 10-piece fruit-and-nut collection, finally providing something to stow in your secret lockbox since your pet rock collection ran away ($20). The chocolatier crafts each creation in small batches to ensure that each piece is individually nurtured into a miniature culinary masterpiece.
674 South Avenue
Rochester
New York
The tantalizing aromas of both hot, toasty sandwiches and sundry cupcakes, pies, cookies, and pastries fill the halls of the historic springhouse that Katherine's on Monroe Bakery & Cafe calls home. Katherine's satisfies pre-dessert quotas with a full café menu that ranges from egg-laden breakfast sandwiches and quiches to sandwiches stuffed with both classic staples, such as that of the BLT or the Reuben, and more exotic flavors, such as the swiss-cheese-, pickle-, and mustard-studded pork and ham of the cuban panini. Once diners have finished off every bite of their sandwich, leaf in their salad, or sip of their soup, they can peruse a bakery case teeming with creative cupcakes, cream-filled pastries, dessert bars, and other decadent treats.
3001 Monroe Ave.
Rochester
New York
585-381-4066
Powder-blue trim and lush flowers clustered around a quaint clapboard storefront welcome visitors to Vincenzo's Italian Ice. The dessert parlor swaps traditional ice cream for less-fattening frozen treats, including silky gelato transported from NYC's Little Italy and italian ice sourced from Philadelphia's secret ice mines. In a simple space adorned with shelves of elegant bottles, customers can peer into the glass case to hunt down their favorite flavors of gelato, ranging from malted milk ball to espresso, or to scope out the rainbow of italian ice varieties, from black cherry to coconut.
4236 N Buffalo St.
Orchard Park
New York
---
---
Coffee & Treat Deals - Recently Expired
---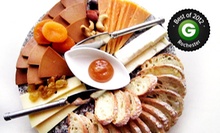 Dozens of wines and beers complement artisanal chocolates, cheeses, and European desserts served in renovated historic home
---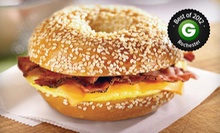 More than 20 bagel varieties baked fresh alongside regionally influenced sandwiches and arabica coffees
---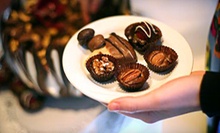 Handcrafted chocolate truffles, caramels, and cream-filled treats
---
---