Rochester, NY Outdoor Activities
---
Recommended Outdoor Activities by Groupon Customers
---
There are more than 2,000 short tracks in the United States. Among them, fewer than 60 are NASCAR-sanctioned. Holland NASCAR Motorsports Complex is one of the few with such distinction. The raceway has guzzled the fumes of that rarified air since 1960, when it was built as a 1/3-mile facility surrounded by just 1,200 seats. In 1964, the course expanded to 3/8 mile, and four years later, asphalt replaced the outdated shag carpeting as the track's surface. Today, Holland packs up to 7,000 spectators into its grandstands. It completes the race-day experience with various amenities, including The Midway, where fans can fuel up on snacks and drinks, and The Village, where fans party under large tents and around picnic tables.
2 N Main St.
Holland
New York
Preparing explorers for jaunts through the waterways and paths of the historic Erie Canal, the staffers of Erie Canal Boat Company outfit visitors with bicycle, kayak, canoe, pontoon, and paddleboat rentals, as well as appropriate supplies. They lead group and private lessons, teaching tender-footed kayakers the basics of safety and stroke skills for recreational, competitive, or impress-your-favorite-seal's-mom kayaking. They also host weekly paddling clubs and races, as well as annual regattas, and stock a variety of gear at their shop to ensure pioneers are suitably appointed for paddling and pedaling excursions.
7 Liftbridge Ln. W
Fairport
New York
585-748-2628
Development of the Roycroft Campus began in 1897 by author, lecturer, and entrepreneur Elbert Hubbbard, who sought to create a utopian society of artisans in reaction to the mass production of the Industrial Age. Drawing on inspiration by leaders of the arts-and-crafts movement in the UK, Hubbard founded the Roycroft Press to produce monthly publications, books, and elaborate conspiracy theories. After gaining international recognition for an essay he wrote in 1899, Hubbard was able to further expand and promote the Roycroft community, erecting 13 additional buildings on the campus over the next decade.
In its prime, the community was home to 23 presses and more imported handmade paper than all American printing institutions combined. More than 500 resident artists worked in wood, stained glass, and copper, and Roycroft became a thriving mecca for craftsmen, authors, artists, and philosophers. In 1986, the campus was designated a national historic landmark. Today it is home to 9 of the original 14 structures, preserved and restored throughout the last 17 years by the Roycroft Campus Corporation and open for exploration during guided walking tours.
31 S Grove St.
East Aurora
New York
716-655-0261
Hidden Valley Animal Adventure's 60 acres are home to more than 30 species of animals—including zebras, wildebeest, and emu—who freely roam and peacefully coexist among the park's rolling plains and lush forests. Here, the park's safaris leisurely tour through more than two miles of trails that cut through the non-African badlands. Guests hop aboard trolleys, soaking in the scenery as knowledgeable guides broaden their zoological horizons and impart facts about the park. Upon meeting a slew of animals along the path, guests outstretch feed-filled hands to nourish passing llama, camels, and hungry groundskeepers. During winter months, horse-drawn carriages gracefully escort guests through snow-covered paths behind strapping belgian draft steeds.
Located on Hidden Valley's expansive grounds, The Lodge accommodates guests with rustic hotel rooms, and its woodsy event space hosts banquets, weddings, and special events. After daylong romps through animal habitats, guests can partake in locally grown foodstuffs and libations at the Trailside Grill & Bar, sating thirsts worked up while trying to outspit a llama.
2887 Royce Rd.
Varysburg
New York
585-535-4100
The botany enthusiasts at Oriental Garden Supply care for a wide variety of greenery, including many Japanese and Asian plants and flowers. Their verdant nursery opens Sunday, April 15, allowing guests to peruse mini forests of korean fir, japanese maple, norway spruce, and overgrown toothpicks. Blossoming perennials and succulents await green thumbs in the greenhouse, which opens the first week of April.:m]]
448 W Bloomfield Rd.
Pittsford
New York
585-586-3850
It's hard for Let's Catch Fish Specialty Charters' founder Ken Strimple to imagine a life without fishing. Captain Strimple first pulled sunfish out of his grandfather's pond when he was 4 years old. From this early foundation, he moved on to bigger fish and competed in bass tournaments including the ESPN Northern Tour. Today, Captain Strimple and the team at Let's Catch Fish Specialty Charters aim to instill this passion in new generations. Through the classic pastime of fishing, they believe people can truly connect with nature.
The crew leads full- and half-day excursions into fish-packed waters such as the Genesee River, Salmon River, and the giant #1 Dad mug that holds Lake Ontario. The staff also hosts members-only tournaments and lets pint-sized fishers cast lines in their youth division; members also receive discounts on rentals and access to waterside chairs and fire pits for post-fishing relaxation.
1350 Empire Blvd.
Rochester
New York
585-224-8289
---
---
Outdoor Activity Deals - Recently Expired
---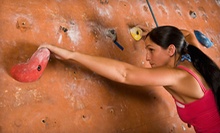 Admission to a climbing-skills class includes shoe rental and belay training in an expansive, 18,000 sq. ft. facility
---
---