Coffee & Treats in Rockford
---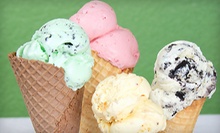 A wall of gummy bears, german chocolate, and hard candy towers over scoops of homemade ice cream as kids enjoy karaoke and live tunes
Use Saturday 11:00am - 11:30am
---
Coffee & Treat Rewards Deals - Use Anytime
---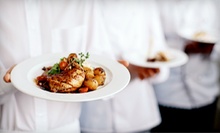 Chefs top signature pasta dishes with a choice of five sauces, alongside homestyle dishes such as yankee pot roast, pot pie, and meatloaf
---
Recommended Coffee & Treats by Groupon Customers
---
Created by the Ginatta family, Paciugo satisfies cravings with hot and cold gourmet coffee concoctions and small-batch Italian gelato, made fresh daily from all-natural ingredients. Hundreds of flavors make rotating appearances on the expansive menu of confections, which boasts fruity sorbets and milk-, soy-, and water-based gelato, all with less fat than traditional ice creams or salads sculpted out of butter. Candied Italian black cherries, Piedmont roasted hazelnuts, Sicilian pistachios, and Belgian extra-brute chocolate add richness to the carefully crafted Turin recipes. Customers can fill a piccolo cup with up to three flavors ($3.99) or make the leap to the grande cup's five selections to meet the FDA's recommended daily servings in one sitting ($5.59).
95 N Moorland Rd.
Brookfield
Wisconsin
Most of Wild Flour's loaves are crafted with traditional old-world European techniques, which exclude fat, oil, sugar, eggs, dairy, and preservatives and replace them with high-quality flours. Artisan favorites, such as the olive rosemary and cranberry walnut, complement any meal, while health-conscious selections such as the whole-grain flax-seed bread and the multigrain sourdough will allow nutrition-minded architects to nosh guilt free. Each of Wild Flour's four cozy stores serves hot lunch daily, with a rotating soup selection that pours the likes of Catalina chicken, cream of potato with bacon, and tomato red-pepper bisque alongside hot grilled sandwiches such as the zipper (ham, salami, provolone, tomato, onion, jalapeños, and mayo, $5.50) and the hot vegetarian (marinated eggplant, red peppers, portobello mushrooms, and pesto sauce, $4.90). Cold deli classics also sashay out of the kitchen, including egg salad ($4.90) and chicken salad ($5.50) and a wide selection of salads (starting at $3.25).
2800 W. Lincoln Ave.
Milwaukee
Wisconsin
Rochambo boasts more than 70 teas, locally roasted coffees, and distinguished microbrews inside its Victorian-styled sipping space. Teas come in varieties such as green, black, scented black, white, periwinkle, and oolong, all priced by their degrees of rarity and measured by the cup, pot, furlong, or ounce. Feel free to gulp house teas, such as the mountain huckleberry or Japanese sencha ($1.75 a cup), or furnish chilly hands with extra-rare libations such as the white silver needles tea ($3.75 a cup).
1317 East Brady Street
Milwaukee
Wisconsin
More than 110 flavors of Chocolate Shoppe Ice Cream take turns guest-starring on Babe's monthly menu. This month provides more than 30 indulgent flavors, such as chocolate marshmallow and horchata, as well as alternative selections of sugar-free caramel ripple or espresso Oreo soy. Snag a sugar or wafer cone ($2.70 for a single scoop), or shoot for the sugary stars with a raspberry blast or piña colada smoothie ($3.75). Babe's also serves up specialty sundaes and shakes, while quarts of ice cream ($7.25) are available to be taken home in car-trunk freezers or stomach igloos.
2264 S Kinnickinnic Ave.
Milwaukee
Wisconsin
Family owned and operating ice cream store. We make all our own ice cream on site. We offer ice cream social catering services for business and personal occasions.
10 S Pine St.
Mt. Prospect
Illinois
Yola's Café's amiable fare artisans stuff early-rising stomachs with baked goods and breakfast fare, while a packed menu of sandwiches, salads, and soups sate lunchtime cravings. Or, order a strawberry-sprinkled golden malted belgian waffle to send taste buds on a culinary voyage through whipped-cream mountains and rivers of buttery syrup ($5.49). Baked oatmeal fills bellies with dried cranberries and pecans with a helping of milk and brown sugar ($4.99). Once the sun has claimed its fiery, noontime throne, mouths can munch a grilled-chicken caesar wrap ($6.79) whose delicately seasoned poultry satisfies like a well-delivered Shakespearean soliloquy about proper grill technique. Alternately, complement the provolone-garnished crunch of a Yo's chef salad with a cup of smooth and steamy soup for a well-balanced lunchtime treat ($7.49).
494 Commerce Dr.
Madison
Wisconsin
---