Restaurants in Rockford
---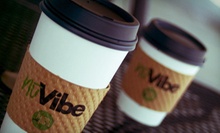 Free-trade, air-roasted coffee from The Roasterie and more than 30 flavors of smoothies escort low-carb eats in WiFi-equipped beanery
Use Saturday 8:00am - 8:00pm
---
Restaurant Rewards Deals - Use Anytime
---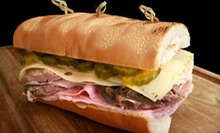 Family-owned eatery doles out hot and cold sandwiches piled high with fresh meats alongside classic deli salads and sides.
---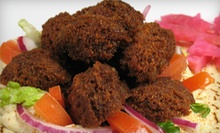 Aromas of shawarma, lamb, and namesake falafel merge with those of basmati rice and soft pita in this Mediterranean-inspired eatery
---
Recommended Restaurants by Groupon Customers
---
With live jazz music, USDA Prime steaks aged at least 21 days, and the freshest of seafood, Pete Miller's Seafood & Prime Steak is a living tribute to the colorful life of Harold "Pete" Miller. Miller grew up an avid hunter, studied History in college, and earned a Purple Heart as a marine in WWII. He even spent time slinging hats, before eventually settling on becoming a music salesman—a profession that would ignite his love of jazz and lead him to the rhythm-rich city of Chicago. Once settled, he discovered the Davis Street Fishmarket in Evanston where he became a regular, albeit outspoken, patron. He incessantly offered recommendations and recipe suggestions, eventually inciting the chef to hand him an apron and shout, "Do it yourself if you think you know so much!" Miller accepted the challenge and kicked off his culinary career with his usual flair and spontaneity.
Today, the pair of restaurants proudly carrying his name keep his legacy alive, hosting live jazz almost every night of the week, just like he would have wanted. In addition to the regular dinner menu, which features the likes of whole steamed lobsters and bone-in fillets, there's also a bar menu that boasts more casual eats, such as burgers and sandwiches dressed in khaki slacks. The Wheeling location's 250-seat patio features a granite bar with room for 50 people, as well as three huge fireplaces.
1385 N Meacham Rd.
Schaumburg
Illinois
US
Yelpers and Citysearchers alike give Pizza Shuttle a 3.5-star average. Seventy-eight percent of over 100 Urbanspooners recommend it:
1827 N Farwell Ave.
Milwaukee
Wisconsin
Milwaukee ChopHouse's menu of succulent fare begins with ahi tuna tartare with avocado, wasabi, and sriracha ($12) and wagyu beef carpaccio in a white truffle oil with parmigiano reggiano and capers ($13)—both of which sharpen the palate for the main event: the ChopHouse's signature boneless 16-ounce strip steaks prepared au poivre ($35), crab Oscar-style ($42), blue-cheese crusted ($39), or with truffle butter ($39). The kitchen also turns out hot non-bovine entrees such as sautéed sea bass with sundried tomato and basil pesto ($32) and lobster tail ($51), a.k.a. mermaid steak.
633 North 5th St.
Milwaukee
Wisconsin
414-226-2467
Housed in the former Brown Bottle Guest Hall and Hospitality Center in the old Schlitz Brewery, Libiamo basks in the same old-fashioned elegance that made the venue a Milwaukee landmark. A gorgeous ceiling, elaborate woodwork, and chandeliers constructed from massive antlers set the classy yet casual ambience. Paintings of rustic Italy adorn the walls and the beautiful, familiar old bar welcomes patrons like a massive, wooden old friend. As befits the historic setting, you can get original-recipe Schlitz on tap, while ghosts of departed Schlitz cans occasionally roam the bathroom area. Libiamo also lives up to the building's illustrious precedent with a menu of some of the best authentic Italian food in Milwaukee. Appetizers benefit from Libiamo's delicious house red sauce. Try the tender spedini—Italian steak rolled with breadcrumbs and cheeses—or fried ravioli (both $7). For lunch, order up one of the delicious and crispy panini sandwiches, like the classic Italian beef ($7.95). Equally crispy are the thin-crust pizzas, including the sophisticated pesto chicken ($9 for small, $17.50 for large) or family-recipe linguine with meatballs ($8.50).
221 West Galena St.
Milwaukee
Wisconsin
Your Taste Club membership will include:
17000E W Bluemound Rd.
Brookfield
Wisconsin
Mulligans Irish Pub & Grill keeps customers' stomachs from crooning doleful ballads with a fully stocked kitchen that fires Irish specialties until 1 a.m. each night. Executive chef Joe Piscatello dapples palates and freshly washed bibs with creations such as the fish 'n' chips—battered in Harp lager and lightly fried to a gilded hue ($9.95)—and the pub-style Reuben pizza, which unites shredded corned beef, swiss cheese, and cabbage on a bed of creamy thousand-island sauce ($12.95+). Main courses also include the twin Irish fillets—a duet of 4-ounce tenderloin medallions wrapped in Irish rasher bacon—and the Jameson-glazed Alaskan salmon fillet, served with grilled vegetables and colcannon mashed potatoes ($12.95). While basking in the glow of 12 high-definition television screens and watching favored football teams, diners can explore the intricacies of the cheese-, bacon-, and vegetable-ensconced tavern fries ($7.45) or the Bailey's irish-cream crème brûlée ($4.95). Pints of Guinness ($5) and 15 other draft beers pair with dining selections or raise high to toast mankind's ability to reach top shelves.
8933 S 27th St.
Franklin
Wisconsin
---